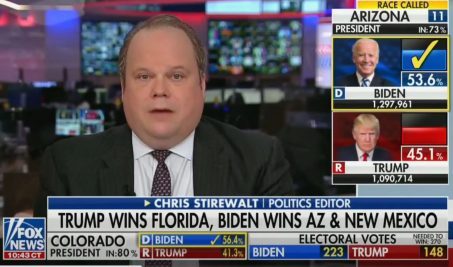 To answer the most obvious question, no I am not drunk.
Now my fellow former newspaperman, Robert Stacy McCain, eviscerated my former Charleston Daily Mail colleague, Chris Stirewalt, for the bizarre Election Night coverage of Fox News in which it became a cheerleader for Joe Biden instead of being fair and balanced.
Viewers noticed and have switched channels. The network went from an Election Night audience of 14 million to a Saturday Night prime-time audience under 3 million -- a night that CNN led all of TV with 9 million viewers and MSNBC drew just under 6 million.
Saturday night was the night Democrats celebrated Hillary's re-election. Instead of showing its trio of conservative pleasing hosts -- Gutfield, Watters, and Judge Jeanine -- Fox reveled in the revelry.
Conservatives have had enough.
After a couple of decades of enjoying audiences the size of CNN and MSNBC combined, Fox is pummeled in the ratings, much to the delight of liberals and the disinterest among conservatives who have beefed up the audiences of Newsmax TV and OANN.
McCain wrote, "Millions of Republicans have stopped watching Fox News after the Election Night debacle in which the network's Decision Desk (i.e., a Democrat named Aaron Mishkin) called Arizona for Joe Biden at a time when they were still claiming that Ohio and Texas were 'too close to call.'"
Arizona is still too close to call a week after the polls closed, while President Donald John Trump romped in Ohio and Texas.
So the network trotted out Chris to explain. And by explain, I mean, take the abuse.
McCain wrote, "Stirewalt stared dumbly into the camera and defended the Decision Desk, saying, 'Ohio is close. Obviously we see the president has an advantage and he's had an advantage in polling in Ohio, in the same way he has in Iowa for the closing stretch of the election. I would point out, pre-election polls in this cycle have so far turned out to be really, really good.'"
The polls were off and awful to the point where they are offal.
That 7-point lead the pollsters gave Biden nationally was not in the margin of error. It was not even close. When you take 12 polls of 1,000 people each (and some polled more than that) and average them out, the margin of error falls to 1%.
Each poll may have a margin of 4%, but together that margin gets pencil thin, which is why you do the average because you do not want to be led astray by one poll. You are combining all those polls into one big poll -- and that one big poll is a great huge propaganda mess.
Arizona was and is too close to call.
Donald Trump blew Sleepy Joe away Ohio and Texas by 8 and 6 points respectively.
McCain wrote, "Chris Stirewalt stacked his credibility into a large pile on Election Night, doused it in gasoline, and tossed a match at it. Any news organization that would employ Chris Stirewalt is not trustworthy."
Wrong.
He's got a job for life.
Accuracy no longer matters. Saying what the boss wants to hear is all that matters. With his Brian Stelter-sized head, Stirewalt projects an expertise he may or many not have.
Now for my defense of Chris Stirewalt.
I have none.
What did I say in the first paragraph? I am not drunk.
This was a stupid, stupid mistake that likely will land him a greater role as the once firebrand network goes CNN lite.