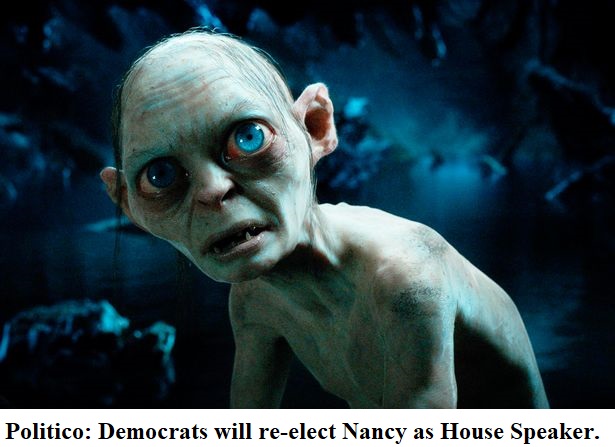 In response to an electorate that almost turned the House back to Republicans, House Democrats raised the minimum age for their top 3 posts to 80.
Nothing quite says out of touch with the 21st century like being led by people who were born before World War II.
Forget pre-dating the Internet, these dinosaurs predate commercial television.
Democrats went into the election thinking they would have a net gain of 20 House seats.
They walk out losing a net total of at least 8 seats and counting.
Oh-for-27.
Republicans pitched a perfect game.
And no one will walk the plank among House leaders.
Politico reported
, "Nancy Pelosi and her top deputies aren't going anywhere. But the House leadership elections that begin this week are likely to reveal the future of the caucus long ruled by the same triumvirate.
"The 80-year-old California Democrat is expected to easily clinch her caucus' nomination to be speaker despite some internal grumblings about a disappointing election that significantly narrowed Democrats' House majority. She'll still face a full floor vote in January. And her longtime lieutenants — House Majority Leader Steny Hoyer, 81, and House Majority Whip Jim Clyburn, 80 — are also running unopposed."
They have been in charge of House Democrats since 2007 thanks to their PACs and their refusal to find something to do with their lives besides bicker in Washington.
Democrat Comngressman Gerry Connolly sucked up by telling Politico, "There's near universal appreciation for 'thank God Nancy was there during this turbulent four years.' She was the Rock of Gibraltar. I think that's really why the idea of challenging her has not resurfaced and is not likely to."
The "rock" caved to the goofball squad and their minions with that foolish impeachment.
Nancy has told Democrats she plans to remain in charge of House Democrats through 2024, and they agreed to this.
2022 looks to be a good year for House Republicans despite being a midterm election for President Trump. Nancy is the poster ghoul for Democrat corruption.
Republicans control redistricting in most states, and Democrats are led by the nursing home crowd. With the House run by a crotchety old lady who is unwilling to compromise, Republicans should be able to blame the deadlock on Democrats.
We shall see.
But Republicans should begin recruiting viable and likable candidates who were born sometime in the last half-century.
Meanwhile, the New York Post reported
, "Confronted with a shrunken majority, House leaders are discouraging fellow Democrats from taking jobs with the incoming Biden administration — out of concern that Republicans could nab any vacated seats, sources told The Post on Sunday.
"Insiders variously accused House Speaker Nancy Pelosi (D-Calif.) and Majority Leader Steny Hoyer (D-Md.) of urging Dems to stay put to preserve their fragile majority."
Hahaha.
As if any congressman worth his salt is going to pass on the opportunity to cash in on a Cabinet post. Hillary made $100 million for her fake charity as secretary of state.
Of course, a Biden administration will have to wait until 2025.
But the call to stay in the House shows how desperate Nancy and company are. They know something bad is happening to them, but they are too old and stupid to figure out what it is and how to fix it.
Hint: Dump Nancy