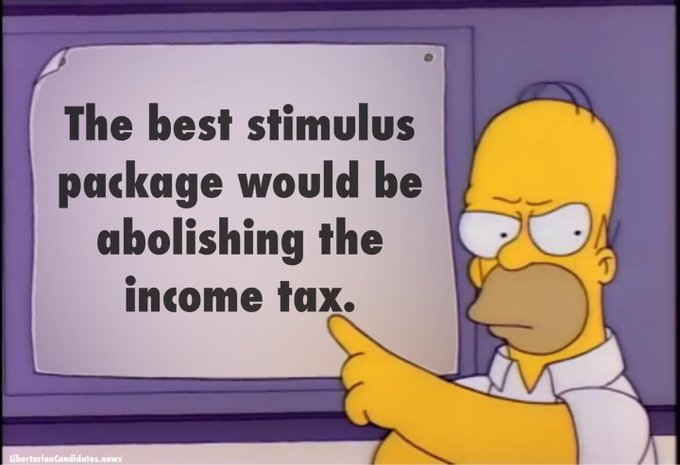 Donald John Trump is still our president, and Homer Simpson is still smarter than any Democrat in Washington.
ITEM 1
: Pennsylvania Judge Patricia A. McCullough rules the 2020 election was likely unconstitutional in Pennsylvania, and that gives state legislators power to choose electors.
Whether the U.S. Supreme Court likes it or not, it will decide this election because just as in 1876, when Democrat Sam Tilden appeared to have a majority of the votes and the electors, Democrats cheated.
They did not get away with it 144 years ago.
We shall not let them get away with it this time.
ITEM 2
:
Caroline Glick wrote
, "Last month, in a small town in West Virginia, a 74-year-old husband and his invalid wife were hospitalized for several days after eating rotten food the husband fished out of a dumpster.
"For the past decade and a half, former Pentagon intelligence analyst and operative Col. (retired) Lawrence (Larry) Franklin and his wife Patricia have lived in utter destitution. During his 35 years of service, Col. Franklin was celebrated as a brilliant, fearless intelligence officer by his colleagues and bosses at the Defense Intelligence Agency (DIA), in the U.S. Air Force and in the Office of the Secretary of Defense. Now, the aging hero who saved countless U.S. servicemen lives in war zones is a broken man. Col. Franklin subsists on the meager wages he earns from washing dishes, cleaning septic tanks and parking cars, while also taking care of his invalid wife.
"Col. Franklin's fall from grace is a tale that cries out for justice.
"In 2003, Col. Franklin, a survivor of the 9/11 attack on the Pentagon, was working as the Iran desk officer in the Office of the Secretary of Defense. Then-Defense Secretary Donald Rumsfeld needed constant information on Iran: namely, its efforts to undermine the U.S. war efforts in Iraq and Afghanistan, its sprawling terror networks and its burgeoning nuclear weapons program."
Not to steal her whole column but he was set-up by the deep state to take a fall that left him destitute.
A presidential pardon seems in order.
ITEM 3
:
Biz Pac Review reported
, "The Hill attracted looks of confusion the day before Thanksgiving when it posted a video clip of what appeared to be four or five lonely Biden supporters waving enthusiastically as a motorcade containing Democrat presidential nominee Joe Biden drove by.
"While it's unclear where the clip was recorded, The Hill wrote that it was captured as 'Biden's motorcade departed for his beach house in Rehoboth Beach, DE.'"
His rally attracted 4 or 5 people in Delaware? Well that proves most of his relatives voted for him.
Joe-mentum is a room temperature fever.
ITEM 4
:
NPR reported
, "North Korea is taking increasingly harsh measures to stop the coronavirus from entering the country, including executing an official in August who violated anti-virus rules, South Korean intelligence officials told lawmakers on Friday.
"In a closed-door briefing to a parliamentary intelligence committee on Friday, the officials told lawmakers that the executed North Korean had brought goods through customs in the city of Sinuiju on North Korea's border with China, in violation of coronavirus-related quarantine measures.
"North Korea also has locked down the capital, Pyongyang, and prohibited fishing and salt production in the ocean as part of its restrictions to block covid 19, lawmakers cited the intelligence officials as saying."
Execution?
Don't give Cuomo any ideas.
ITEM 5
:
KGW-TV reported
, "Police made three arrests early Thursday morning after a group of people walked through Southeast Portland, breaking windows and tagging businesses with graffiti, according to police. At least 10 businesses, including grocery stores, banks, an auto service center, a package distribution and mailing center and local business storefronts were damaged, police said. Police received multiple reports after 1 a.m. that a group of people, all dressed in black clothing, were walking down Southeast Hawthorne Boulevard and breaking windows as they went."
I guess no one told them that with the election over, Democrats no longer needed their domestic terrorism services.
See you in 2022!
ITEM 6
:
Jonathan Turley reported
, "The Third Circuit has issued an opinion that has received little attention over the right to bear arms, but it should. The decision in Folajtar v. The Attorney General of the United States may be one of the most perfectly tailored case for major Supreme Court decision. Indeed, the only thing lacking from the 2-1 decision is a mailing label directly to Justice Amy Coney Barrett. In ruling that a non-violent tax conviction can result in the denial of gun ownership, the panel presents a clean case to further define the contours of the individual rights recognized in District of Columbia v. Heller.
"The Third Circuit case concerns Lisa Folajtar who was denied the right to own a firearm. The reason was her pleading guilty in 2011 to willfully making a materially false statement on her tax returns. The plea led to a sentence of three-years' probation, including three months of home confinement, a $10,000 fine, and a $100 assessment. She also paid the IRS over $250,000 in back taxes, penalties, and interest."
The argument is she is a non-violent felon, and therefore she should have a gun.
Well, if felons can automatically get their voting rights restored, why not their gun rights?
ITEM 7
:
The Associated Press reported
, "Cher is in Pakistan to celebrate the departure of Kaavan, dubbed the world's loneliest elephant, who will soon leave a Pakistani zoo for better conditions after years of lobbying by animal rights groups and activists.
"Because of security concerns, Cher's schedule was not made public. However, she met Friday with Prime Minister Imran Khan and was expected to visit Kaavan later in the trip, according to the prime minister's office. Khan's office released a video of the singer sitting with the prime minister outside on the expansive grounds of Khan's residence.
"Kaavan, the elephant has languished in the zoo for 35 years, and lost his partner in 2012. He was diagnosed by veterinarians as both overweight and malnourished, and also suffers behavioral issues due to his isolation."
The loneliest elephant. Sounds like the Maytag repairman of the animal kingdom.
ITEM 8
: The History Channel ran history on Friday, shocking viewers.
I opined on Twitter that it must have run out of episodes of Ancient Alien Pickers. Others suggested a shortage of episodes of the Real Bigfoot Housewives Deadliest Attacks, Alaskan Ghost Moonshiners, and "600 lb. small people hoarders who live in tree houses."
Cable channels always promise great things but eventually deliver nothing but Kardashian knockoffs.
ITEM 9
:
Zero Hedge reported
, "A federal appeals court has tossed an attempt by the Trump campaign to revive a lawsuit seeking to undo Pennsylvania's certification of Joe Biden's irregularity-plagued victory in the state.
"The Friday decision potentially sets the stage for a US Supreme Court showdown, in which the 6-3 (arguably) conservative majority could overturn the results of the election.
"That said, according to Bloomberg -- citing 'experts' -- it's unlikely that the high court will take up a case if the evidence is lacking, and which won't affect the outcome of the election -- given that Biden would still win the White House without Pennsylvania's 20 electoral votes."
We shall see.
ITEM 10
:
Zero Hedge reported
, "Amid ongoing US negotiations with the Taliban which are aimed at reaching terms that would allow for a complete American troop withdrawal from Afghanistan, which is Washington's longest running war in history, at least ten US military bases have been closed since last February, The Washington Post reports.
"This also comes after President Trump controversially ordered the Pentagon earlier this month to initiate a drawdown of troops in Afghanistan and Iraq of up to 2,500 from each nation."
Caution: It is Washington Post reporting, so who knows what the real story is.
But the bottom line is we should have used Osama bin Laden's death as an excuse to exit Afghanistan.
ITEM 11
:
Politico reported
, "Republican David Valadao has won the race for the House seat in California's 21st District."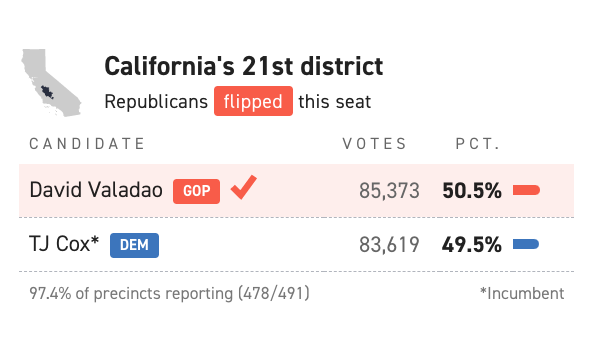 Best case scenario for Democrats now is to lose the presidency in court because otherwise they will lose both houses of Congress for a decade in a blowout midterm in 2022.
ITEM 12
: Through his communist CIA chief, Obama mourned the death of the chief of Iran's outlaw nuclear program.
John O. Brennan tweeted, "I do not know whether a foreign government authorized or carried out the the murder of Fakhrizadeh. Such an act of state-sponsored terrorism would be a flagrant violation of international law & encourage more governments to carry out lethal attacks against foreign officials."
Good riddance to bad rubbish.
And by rubbish, I mean Obama and Brennan. Trash. Angry communist trash.
ITEM 13
:
Pajamas Media reported
, "Johns Hopkins Study Saying Covid 19 Has 'Relatively No Effect on Deaths' in U.S. Deleted After Publication."
Covid 19 is overblown.
Well played, Red China.
Buying off the Democrat Party helped them pull off this economic sabotage. I wonder how much Red Chinese money Johns Hopkins got to run its pandemic meter, which fueled this hoax.
ITEM 14
:
Big League Politics reported
, "Michelle Obama was desperate never to be photographed wearing a bikini while serving as first lady, according to her husband's new book."
A grateful nation thanks you, Missus Obama.
ITEM 15
:
Breitbart reported
, "A spokesman for the Taliban told Afghanistan's Khaama Press in an interview published Thursday that the terrorist group's 'war against the United States will resume … until they leave Afghanistan' if Joe Biden walks back President Donald Trump's attempts to withdraw U.S. forces from the country.
"President Trump initiated talks including both the Taliban and the legitimate government of Afghanistan this year to come to an agreement that would result in the end of the American military presence in the country. Afghanistan is America's longest war, launched in the aftermath of the September 11, 2001, terrorist attacks. The Trump administration has sought assurances from the Taliban that it would not harbor terrorists seeking to harm American interests – such as the architects of the 9/11 attacks, al-Qaeda – in exchange for America not continuing to attack the jihadist group.
"Civilian casualties in Afghanistan dropped to their lowest level in eight years in 2020, as peace talks in Doha, Qatar – where the Taliban's political offices are headquartered – marched on. Attacks on American troops have also declined, though the Taliban has become more prolific in attacking the Afghan military."
Look, if Afghanistan wants a Taliban government, who are we to say no?
ITEM 16
:
The Hill reported
, "The House passed a Democrat-backed bill that would require election systems to use voter-verified paper ballots as an attempt to avoid election interference by a party-line vote of 225-184 on Tuesday, with only one Republican voting in favor."
Willie Sutton had a bank robbery reform bill.
ITEM 17
:
The Daily Mail reported
, "Donald Trump advisor Jason Miller took a pop at Hillary Clinton by joking she will be the next person to be pardoned after Michael Flynn. Miller, who was a senior advisor for Trump's 2020 reelection campaign, responded on Twitter to the news of the former National Security Advisor's pardon by the President on Wednesday. NBC correspondent Andrea Mitchell tweeted: 'A full pardon for the disgraced ex National Security Advisor. Who's next?' Miller replied: 'Crooked Hillary.'"
Disgraced?
Framed.
It's their self-righteousness that annoys me most.
ITEM 18
:
Tech Xplore reported
, "A trio of researchers at Johannes Kepler University has used artificial intelligence to improve thermal imaging camera searches of people lost in the woods. In their paper published in the journal Nature Machine Intelligence, David Schedl, Indrajit Kurmi and Oliver Bimber, describe how they applied a deep learning network to the problem of people lost in the woods and how well it worked."
Sure, that is what this technology will be used for exclusively.
No ulterior motive because we all know how altruistic science is these days.
ITEM 19
:
Twitchy reported
, "Carter Page files $75 million lawsuit against James Comey, Andrew McCabe, Lisa Page, and others."
This was what Peter Strzok meant when he said Donald Trump winning was OK because they had insurance. He meant against such a lawsuit.
ITEM 20
:
Via Citizen Free Press
, "Republican state Senator Doug Mastriano, "We're gonna do a resolution between the House and Senate, hopefully today.
"I've spent two hours online trying to coordinate this with my colleagues. And there's a lot of good people working this here. Senate resolution saying we're going to take our power back, we're gonna seat the electors. Now obviously we're gonna need the support of the leadership of the House and Senate, we're getting there on that."
It is not over until we say it is over.
ITEM 21
:
Newsweek reported
, "Betting markets are still pricing Donald Trump as having a chance of holding onto the presidency, despite Joe Biden having already passed the 270 Electoral College votes needed to win the 2020 election.
"UK bookmaker Betfair gave the incumbent odds of 11-1 to be the next president, with Biden on 1-18."
Never Bet Against Donald Trump.
Oh?
The story said, "As it turns out, attorney Sidney Powell has plenty of firepower to back up her Kraken claims about the 2020 presidential election, including high-tech intelligence experts who concluded electronic ballot theft tipped the results in key battleground states.
"First and foremost is Dr. Navid Keshavarz-Nia, an experienced cybercrimes investigator and digital security executive, who has worked with the CIA, NSA, FBI, and U.S. military counterintelligence, as well as corporate financial giants like Deutsche Bank and Stripe."
They stole the election.
We all know it.
We have the proof.
Will the Supreme Court hear the case?
FINALLY
, for the faithful, every day is Thanksgiving.
For the patriot, every day is Flag Day.
For Democrats, every day is April Fool's Day.