George Walker Bush had his moments.
But Donald John Trump is our president.
ITEM 1
: President Trump pardoned General Michael Flynn, ending a persecution followed by extrajudicial harassment by a racist judge.
Watching all the lefty outrage is entertaining.
Sanctimonious anger is always enjoyable to watch.
ITEM 2
:
The New York Post reported
, "A Nigerian playboy stunned guests at a celebrity wedding by arriving with six heavily pregnant women — claiming they were all expecting his child.
"Wearing a bright pink suit, a smiling Mike Eze-Nwalie Nwogu posed for an Instagram pic with the sextet in matching silver outfits before taking them to Saturday's high-profile nuptials in Lagos of actor Williams Uchemba."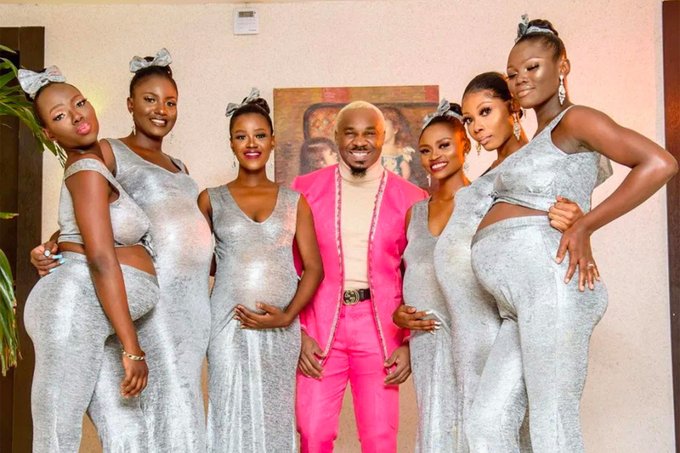 That's him!
That's the guy I wired $3,000 to.
Oh boy. I thought something bad had happened to him. Now I am going to get my $25 million, pay off my creditors, and buy that Bentley.
ITEM 3
: Lawyer Robert Barnes tweeted, "There are now multiple election contests, and correlated legal actions, filed in Pennsylvania, Michigan, Wisconsin, Arizona, Nevada and Georgia, in states whose electoral votes constitute more than the margin of victory in electoral college. The safe harbor for certifying is 12/8."
PJ Media reported
, "A Pennsylvania state court issued an order blocking the certification of election results in the state, pending a hearing to be held on Friday, reports Fox News."
The Washington Examiner reported
, "In its first court victory, a Nevada judge has agreed to let the Trump campaign present its evidence that fraud and illegalities plagued the state's election, enough to reverse Joe Biden's win and set an example for other state challenges.
"According to Trump officials, the judge set a Dec. 3 hearing date and is allowing 15 depositions. What's more, the campaign plans to present its evidence that could result in the rejection of tens of thousands of mail-in ballots in Democratic Clark County where Biden ballots outnumbered Trump ballots by 91,000 in unofficial results."
Lin Wood tweeted, "Thanksgiving Eve News! 11th Circuit granted my Emergency Motion for Expedited Review of lawsuit challenging validity of GA election procedure."
Never Bet Against Donald John Trump.
ITEM 4
:
Ace of Spades reported
, "The Healer in Chief, Barack Obama: Hispanics Who Voted for Trump Are Racists."
Zero's actual words were, "There's a lot of evangelical Hispanics who, the fact that Trump says racist things about Mexicans, or puts undocumented workers in cages, they think that's less important than the fact that he supports their views on gay marriage or abortion."
Obama put undocumented workers children in cages.
ITEM 5
:
Reuters reported
, "U.S. government civil servants could face mass firings under an executive order before President Donald Trump leaves office and Democratic lawmakers, watchdog groups and unions are mobilizing to block the move.
"Leaders of 23 House committees and subcommittees asked the heads of 61 federal departments and agencies to provide a "full accounting" of any plans to reclassify federal workers under the Oct. 21 order, leaving them vulnerable to firing.
"They also asked for details about any Trump political appointees who have already been hired into career jobs or are being considered. Initial responses are due Dec. 9, followed by biweekly updates, according to the letter, spearheaded by Oversight and Reform Committee Chair Carolyn Maloney.
"Wednesday's letter came after 13 House Democrats, including Gerry Connolly, chairman of the House Subcommittee on Government Operations and Majority Leader Steny Hoyer, on Tuesday urged appropriators to reverse the order in their next spending bill."
They resisted the new administration. They should be fired. He should have done this 4 years ago.
ITEM 6
: Just the News reported, "
The Supreme Court late Wednesday struck down New York Gov. Andrew Cuomo's new covid 19 restrictions on religious gatherings, as new Justice Amy Coney Barrett cast one of her first high-impact votes and Chief Justice John Roberts sided in dissent with the court's liberal bloc.
"In a 5-4 decision, the court said Cuomo's restrictions violated the Constitution's First Amendment right to freedom of worship and granted an injunction barring the rules from being enforced.

"
Let freedom ring!
Gorsuch wrote the decision.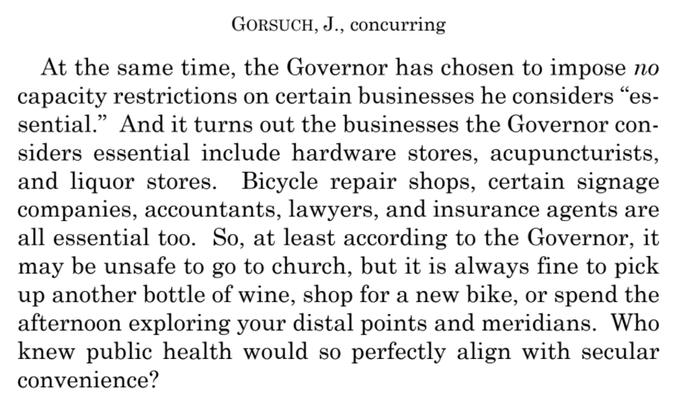 I am a little less anxious about the election case.
ITEM 7
:
Mike Miller reported
, "McConnell Vows to Continue Confirming Judges: 'We're Going to Run Through the Tape.'"
His column said, "As we recall, following the death of Associate Justice Ruth Bader Ginsburg in September, President Donald Trump and Senate Majority Leader Mitch McConnell ignored protestations from Democrats and the liberal media — no; in spite of histrionic Democrats and the hysterical barking hyenas of the liberal media — and successfully powered through the nomination and confirmation of Amy Coney Barrett to fill Ginsburg's seat. Mission accomplished. Expeditiously so."
It is good to know that for the next 4 years and 2 months, Republicans will continue confirming Trump judges.
ITEM 8
:
The Hill reported
, "States will begin receiving the first doses of covid 19 vaccines in mid-December, but will make their own determinations on who will be first in line for a shot. An estimated 6.4 million doses of Pfizer's vaccine will be distributed to states and territories by mid-December, assuming it receives Food and Drug Administration authorization by that point,
"Operation Warp Speed officials told reporters Tuesday. State officials were notified Friday how many doses they should expect to receive in the initial distribution, and they will make their own decisions about who will be prioritized for the first doses."
President Trump will have this wrapped up by the end of his first term.
ITEM 9
:
WKYC reported Dennis Kucinich
is seriously considering running for mayor of Cleveland again, 41 years after he left City Hall after one term.
I am seriously considering moving back to vote him out again.
The story said, " A hunter in the Czech Republic was charged by a deer that snagged the man's gun on its antlers and fled into the woods with the weapon, police said.
"Police in the South Bohemian Region said a hunter contacted authorities to recount the story of how he lost his gun while hunting near the village of Horni Plana.
"The man said one of the hunting dogs in his group startled a stag in a wooded area, causing the panicked deer to run directly toward him.
"The deer's antlers ripped the man's sleeve and ended up snagged on his .22 Hornet rifle, which had been slung over his left hand at the time.
"The animal ran off into the woods with the hunter's unloaded gun still attached to its antlers, the man told police."
Oh no.
The Bambinator is on the loose.
ITEM 11
:
Variety reported
, "Hollywood Grapples With Mass Layoffs as the Biz Redefines Itself for Streaming Future."
The pandemic panic has hastened the changes new technology wrought.
Not since the popularization of television in the 1950s has the movie industry faced such a change. In the end, movie studios became TV studios. This created more jobs;
The same will happen now but with a difference. Georgia has surpassed Hollywood in TV and film production.
The story said, "The drop in the volume of employment in a given sector always has a ripple effect in the national economy. The loss of so many high-paying jobs in a short time will be a dent in the coffers of Los Angeles County and for New York state in the short term. Michele Evermore, senior policy analyst for the Washington, D.C.-based National Employment Law Project, says it hits at a time when other industries are undergoing similar sweeping realignments with huge human toll."
Yes, shuttering the factories in the Rust Belt also came with a huge human toll.
Maybe Hollywood should promote America First instead of catering to Red China.
ITEM 12
:
Just the News reported,
"Google is in the process of planning a fiber-optic network that will, for the first time, connect Israel to Saudi Arabia through internet traffic. The effort is part of a larger project called the Blue Raman, that connects Europe to India.
"The Blue Raman internet cable will run 5,000 miles and potentially cost as much as $400 million. One goal of the project is to circumvent running internet traffic through Egypt, a country that charges a fee to telecommunications companies that connect Europe and India.
"Israel and Saudi Arabia have long been, at least publicly, political and economic adversaries. Despite a number of recent peace deals between Israel and some of its Middle East neighbors, the Kingdom of Saudi Arabia and the small Jewish state have yet to formalize diplomatic relations."
The marriage of Mecca and Jerusalem was presided over by Jared Kushner.
ITEM 13
:
CNBC reported
, "Thanksgiving is usually a $250 million box office haul. This weekend it will be hard to reach $20 million."
I have watched the movie trailers.
$20 million is a stretch.
Pandemic panic aside, what we call Hollywood is Loserville these days.
How bad is it?
It makes me wish J.K. Rowlings wrote another Harry Potter movie.
ITEM 14
:
Reuters reported
, "Americans defied pleas from state and local officials to stay home for the Thanksgiving holiday in the face of the surging corona virus pandemic, triggering fresh warnings from health officials with the release of vaccines still weeks away."
Well, the governors also are ignoring the orders, so why shouldn't we?
And who the hell are governors to order us, anyway?
ITEM 15
:
Scott McClallen reported
, "Minneapolis residents have standing to sue the city over an alleged police staffing violation, Hennepin County District Court Judge Jamie Anderson has ruled.
"Anderson's order rejected the city of Minneapolis' attempt to throw out the lawsuit because the city said residents lacked standing to sue.
"Anderson said he didn't have enough information yet to decide on the outcome sought by plaintiffs.
"Still, Anderson cited McKee v. Likins, in which the Minnesota Supreme Court held that 'taxpayers are legitimately concerned with the performance by public officers of their public duties. Accordingly ... a taxpayer suing as a taxpayer has standing to challenge administrative action which allegedly is rule-making adopted without compliance with the statutory notice requirements.'
"Eight Minneapolis residents sued the City Council and Mayor Jacob Frey in August, arguing they violated the charter requirement to staff roughly 743 officers for the 425,000-person city."
Defunding the police is going to prove to be quite expensive.
Republicans need to organize a citywide campaign with a full slate of council candidates to go with a mayoral candidate who doesn't screw sheep. The slogan is simple: Save Minneapolis.
ITEM 16
:
Armin Rosen wrote
, "An in-depth look at how The Drudge Report changed over the past few years finds it may have become a conduit for ad fraud and some think Drudge left in 2017."
What?

I mean we all know he sold out and all, but ad fraud?
That's a new angle.
The story said, "On Oct. 19 of this year, the top line of Drudge included a link to a plagiarized New York Times story hosted on an obscure website called Dnyuz.com. A Dnyuz link led the entire site on Oct. 21. There were multiple Dnyuz stories somewhere on the page for much of October, which is the kind of prime election-season Drudge placement editors might once have traded their expense accounts for — at least back in the days when editors had expense accounts and Drudge was seen as the kingmaker behind the entire American political information ecosystem.
"According to a May article in Buzzfeed, Dnyuz is an Armenia-based website that rips off articles from American news outlets without permission. Buzzfeed reported that Google kicked Dnyuz off of its advertising network but did not suspect any business relationship between Drudge and Dnyuz."
The article then went into how Drudge possibly profits off these links.
Now then, the free press is the free press in America. You can call the president Hitler. You can call his daughter the C-word on national TV. But you cannot bilk advertisers. The feds will crack down on that one.
Fox still has 5 times the audience.
But it once had 50 times the audience.
Pre-election, it averaged 34,000 viewers. Fox flipped off its viewers.
Mister Potato Head wrote, "
Greg Kelly, the 7 p.m. host on Newsmax, was the biggest beneficiary: His show averaged 80,000 viewers in the run-up to election day and topped 800,000 on the first weekday after Biden was projected as president-elect.
"
Funny thing about television. You can always change stations.
FINALLY
, Happy Thanksgiving.
You are not just eating turkey this year. You also are sending a middle-digit message to The Man.
And don't forget to thank The Man Upstairs as well.