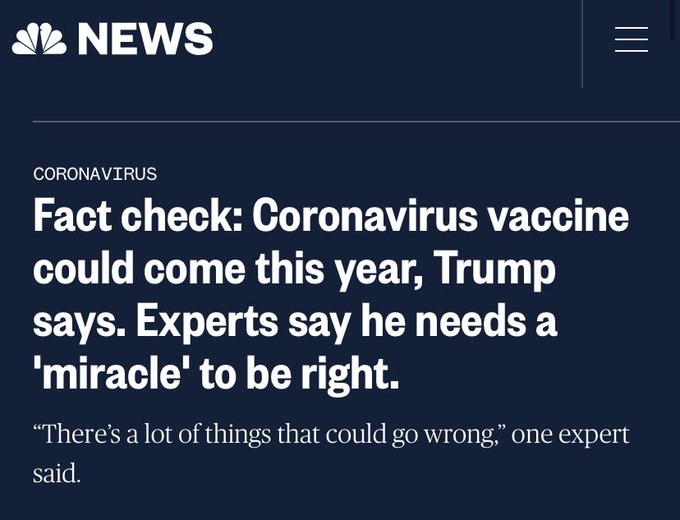 In May, NBC said it would take a miracle to get a corona virus vaccine by year's end. President Donald John Trump got us two -- with six weeks left in the year.
"The GOP also is seeking a court order to postpone the certification in Maricopa County — the state's largest by population — that's expected Thursday or Friday before a Nov. 23 deadline.
"In northwestern Arizona, Mohave County officials postponed their certification until Nov. 23, while other counties press ahead."
The truth shines on despite the AP.
"Trump also called the two Republican canvass board members from Wayne County to offer his support, the person said, after they went back and forth on voting to certify the election results from the state's largest county, which includes Detroit. The board members filed affidavits Wednesday seeking to rescind their votes to certify the election result.
"Trump extended the invitation on Thursday morning to the Michigan lawmakers by calling the state senate's Republican majority leader, the person familiar said."
It ain't over. We waited in 2000 until December 15.
The evidence of systemic voter fraud by Democrats mounts.
"A memory card that hadn't been uploaded in Fayette County, just south of Atlanta, was discovered during a hand tally of the votes in the presidential race that stems from part of a legally mandated audit to ensure the new election machines counted the votes accurately, said Gabriel Sterling, a top official in the secretary of state's office.
"The memory card's 2,755 votes are not enough to flip the lead in the state from Democrat Joe Biden to Republican President Donald Trump. The breakdown of the uncounted ballots was 1,577 for Trump, 1,128 for Biden, 43 for Libertarian Jo Jorgensen and seven write-ins, Sterling said."
AP can throw shade on the truth all it wants. The truth is emerging without or with the American press.
Yep.
If Biden had won, Democrats would not have needed to cheat.
"The commission's order requires the boards of canvassers in Dane and Milwaukee counties to convene by 9 a.m. CT on Saturday, and to complete the recount by Tuesday, Dec. 1."
The press can pretend Wisconsin went Democrat, but the American press is a bunch of liars who pushed the false Russian Collusion hoax for years -- full well knowing it was a lie.
He cited a Rasmussen poll.
30% of Democrats say their party stole the election.
ITEM 8
:
Paul Joseph Watson reported
, "Top pathologist Dr. Roger Hodkinson told government officials in Alberta during a zoom conference call that the current corona virus crisis is 'the greatest hoax ever perpetrated on an unsuspecting public.'
"Hodkinson's comments were made during a discussion involving the Community and Public Services Committee and the clip was subsequently uploaded to YouTube.
"Noting that he was also an expert in virology, Hodkinson pointed out that his role as CEO of a biotech company that manufactures COVID tests means 'I might know a little bit about all this.'"
He said, "There is utterly unfounded public hysteria driven by the media and politicians, it's outrageous, this is the greatest hoax ever perpetrated on an unsuspecting public."
This is how freedom dies. As Benjamin Franklin noted 250 years ago, people who trade liberty for security deserve neither.
"Elections Canada wanted to assure Canadian voters that they should not have the same concerns Americans have regarding election integrity."
Let us do what Canada does and bring back paper ballots.
Racist rocks.
Meanwhile, having a black student union isn't racist.
"Early season storms typically sweep a slurry of debris from streets and sidewalks into rivers, creeks and bays. This year, the fall flush not only contains the usual gunk, waste experts say, but a whole lot of discarded PPE — or personal protective equipment, the detritus of the pandemic.
"This influx of safety scraps into waterways is tough to quantify. However, the California Coastal Commission offered at least some idea of the volume: The agency said there was so much PPE during this year's September volunteer coastal cleanup and inventory that it had to create a new category for masks and gloves. The items ranked between plastic cups and beverage lids on the list of the top 15 types of litter."
Poop and used needles weren't mentioned in the story. Why would they? They are actual health hazards.
It is a shoo in for the Roman Polanski Award.
Science has spoken.
Democrats and RINOs once again ignore science.
"The apprehensions came as part of Operation Broken Promise, an effort to go after aliens who received an order of voluntary departure but did not subsequently leave the country."
Gee, people who wantonly ignored immigration laws broke their promise to self-deport.
What a surprise.
Are any deaths now not recorded as covid 19?
Coming out against a covid 19 vaccine will do that.
McDonald said, "in the last few days, more New Yorkers have enrolled in Cuomosexual Conversion Therapy."
Usually evil is more subtle than Cuomo, but he is Fredo's dumber brother, isn't he?
Think about it.
They cheated their arses off and barely stopped President Trump, failed to take the Senate, and almost lost the House.
All they have is hate, and that gets old after a while.
"Posts on the Facebook accounts of Ted Hui, Eddie Chu and Raymond Chan said they had been arrested over the incidents in the legislature's main chamber. The three separately disrupted meetings by splashing pungent liquids and other items in May and June."
Taiwan is next.
Then America.