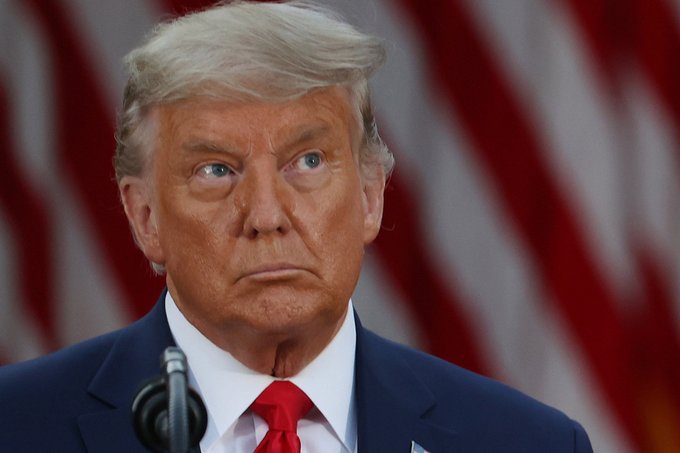 Donald John Trump is still our president. Never Bet Against The Donald.
ITEM 1
: Citizen Free Press reported, "In dramatic reversal, Wayne County election board rescinds votes, decertifying results."
"The statements by Wayne County Board of Canvassers Chairwoman Monica Palmer and fellow GOP member William C. Hartmann rescinding their votes from a day earlier threw into question anew whether Michigan's presidential vote currently favoring Democrat Joe Biden will be certified. They also signaled a possible legal confrontation ahead."
I am getting whiplash. First, the vote was 2-2, which blocked certification. Then threats were made to the 2 Republicans, and the vote was 4-0 to certify. Now this.
Only 55% of Americans believe this presidential election was legitimate.
The Supreme Court may not want to decide but tough brisket. That's what their job is. Boo hoo hoo. If Palmer and Hartmann can put their lives at risk like this for a fair election, 9 Old Men can. (OK, 6 Old Men and 3 Old Ladies.)
"Schumer has presided over two conference calls in which his fellow Democratic senators analyzed the disappointing results of races in Iowa, Maine, Montana and North Carolina, where they thought they had a chance to knock off GOP incumbents.
"So many Democratic senators wanted to speak out during last week's call that Schumer scheduled a rare Sunday conference call to give them a second chance to unburden themselves.
"The senators spent close to 90 minutes on Sunday offering their views about why they failed to win back the Senate majority and what they must do to be more competitive in rural states, where Republicans traditionally have an advantage."
But hey, Democrats outspent Republican Senate leaders McConnell and Cornyn -- money that did not go to places where they had a chance.
"The big picture: New York, like San Francisco, entered 2020 with one overarching problem: It was far too expensive, as a place to live and work. The pandemic has fixed that problem, with both commercial and residential rents finally coming back into the realm of (relative) affordability.
"By the numbers: New York has suffered more than 23,000 deaths from COVID-19, and its economic activity is projected to plunge by an astonishing 12.9% this year — a much bigger contraction than the expected national decline of 4.9%."
Rents are down because people are leaving NYC. People are leaving because the jobs have left. The jobs left because the mayor and the governor screwed up the pandemic panic.
And low rents means less money to spend on maintenance.
NYC is in deep doo-doo -- of its own making.
The doo-doo gets deeper.
Scary.
The liberal BI ignored the real reason Fox is losing viewers: years of opposing the most conservative president since Reagan. Calling Arizona way too early was the last straw for many people.
I quit years ago.
"A final analysis of results from their Phase 3 trial revealed the vaccine was even more effective than the 90 percent efficacy rate the companies announced last week. Among the 41,135 participants in the trial who received two doses, there has been no serious side effects with the most common reactions being fatigue and headache, which were experienced by only 3.7% of participants and 2% of participants, respectively."
No serious side effects.
Famous last words.
"According to court documents, from December 1996 to January 2011, Peter Rafael Dzibinski Debbins, 45, of Gainesville, a former member of the U.S. Army, conspired with agents of a Russian intelligence service. During that time, Debbins periodically visited Russia and met with Russian intelligence agents. In 1997, Debbins was assigned a code name by Russian intelligence agents and signed a statement attesting that he wanted to serve Russia."
He faces life in prison.
I want to know how he got away with this for 20 years.
"The operation, called "Stolen Innocence," which began in November 2018, wrapped up on Tuesday — and those allegedly involved face charges ranging from solicitation of prostitution to human trafficking of a minor, the Tallahassee Police Department said in a press release.
"It began when department investigators spotted images of a child posted on a website that advertises sex for money, authorities said. The girl was 13 and 14 when most of the alleged offenses occurred — but the abuse may have begun even before her 13th birthday, Elizabeth Bascom, one of the lead investigators, told The Tallahassee Democrat."
One girl, 178 exploiters. They deserve prison time.
Meanwhile, Prince Andrew and other visitors to Jeff Epstein's Pedophile Island remain free and unbothered by law enforcement.
It is as if we have two systems of justice.
Of course.
Kaepernick has led a pampered life, unlike Daniel Faulkner, the cop this fiend assassinated.
Kaepernick said, "Mumia has been in prison longer than I've been alive."
But he has not been in prison as long as the man he murdered has been dead.
"It added that 'white kids are being indoctrinated in black death' and are 'left unchecked and unbothered in their schools'. Her sons Edward, 11, and Thatcher Bray, 7, attended the Collegiate School on Manhattan's Upper West Side."
Good for her.
"59 members of Congress reported owing student loans in their latest financial disclosures published last year, including Reps. Alexandria Ocasio-Cortez, D-N.Y., Ilhan Omar, D-Minn., and Rashida Tlaib, D-Mich. Collectively, the 59 lawmakers with student loan debt owe at least $2.4 million."
That works out to more than $40,000 each. That's a pretty nice-sized bribe.
"The 75-foot Norway spruce, donated by Al Dick of Daddy Al's General Store in Oneonta, N.Y., arrived in New York City on Saturday for the annual holiday tradition. Many social media users complained it didn't look very full after being lifted into its spot by a crane, and compared it to the sad-looking tree from A Charlie Brown Christmas."
Too little, too late.
Accountability.
"The District of Columbia U.S. Circuit Court of Appeals said U.S. District Judge Tanya Chutkan was wrong to deny a challenge brought by 13 death row prisoners earlier this year."
Chutkan is an Obama judge.
Barring some hare-brained court order, Orlando Hall's execution will take place today.
This happened in 1994. It should not take 26 years to execute someone this deserving.