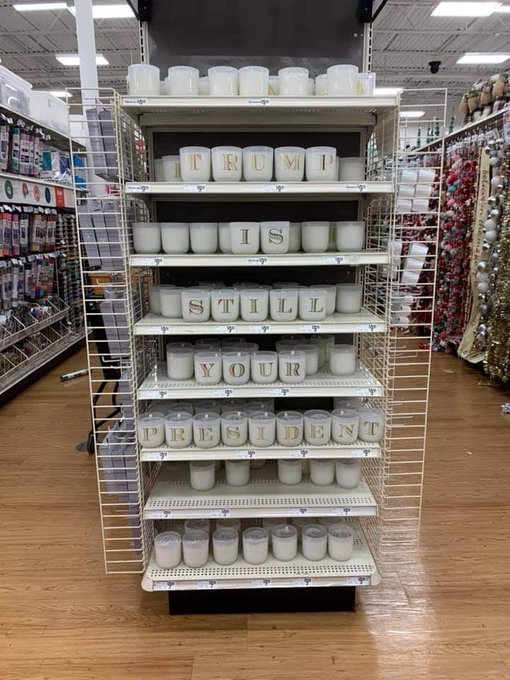 Donald John Trump is still our president.
ITEM 1
:
Yahoo reported
, "If Biden shuts down the US economy, the Dow would drop nearly 4,000 points: strategist."
ITEM 2
: In 2010,
Republican Senate candidate Christine O'Donnell said
, "I'm not a witch. I'm You."
Both lost.
Maybe Jones is right. Maybe they aren't a demonic cult because most demonic cults have a better track record.
"And it's no secret that our Social Media Overlords rank Fox News very, very low in their search queries.
"Or at least -- they did until now."
A reader Googled "Trump lawsuit" and Fox was the first site to pop up.
At least Judas got 30 pieces of silver. All these clowns got were a few hits.
I'm with Ace. Boycott Tucker too.
"The announcement was made on the project's website, which has been promoted by former Pete Buttigieg staffer Hari Sevugan."
That's a load of Obama.
The communists are a bunch of vengeful people.
Well, it is better than watching a crackpot network that told viewers President Trump colluded with Putin to win the 2016 election.
"News that Trump had signed the executive order, which prevents American businesses and individuals from owning stock directly or indirectly from a list of 31 businesses identified by the administration, was reported Thursday by the Wall Street Journal. Investors will have until November 2021 to divest of the securities in question.
"Divisions of two companies, China Mobile Communications and China Telecommunications Corp., trade on U.S. exchanges.
"The U.S. government argues that these companies support the development of the People's Liberation Army, China's military.
"The rule had been under review for months, administration officials said. It goes into effect Jan. 11."
The Real President has spoken.
Netflix added 2 million in that quarter, after a drop in September due to the boycott over Netflix running the child porn movie Cuties.
There is a lesson in there.
Somewhere.
"The Star will vacate its building at 1601 McGee St. by the end of 2021. As part of the transition, the newspaper will move printing to a third party, beginning in the first quarter of 2021.
"The changes come after parent company McClatchy, which owns 30 U.S. news organizations, including The Star, The Miami Herald and The Sacramento Bee, filed for Chapter 11 bankruptcy protection in February. The reorganization, which was approved by a federal judge in early August, allowed the company to renegotiate leases. Publications across McClatchy and the news industry have seen similar print consolidations."
Disney once owned the paper. Roy and Walt Disney got their start in business by delivering Kansas City Stars.
But newspapers are going the way of matchbooks.
"The decision by President Judge Mary Hannah Leavitt voids a Nov. 1 directive Boockvar issued to election officials in all 67 counties. In that directive Boockvar said those officials had until Nov. 12 to verify the identities of the voters who cast mail-in ballots."
What?
Democrats must obey election laws?
That is absurd. Laws are for little people.
"But Barack Obama made no such pledge. And now, just days after the 2020 election, the 44th president is hawking a new book so get ready to hear a lot more from him.
"Obama, the first biracial man to be elected president, makes an incendiary charge in his book, A Promise Land, which comes out Tuesday.
"President Trump, he claims, 'promised an elixir for the racial anxiety' of 'millions of Americans spooked by a black man in the White House.'"
Spooked.
He said spooked.
The dude was an affirmative action hire whose policies failed. History judges him by the content of his character. That is what really bugs him.
Fox said Democrats would gain 10 to 20 seats.
Fox is unfair, unbalanced, and oh-so-afraid of the Democrat Party.
"'Resources are hemorrhaging,' Arradondo said at a Tuesday meeting. 'Our city is bleeding at this moment. I'm trying to do all I can to stop that bleeding.'"
Boo hoo hoo.
The message to the department was clear. Good men and women are leaving. He doesn't care. No one in City Hall in Minneapolis cares.
ITEM 15
:
United Press International reported
, "South Korea offered a glimpse of a science-fiction future on Wednesday with a demonstration flight of a two-seat drone taxi in Seoul, as the government outlined ambitious plans to commercialize urban air travel by 2025.
"At an event held next to the Han River near Yeouido, a finance and banking district in the heart of Seoul, a two-seat drone produced by Chinese manufacturer EHang buzzed quietly overhead for about seven minutes at an altitude of over 150 feet.
Americans used to invent stuff like this.
Now we are too preoccupied with electric cars and windmills.
She made him a one termer.
Yes, Max Rose -- and fell.
Hard.