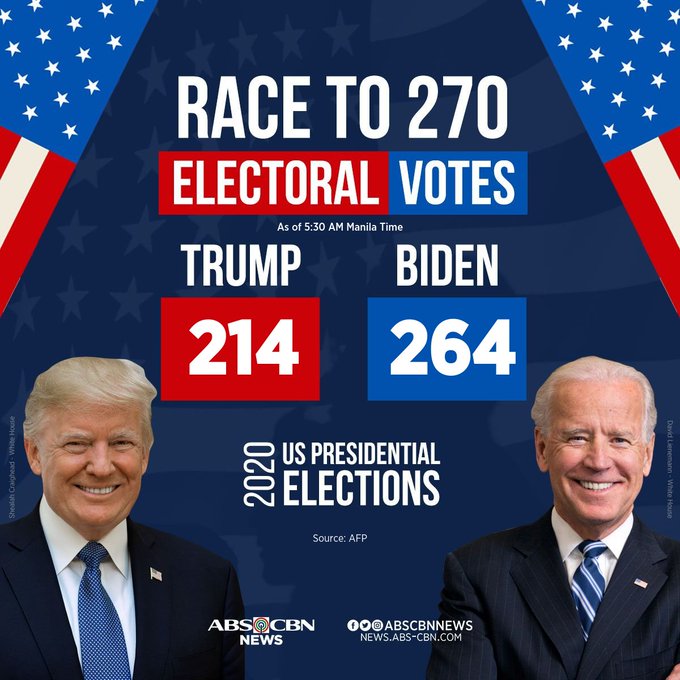 While Democrats high-five each other having stolen the elections in Wisconsin and Michigan, the fact is 264 is not enough electors to win the presidency through the Electoral College, meaning there are two outcomes: re-election in the Electoral College and re-election in the House of Representatives.
The nation is in the fight of its life, and I am glad that President Donald John Trump is leading the nation against this enemy from within.
This is the battle royal that we have feared would be coming. It arrived. It is the battle that Donald Trump was made to wage.
264 is not 270.
And this particular 264 is 253 because it includes Arizona among the states the Democrats won. President Trump did the math and Arizona will become official on Friday based on 650,000 Election Day votes that went uncounted.
Pennsylvania won't be official but President Trump leads. To give Biden the appearance of a large victory, the media denies that President Trump has won North Carolina and Georgia. The president is ahead 259-253.
And the president is challenging the shenanigans in Michigan and Wisconsin where the Democrats running the election apparatus stole or destroyed votes for President Trump.
All told, President Trump has defeated the forces of evil 285-253 in the Electoral College as Biden comes close but no cigar.
C. Edmund Wright advised the president to fight on, writing
, "I say, continue to hold rallies. Stay on this every second of every day. Keep your attorneys fired up. Keep your people fired up. Make it obvious that this is still a war between the people and the basement dwellers. More than ever, Trump must be Trump. Go with your gut. Attack. We shouldn't be here, but we are. It is what it is. Perhaps we have the one man who can make it his and our finest hour. The Republic depends on it."
He fights.
If you cannot fight for yourself, then you cannot fight for us.
He is, and we shall. This steal shall not stand and if it tears the nation apart, then that is what the Democrats did in response to 2016.
The only difference is they lost that election.
We won this one too.
Now to snatch this victory from the thieves.