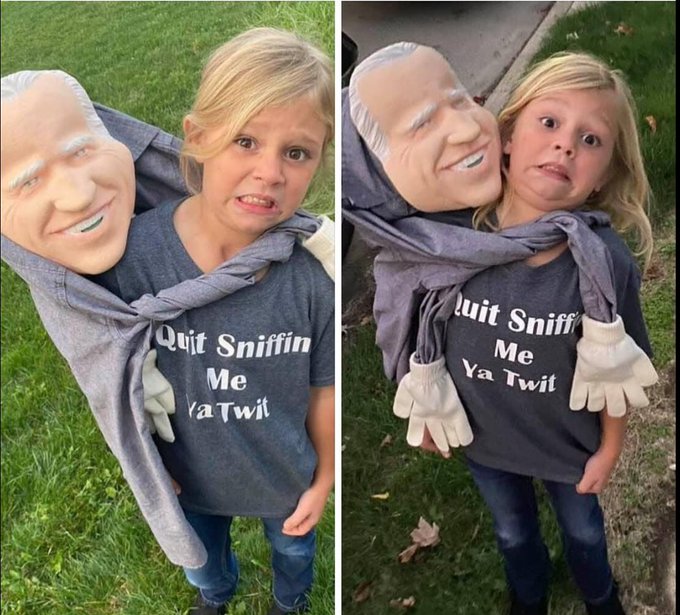 She wins the Halloween Costume Contest.
The New York Times Halloween night election trick is the old story that Donald John Trump got property tax relief to build in Manhattan when nobody else would.
The Times said, "Mr. Trump's low taxes over the years were largely a product of his businesses hemorrhaging money, according to federal tax records obtained by The New York Times. But the records also show that so-called depreciation losses and other benefits for the real estate industry have helped Mr. Trump reduce his federal income taxes. In 2016 and 2017, Mr. Trump paid $750."
Sigh.
He paid more than $750 in taxes.
But it is nice of the Times to finally acknowledge that you don't pay income taxes when you don't make money.
Buried in the story was this nugget of reality, "In 1962, Congress passed rules that made the depreciation tax break less lucrative when someone sold the asset on which they had been taking deductions. But Congress exempted real estate."
That Donald Trump has accountants who minimize his taxes cheers the working class who now pay income taxes, property taxes, and sales taxes in most states. Working people resent the Marxism the Times promotes.
Thanks for the votes.
Sean Connery is dead at 90. In his honor, the Jets record is now 00-7.
No members of the Navy Seals team that rescued Philipe Nathan Walton, 27, from kidnappers are dead. He was captured in Niger months ago, rescued in Nigeria today.
He is the 53rd hostage released either by diplomacy or rescue in President Trump's first term.
How does this affect the election? According to a tweet by Kurt Schlichter, Connery's last words were "Re-elect Trump."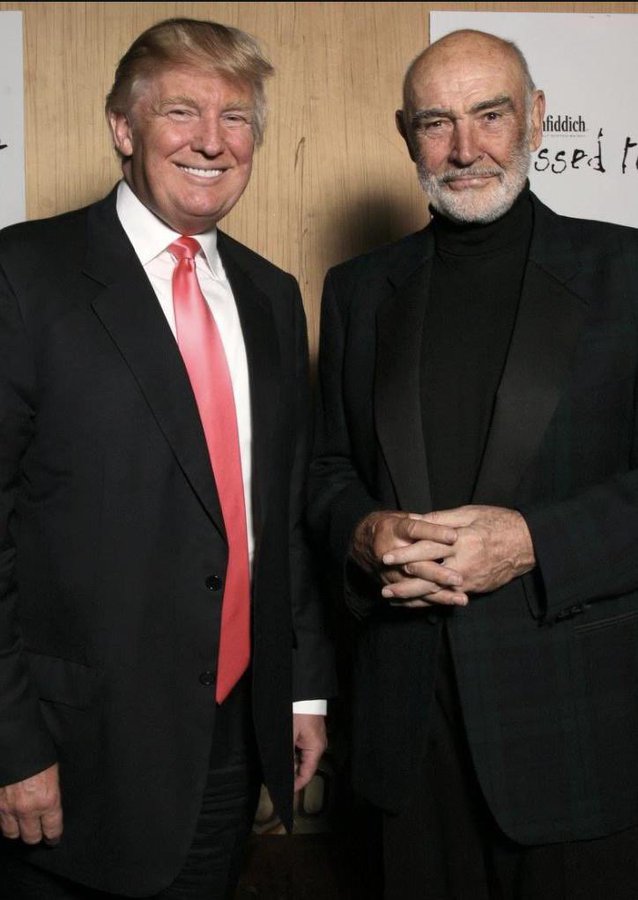 Both men had Scottish mothers.

***
Media-ite reported
, "Another round of 'CNN sucks' chants broke out at President Donald Trump's Michigan rally Friday afternoon, but the now-common refrain was followed by some boos when the president brought up Fox News as well."
I soured on Fox when none of its "all-stars" on Bret Baier's show had anything nice to say about Donald Trump in 2015 and 2016.
Hiring Paul RINO Ryan was the final blow.
I don't need TV to tell me how to think.
That is what wives are for.
***
Speaking of wives,
Melania campaigned solo today. She said
, "Joe Biden says he could do a better job leading this nation. Apparently when you hide in a basement, you feel safe communicating your wishful thinking."
***
Politico reported
, "Donald Trump and Joe Biden are dashing across the Midwest as the presidential race enters the final weekend, with Trump narrowing his focus to Pennsylvania on Saturday and Biden stumping in Michigan alongside his old boss for the first time this year.
"Trump captured both states by less than a percentage point apiece four years ago. This year, Democrats are keen to devote as much attention to them as possible after getting caught off guard in 2016 — hence Barack Obama's return to a state he twice carried handily.
"Before appearing with Biden in Michigan, Obama has headlined three events himself for Biden's campaign, tearing into Trump in Philadelphia, Miami and Orlando, Fla. The former president has said his successor has shown little interest in doing the job, or 'helping anybody but himself and his friends, or treating the presidency as anything more than a reality show that can give him the attention he craves,' as he told a small, socially distanced crowd in Florida this week."
Small, socially distanced crowd means staffers because they cannot draw anyone to their events because they cannot advertise them in advance.
They cannot advertise them because more Trump supporters will show up than Biden fans will.
The story then said, "Florida is the biggest prize among the core battleground states. But this weekend's schedule is a reminder that the clearest path to the White House runs through the Great Lakes states. Flipping Michigan, Pennsylvania and Wisconsin delivered Trump the presidency in 2016, and he and Biden both know that those states are likely to tip the balance in 2020, too."
Democrats gave up on Florida.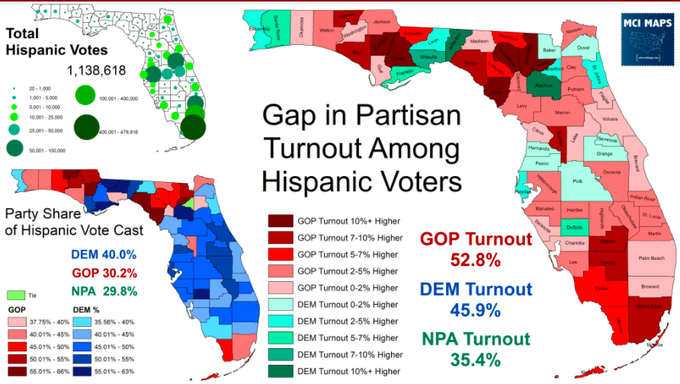 It is only the biggest swing state.
Joe Scarborough tweeted, "Republicans gained another 50,000 today in Florida. Democrats' lead has been cut from 430,000 to about 110,000. Republicans have 2 days to pick up 25,000 more to outperform their 2016 numbers. Unless Ds stop the slide this weekend, Biden is in a bind in Florida.
"Almost 2 million non-R/Ds will vote before Election Day. If Biden pulls out a win in Florida, it will be because they break his way more dramatically than expected, and because of what Dave Wasserman [of the Cook Political Report] is calling the Gray Revolt."
A former Florida congressman may know something about its politics.
***
CHRIS CUOMO: The president is putting a lot of money into your state. He's greatly increased his ad buy there, $1.2 million in TV advertising in the final week of the campaign, more than it spent there in the preceding three weeks combined. Do you think the president has a real shot in Minnesota?
KEITH ELLISON: Honestly, yeah, I do. I will tell you that I believe in our campaign workers and organizers. They're working extremely hard. I can tell you that Minnesotans know what a problem Trump is. They know he doesn't care about their health care. They know all the bad things about him. But, you know, there are some folks who still are supporting him. And so what I tell people is that if you — is that one, he does have a shot, don't play it cheap, work hard for every single vote. And don't stop until 8 o'clock on November 3.
The state has not voted for a Republican for president since Nixon in 1972.
***
Jack Posobiec tweeted, "Why are Biden advisors shopping their résumés around DC?"
***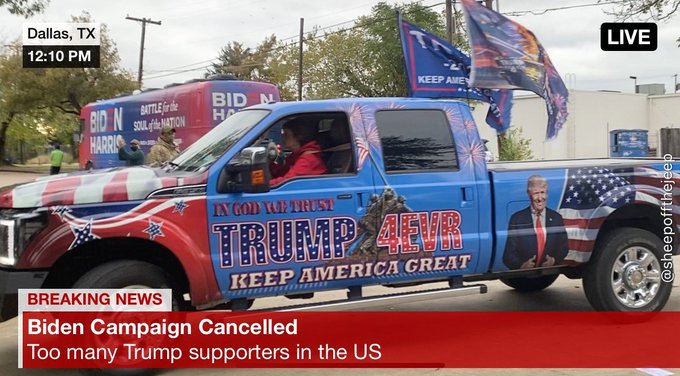 Biden's up by 7 according to Real Clear Politics.
Speaking of which, I realize the RCP Average is its most popular feature, but it drains its credibility.
When President Trump proved RCP wrong again, maybe it should just list the polls and not average them.
As it stands now, RCP owns its average.
***
The New York Post reported
, "Progressives, socialists and Bernie Bros are gearing up for war should Joe Biden fall short of his quest to unseat President Trump in Tuesday's election.
"'You would see a complete repudiation of the Democratic establishment as we know it,' said Jabari Brisport, 33, a Democratic Socialist-backed candidate for state Senate expected to easily win a Brooklyn seat next week. 'The Democratic establishment is not working for everyday people.'
"Brisport said a Biden loss would completely discredit the moderate wing of the party, paving the way for more successful insurgents like himself."
They burned the Bernie Bros twice.
The big donors have lost control of the party. I am buying popcorn futures.
***
Trump supporters greet Biden Bus.
I flew down to Texas to help with the Biden/Harris bus tour, intended to drum up enthusiasm at polling locations. Instead, I ended up spending the afternoon calling 911. 1/ pic.twitter.com/gKAjv7gv85

— Dr. Eric Cervini (@ericcervini) October 31, 2020
Deplorable.
***
President Trump's campaign schedule:
Sunday:
Washington, MI
Dubuque, IA
Hickory, NC
Rome, GA
Miami, FL
Monday:
Fayetteville, NC
Scranton, PA
Traverse City, MI
Kenosha, WI
Grand Rapids, MI
ABC. Always Be Closing.
***
Many people predict how the election will go. I ignore all but those who got 2016 right.
Eric Bolling tweeted, "Throughout 2016, I predicted a Donald Trump win. I was treated poorly by liberals and worse by colleagues. At 11 PM Eastern on election night, on Fox air, I called the win for Trump. I was told to stand down. I was right."
He predicts a 28-state win -- 275 to 263 -- for President Trump, as Biden flips Pennsylvania and Wisconsin.
***
I will be back on Monday at 7 AM with Highlights of the News.