President Donald John Trump is using a new mix of drugs to combat covid 19. Early tests on the regimen show recovery is possible in as few as 6 days.
Hailed by media outlets just days ago, look for CNN and its brethren to condemn the treatment now that their nemesis is using it.

"Mini Mike's news service reported on Tuesday, "A Regeneron Pharmaceuticals Inc. antibody cocktail may help treat corona virus patients outside of the hospital by reducing virus levels and symptoms, early study results indicate.
"In an early-stage clinical trial of 275 Covid-19 patients, those who received Regeneron's experimental therapy had lower virus levels in the bloodstream seven days later compared with patients who received a placebo, the company said in a statement.
"Shares of Regeneron were up 1.3% in late trading Tuesday. Through the close, the stock had gained 53% so far this year."
I don't link pay sites.
George D. Yancopoulos, Regeneron's chief scientific officer, said, "Regeneron's treatment, which contains a mix of two highly potent antibodies against the coronavirus spike protein,'rapidly reduced viral load and associated symptoms in infected Covid-19 patients. The greatest treatment benefit was in patients who had not mounted their own effective immune response."
What about hydroxychloroquine and zinc? That treatment still works. The president thinks this one works better. His physician signed off on it.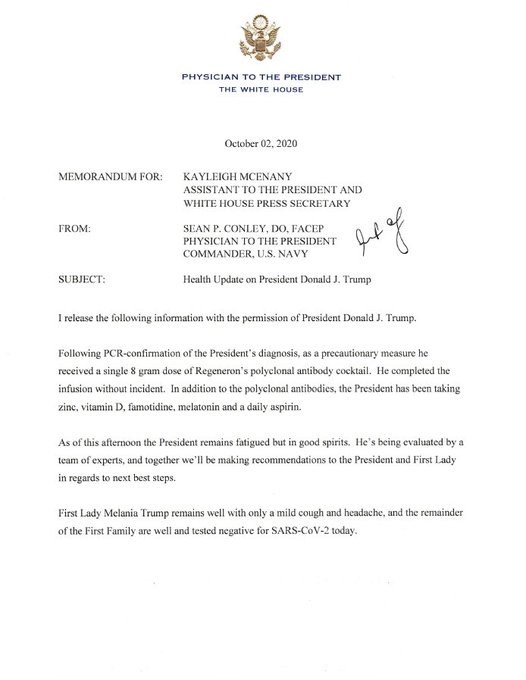 Prayer works too. Never not cover as many bases as possible.

The president could recover quickly. Biotech reporter Amirah Al Idrus reported treatments were based on patients showing covid 19 immunities. Those with some received lower doses.
He wrote
, "The drug's effect on viral load in these patients, known as seronegativity, appeared to dovetail with improvement in symptoms — those on placebo took a median of 13 days to recover from symptoms, but those on the high dose took eight days and those on the low dose took six days."
So the president could be good to go in a week or so.
Keep praying.