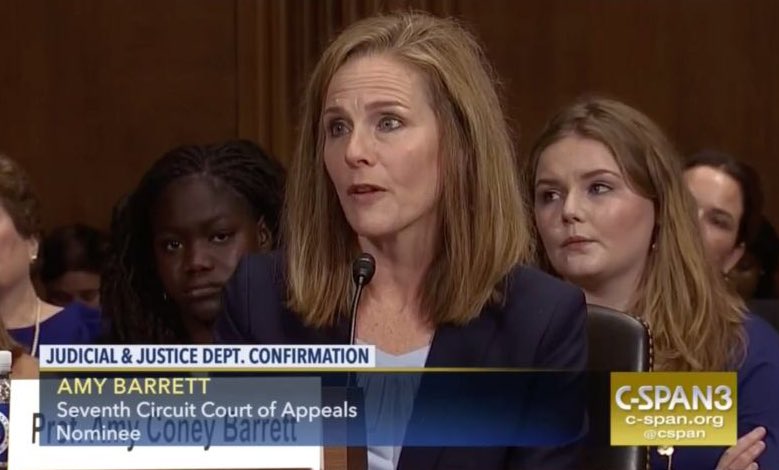 Democrats want to pack the court by adding more justices to the Supreme Court. As two can play that same game, Republicans should agree -- and when they take over the House, Republicans should expand the court to 29.
And then a Republican Congress should pass a constitutional amendment limiting the Supreme Court to 29 justices. If 38 states say yes, the judiciary is no longer a problem for Americans who believe in America, not globalism.
Democrats don't just want to expand the court to 13 justices.
Elie Mystal at The Nation made the Marxist case for expanding the Supreme Court to 29 justices.
Mystal wrote
, "Let's start with the obvious: We cannot go on like this. We cannot continue to exist in a polity in which the death of an octogenarian begets a generation-defining game of tug-of-war. We cannot endure under a legal system in which the death of one or two people opens the door to wild changes in our laws or the devastation of the rights of people living under them.
"The way to free ourselves from the random wheel of death is to have more justices on the court. Ginsburg's passing would have had significantly less impact on the fate of women's rights if she had been but one of 19 people instead of nine. By the same logic, it wouldn't have made sense for Republicans to block Garland's appointment if it would have changed just one seat on a court of, say, 29 individuals. Every Supreme Court justice would still be important but not nearly as important as each one is now.
"Moreover, a much larger court would likely lead to more moderate opinions (if not more moderate judges, since those don't really exist). That's because Supreme Court opinions have to be agreed to by a majority of the court. The reason some cases take longer to decide than others is not that the justices haven't made up their minds on the outcome; it's that they are working hard to fashion an opinion that can attract a majority of their colleagues. Trying to get a majority of your colleagues to agree with you on a 29-person court is just a different beast from trying to get your four arch-conservative buddies to sign on to your ruling. Decisions made for the benefit of more people tend to be watered down. That's basically how Olive Garden stays in business."
To liberals, the courts are just a restaurant.
Adding 20 justices would allow President Trump to diversify the court and make it look more like the United States.
We have one black justice today. Add three more: Daniel Cameron, the 34-year-old Attorney General of Kentucky; Robert Young, a former Supreme Court of Michigan judge; and retired D.C. Circuit judge Janice Rogers Brown.
Did someone say we need an Indo-American justice? Amul Thapar is alive and well and sitting on the 6th Circuit Court.
We need more women? Fine, promote Bridget Bade from the 9th Circuit, Allison Eid from the 10th, Britt Grant from the Supreme Court of Georgia, Barbara Lagoa from the 11th, Joan Larsen from the 6th, Martha Pacold from the U.S. District Court in Chicago, Sarah Pitlyk from the U.S. District Court in Eastern Missouri, Allison Jones Rushing from the 4th, Margaret Ryan from the U.S. Court of Appeals for the Armed Forces, and Diane Sykes from the 7th.
Add Judge Brown and 11 of those 20 picks would be women. To oppose allowing President Trump to expand the court is to be a misogynist, and that's deplorable, isn't it.
At a minimum, Democrats would expand the court to 13 to give Marxism a 7-6 advantage but Democrats are leaving nothing to chance after 2016.
They want to have at least twice as many justices as Republicans have. 17 would give them only an 11-6 advantage, but they will take it if they get Roberts to retire. Maybe they would drop that to 15.
Then Republicans come back in and make it 21.
To heck with that. Make it 29 and let President Trump appoint 20 of them. That would mean he would have appointed 23 justices, a new world record.
But it really means an end to Democrats legislating by litigation.
And after Souter and Roberts, Donald Trump is the only president I would trust with those appointments.