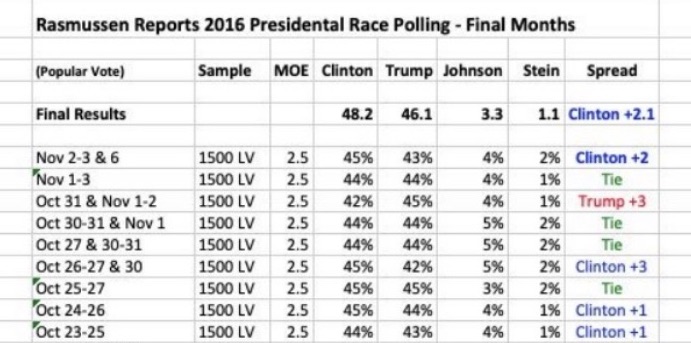 4 years ago, Rasmussen's final survey showed Hillary up by 2 nationally. That was how the popular vote went down. Rasmussen's latest poll has President Donald John Trump up by 1 over Biden.
This poll consistently shows a horse race that is too close to call, just as Rasmussen called the 2016 race.
But President Trump is making his move and there is nothing Biden can do to stop him because Biden is physically and mentally incapable of campaigning for more than one day in three.
Before the debate, Rasmussen had Biden up 3.
Four days later, Trump is up by 1.
And remember, he won 30 states down by 2.
The enthusiasm gap is real.
Rasmussen said
, "Trump earns 84% support among Republicans. Biden has 77% of the Democrat vote and leads by seven among voters not affiliated with either major party."
The poll show the president's approval at 52%, a peak.
Of course there is no national election. There are elections in 50 states and DC. State polls were a disaster in 2016.
For example, in Wisconsin, the final average of the polls showed
Hillary winning by 6.5 points
. She did not bother campaigning there. The Donald made a half-dozen visits and won the state.
The sewage of polls continue to flow.
Citizen Free Press reported
, "Drudge is pushing this ultra-lib UW Madison poll." It shows Biden up 8 in Pennsylvania, up 9 in Wisconsin, and up 10 in Michigan.
Up, up, and away!
In 2012, Obama carried Pennsylvania by 5, Wisconsin by 7, and Michigan by 9.5 points.
But Biden is going to do better than Obama in every one of them.
The president meanwhile held 3 rallies in Pennsylvania today, and scheduled rallies in Michigan, Wisconsin, and Nebraska for Tuesday. On Wednesday, he'll be in Arizona and Nevada.
Which brings me back to Rasmussen.
Paul Bedard delved into the poll and found the nugget that is going to be Donald Trump's political legacy.
Bedard wrote
, "The poll data showed Trump building an unusual coalition. For example, 27% of black people said they would choose the president if the election were held today. In 2016, he won 8% of the black vote."
1 in 4 Democrat votes are from black people.
Maybe white people are lying about being black. But if Republicans carry a quarter of the black vote, then Democrats are dead.
Obama won 53% to 46%.
Not convinced of its accuracy? 538 gives it only a C+ grade.