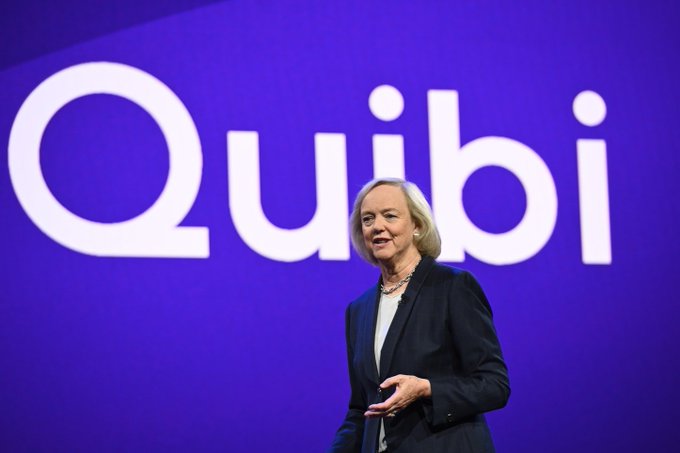 Trumpenfreude is when something bad happens to people who go out of their way to trash Donald John Trump. The comeuppance of some rich folk is sweeter than wine. Today's loser is a multi-billionaire who the New York Times listed in 2008 among those most likely to become the first woman president.
It's Meg Whitman, who successfully ran eBay for 10 years before running for governor of California in 2010. This politically savvy businesswoman spent $144 million of her own money to lose to Jerry Brown by 13 points.
She moved on to Hewlett-Packard, turned its profits into losses, and resigned.
Then she helped launch Quibi, a $1.5 billion business venture.
"On Wednesday afternoon, Jeffrey Katzenberg donned a suit and tie and joined an emotional video conference with the staff of Quibi from his Bel Air home. Together with Quibi CEO Meg Whitman, he confirmed the news that had been swirling for the past few hours: Their 6-month-old mobile video service would be shutting down after struggling to attract an audience for its shortform entertainment programming.
"Many Hollywood observers had been predicting Quibi's demise since the moment Katzenberg first made his plans for the ambitious startup known, but that didn't make the news any less surprising to the employees who had been in the trenches with him for the past two years, many of whom are fiercely loyal to the mogul and devoted to the business they helped to build. 'This is not how they wanted it to go,' says a person who has done business with Quibi. Another knowledgeable source, who calls the shutdown 'a shock for a lot of people,' describes it as a sad moment for the legions of hungry young Hollywood workers who took jobs at Quibi with ambitions to build the next big entertainment company."
Two months before her company collapsed. Whitman announced at the DNC that she would support Biden. In 2016, she endorsed Hillary. The next year, she lost her gig at Hewlett-Packard. Hmm. Whitman claims to be a Republican. Hmm, hmm. Now she has lost a second business. Hmm, hmm, good.
At the DNC in August, she said, "Donald Trump has no clue how to run a business, let alone an economy. Joe Biden, on the other hand, has a plan that will strengthen our economy for working people and small business owners. For me the choice is simple. I'm with Joe."
The Register reported
, "It was on Whitman's watch [as head of Hewlett-Packard] that the company made one of the worst tech acquisitions of all time, buying software maker Autonomy for $11 billion. It wrote down the value of the purchase by a whopping $8.8 billion a year later."
Even at his nadir in the 1990s, The Donald was down only a billion dollars. And it was his own money, not hapless shareholders.
He bounced back.
Hewlett-Packard did after it jettisoned Whitman.
Quibi won't be back.
The name Trumpenfreude is itself an act of Trumpenfreude as a reader recommended I swipe it from Paul Krugman, the worst economist in the world.
On December 23, 2015, Krugman coined the word, writing
, "You know what I'm talking about, of course — that feeling of glee mixed with fear as one watches the cynical race-baiting of the Republican establishment finally come home to roost, confirming that you were right to be shrill (and the centrists were naive), but with the slight admixture of panic because one of these guys might actually become president."
I would add Whitman to the
Official Trumpenfreude List
but after 118 names, it became a chore. I'm retired. I will update it right after a nap. (Notice I didn't say which nap in which year.)
For now, just enjoy that multi-billionaire Meg Whitman has Trumpenfreuded twice. The first time losing her job as Hewlett-Packard CEO after endorsing Hillary. And now she has lost her job as Quibi CEO after endorsing Biden.
Betting against Donald Trump can be quite expensive.