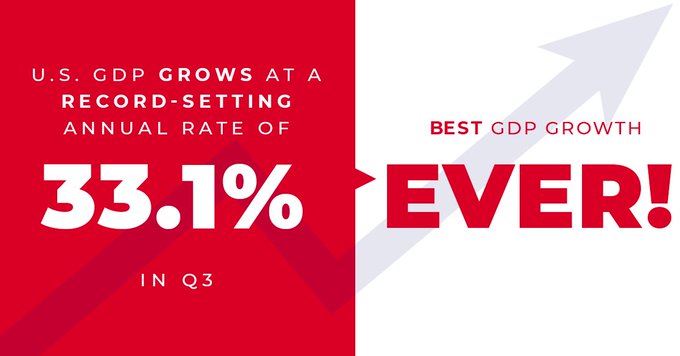 I offer a few items for thought, beginning with the laugh of the day.
Jason Miller tweeted, "Just spoke with a smart Dem strategist who is upset with the media's suppression campaign against Biden voters. Dems have spent months scaring voters away from in-person voting & are now realizing they need those votes, and media COVID fearmongering isn't helping matters...
"Additionally, these possible Biden voters just aren't that excited to go stand in line for him, on top of the media-driven COVID in-person voting fears. Massive enthusiasm disadvantage for Biden camp heading into Election Day is a problem -- the Red Wave is coming!"
Democrats blew the 2020 election in many ways, but this is my favorite.
The Wile E. Coyotes running the Democrat Party -- Obama -- thought they could ride covid 19. They ramped up the fears which shut down the Trump campaign. They would go online and campaign while the Trumpkins went door-to-door, ha ha ha.
The end of the rallies worked in the summer but in the autumn it has gone the way of the falling leaves.
President Donald John Trump contracted covid 19, left the hospital after 3 days, and ended the covidphobia once and for all.
Sure, you should wear a mask to the store but daggone it, don't be so afraid of death that you stop living.
***
Democrats eschewed door-to-door campaigning because of The Covid.
That cut them off from very good feedback.
Communication is always better when it is two-way, which is why I like blogging better than newspapering.
***
A Trump judge and a Bush 43 judge ruled Election Day is Election Day. They said, "However well-intentioned and appropriate from a policy perspective in the context of a pandemic during a presidential election, it is not the province of a state executive official to re-write the state's election code, at least as it pertains to selection of presidential electors."
Democrats will have to move Heaven and Earth to get the full circuit to hear and overrule.
***
Chris Donaldson reported
, "In a clear sign that Democrats are starting to get nervous, Minnesota's top officials made a drastic move to interfere in the election by placing severe restrictions on the size of a planned rally by President Trump.
"According to reports, the attendance for Trump's rally in Rochester has been downsized to a paltry 250 people after Democrat Governor Tim Walz and rabid socialist Attorney General Keith Ellison intervened. Trump has made numerous trips to the battleground state hoping to capitalize on the public revulsion to the ransacking of Minneapolis this summer when the George Floyd video triggered a wave of violent riots and local Dems pushed to dismantle the police."
They are scared to death.
Oh, and this will backfire bigly.
***
Sportswriter Clay Travis came out for President Trump. I was going to DM him telling him that was a mistake by going political. Stick to your lane.
Then I read the piece.
Excellent.
He worked on the Gore campaign in 2000 and voted for Kerry, Obama, Obama, and the Libertarian in 2016.
President Trump delivered as no president has since Ronald Reagan. No one outworks the man.
***
Tweet of the day
: "They're not boarding up major city blocks because they think Biden is going to win."
***
He pointed to polling by the Trafalgar Group in the battleground states it polls. President Trump won with 8% of the black vote this time.
He is polling triple that amount.
I am dubious, but Graham wrote, "Trafalgar is a Republican pollster and, therefore, some Joe Biden supporters dismiss their numbers as unreliable. Suffolk University's David Paleologos, however, is widely viewed as a nonpartisan and reliable pollster. Suffolk does polling for USA Today and the liberal Boston Globe newspaper, and Paleologos sees a similar trend among black voters."
Paleologos cited economic gains as drawing black support.
I wonder if President Trump's attitude helps. He pushes back twice as hard, which attracts rednecks. Why would that not attract a segment of black men or Hispanics?
***
Just the News reported
, "Michigan Democratic Rep. Debbie Dingell warned this week that a significant number of auto workers are again turning away from their traditional support of the Democratic Party and voting for President Trump.
"Dingell, who represents Michigan's 12th congressional district, told CNN host Alisyn Camerota on Thursday morning that discussions with voters indicated that the critical auto union vote may swing notably for Trump this year, as it did in 2016 when reportedly as much as 30% of such workers voted for the then-GOP presidential nominee.
"'So many auto workers who I thought were going to go back to Joe Biden ... were very clear with me last night they were voting for President Trump,' she said, while also urging grassroots campaign workers to turn out their votes.
"'President Trump is coming back [to Michigan] on Friday,' she continued. 'My grapevine tells me he'll probably be back again before Election Day.'"
Dingells have held that congressional seat since 1933. You do not do that by not counting noses every 2 years. Her husband was one of the first Democrats to see Donald Trump coming in 2016.
As for the media ridiculing Donald Trump for just defending his territory, his territory was enough to get him elected in 2016. Michigan was a Democrat firewall state that year, remember?
***
Newt is a Georgian and he is good at counting noses, too.
He is predicting 326 Electoral College votes, which would be 20 better than 2016. (Two of Donald Trump's electors were faithless, dropping his official total to 304.)
***
I don't know the answer to Instapundit's question. I stopped watching the news. I would rather watch Kim Kardashian. She has fewer boobs than the cable news shows, and she makes more sense.
Readers can answer Glenn's question for themselves.
***
Like me, ex-newspaperman Robert Stacy McCain follows the pols, not the polls.
He wrote
, "Four days before the election, Joe Biden today is making a campaign trip to Minnesota, which, as Trump campaign communications chief Tim Murtaugh points out, is 'a state that hasn't gone to a Republican candidate for president since 1972.'"
If you begin with only 20 states and you have to defend one of them on the final weekend, you had better change your plans for the next January 20th.
***
Rebecca Brannon tweeted
, "There are currently more Minnesota Trump supporters lined up outside the Biden event than cars in attendance for the campaign event in St. Paul. Joe Biden being drowned out by Minnesota Trump supporters right now."
In frustration, the Basement Boy called them "ugly folks."
As Cap'n Kangaroo once told Mr. Greenjeans, looks like Grandfather Clock knows he is gonna lose.
***
Now to work on Highlights of the News for 7 AM on Saturday.