Covid 19 was having a grand time, killing thousands of people and wrecking the world economy. Then it took on Donald John Trump.
As is always the case, Democrats chortled and cheered when the president tested positive. It was the Wisconsin primary again. It was the Billy Bush tape again. It was Russian Collusion again. It was the impeachment again. It was 14.7% unemployment again.
My reaction was succinct
, "So covid 19 has decided to take on the man himself, President Donald John Trump. Big mistake. Covid 19 will just make him stronger."
This has come to pass.
After a weekend at Walter Reed hospital and a week stuck in the White House, Donald Trump hit the campaign trail again on Monday. The president visited Sanford, Florida, where thousands of supporters waited for him. It was a rock 'em, sock 'em rally.
Jack Posobiec tweeted, "The media all said Trump was dying and now he is up on stage in Florida dunking on them and laughing in their faces. He ended by shaking his booty at the press riser."
Ann Althouse posted
, "He says he's immune to covid now so he wants to walk into the audience and KISS everyone — including the beautiful women."
A guy named Cuandoman tweeted, "Trump rises from covid like a dazed WrestleMania combatant. He proceeds to cut a Machoman promo on Biden for the remaining weeks of the election, the likes of which politics has never seen."
I think he almost feels a little TOO good pic.twitter.com/0HUAqrjjJt

— Davis (@DrH_MD) October 12, 2020
President Trump is healthy as a horse despite the virus. And he is immune to it now.
The press is aghast.
Reason magazine argued
, "After President Donald Trump was diagnosed with covid 19, he was prescribed powerful steroids. Among other things, this has raised important questions about giving presidents unilateral control over nuclear weapons.
"While Congress or military leaders are involved in any other decision to use of military force, the president can legally order a nuclear strike on his own. 'Congress doesn't have any role in this at the moment,' says Alex Wellerstein, a historian of science at the Stevens Institute of Technology. 'They're not expected to be consulted.'
"Unitary presidential control of nuclear weapons dates from the immediate aftermath of the Hiroshima and Nagasaki bombings, and the practice has been cemented over time. This is partly a product of the general shift toward a stronger executive, and partly just an issue of timing: If the missiles are coming, you can't call up Congress."
Once again, the useless press manufactures a crisis where there is none.

Donald Trump, who wants to rid the world of nuclear arms, is not going to blow up the world any more than he is going to lock himself down in a basement.
Glenn Reynolds nuked Reason's foolishness, writing
, "Well, Kennedy was on a witch's brew of drugs during the Cuban Missile Crisis, as we've known for years, and that didn't lead to any calls for change. 'By the time he was president, he was on ten, 12 medications a day. He was on antispasmodics for his bowel, paregoric, lamodal transatine [ph], he was on muscle relaxants, Phenobarbital, Librium, Meprobomate, he was on pain medications, Codeine, Demerol, Methadone, he was on oral cortisone; he was on injected cortisone, he was on testosterone, he was on Nembutal for sleep. And on top of that he was getting injected sometimes six times a day, six places on his back, by the White House physician, with Novocain, Procaine, just to enable him to face the day.'"
As I recall (and I was only 9 at the time) President Kennedy cut a deal that avoided World War 3 and kept nukes out of Cuba.
So what does beating covid 19 mean?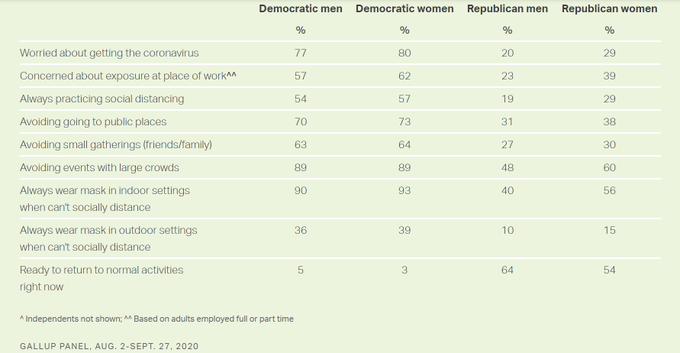 Gallup found a wide gap between Democrats and Republicans on the virus.
80% of Democrat women and 77% of their men worry about getting covid 19.
Only 29% of Republican women and 20% of their men do.
That 50-point gap explains why covid 19 made President Trump stronger.
Democrats are all worried about it. They are into social distancing and masks.
Most Republicans shrug it off.
Democrats thought covid 19 owned President Trump, but he now owns covid 19 because it did not kill him. He is not sitting at home sweating it out. He is the rock star on tour again. No gaffes, no masks, no social distancing.
Trump supporters see the lockdowns as too harsh (they are) and partisan (that too).
President Trump's quick recovery confirms that Trump supporters were right all along. Once again, we are happy.
And once again, the Wile E. Coyote press and Democrats are unhappy.