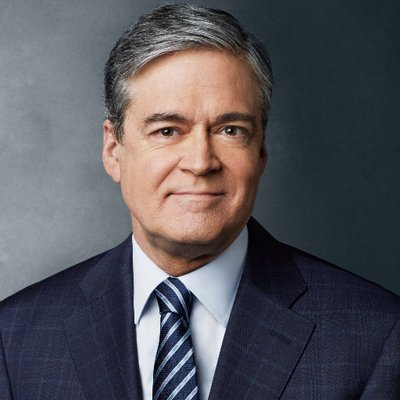 John Harwood had a pretty good thing going at CNBC. He was a political reporter on a business channel, which meant he was influencing elite businessmen. He blew it all in October 2015.
CNBC hosted a Republican presidential debate, and Harwood was among the moderators.
He asked Donald John Trump, "Is this a comic book version of a presidential campaign? You give nearly twice as much of a gain in after-tax income to the top 1%, as to people in the middle of the income scale. Since you're the champion of Americans living paycheck to paycheck, don't you have that backward? The leading Republican candidate, when you look at the average of national polls right now is Donald Trump. When you look at him, do you see someone with the moral authority to unite the country?"
The audience booed.
Other candidates objected.
The Republican Party pulled the plug on NBC hosting a future debate.
President Trump proved to be no comic book character. He beat the media, big money, and Hillary. Harwood meanwhile moved along to CNN where he plays fourth or fifth fiddle to Jim Acosta.
Harwood has learned nothing. He has not re-calibrated his thinking. He still considers President Trump to be a cartoon character, filing such stories as:
Trump's war on Obamacare is coming back to bite him

New York Times: Trump paid $750 in income taxes in 2016

Trump has stacked the federal bench, but he's not winning many election court battles

Trump's race-baiting might come at a cost to his economy

As he fends off more revelations, Trump is running short of time and targets

Source: Trump's HHS alters CDC documents for political reasons

Trump's dishonest campaign is entirely on-brand
And on and on he goes, disparaging President Trump at every opportunity without ever acknowledging any success. I could find no story or analysis of his historic Abraham Accord.
Meanwhile, Harwood refuses to look at the deep flaws in Basement Biden. This weekend, instead of reviewing allegations that Red China gave Hunter Biden bribes, cocaine, and underage sex, Harwood mocked President Trump's huge rallies.
Harwood wrote, "Trump's rallies make no political sense. Here's why he does them anyway."
His story said, "Instead of projecting newfound empathy and sobriety, Trump has flaunted his recklessness at packed, mostly maskless campaign rallies. That gleeful abandon, as he bleeds support from voters fearing he hasn't taken the pandemic seriously, makes no political sense.
"But it makes perfect emotional sense for a President who craves the applause of a zealous minority. His hunger for affirmation explains much about his conduct of the presidency -- and why it may soon come to an end."
To Harwood, the rallies are just an ego trip. He brings up covid 19 -- a subject never raised when the media reports on mobs rioting in city after city.
And Harwood wrote, "If Trump stages a comeback in the dwindling days of the campaign, in-person rallies are unlikely to be the cause. Research shows that such events exert marginal, fleeting influence on the electorate. The preeminence of social media over local news coverage 'suggests the effect will be even smaller in this cycle,' noted Thomas Wood, an Ohio State University political scientist who has advised Republican candidates.
"Yet rallies provide psychic gratification Trump cannot find watching bleak television coverage of his presidency from the White House. Dancing to YMCA, slinging masks from the stage, modulating his voice like a vaudeville performer, he draws energy from his fans' adoration."
Harwood's observation reminded me of Tom Brokaw's insight on Meet the Press 2 days before the 2016 election: "Well, what we're seeing is Donald Trump, the one that we've known in New York for a long time.
"His ego overrides everything else, including judgment. He has mistaken those big crowds that he gets, as he got again last night, 10-15-25,000 people for how you run a general election. And he thinks by showing up, he's going to get people who are going to show up there at his rally, but it's 25,000, it's not two million that he needs in every state. He is mistaken about what it takes to win."
Brokaw got that analysis completely wrong.
Hillary got the 2 million extra votes, while Donald Trump got the 25,000 here and the 25,000 there and pretty soon he had the presidency.
It is easy to see where Brokaw messed up. He looked at Donald Trump as the guy the tabloids reported him in the 1990s.
Brokaw did no research on just who Donald Trump is, how he built, lost, and built again a multi-billion-dollar enterprise that employs 20,000 or more people.
Many of the very people in the media who dismiss him as a reality show personality are in fact nothing more than TV celebrities themselves. They should know better but the sad fact is that many of the glib performers on television are not all that bright.
Which brings us to Mister Harwood. He has had 5 years to find out whom President Trump is, and he has not. He failed.
Then again, the media never figured out that Obama is just another crooked Chicago politician who is not particularly intelligent.
The superficiality of the pundits has shown throughout this presidency. Harwood still insists that Donald Trump is a comic book character. If only Harwood could get him to say his name backwards, the Trump presidency would end.