Fish Lips from Dick Tracy comics spoke before a Senate committee.
ITEM 1
:
The Daily Caller reported
, "Facebook CEO Mark Zuckerberg and Twitter CEO Jack Dorsey were unable to think of any liberal person or entity that has been censored by either platform during Wednesday's Senate hearing on big tech censorship."
The dummies don't realize the cancel culture will eventually cancel them, too.
Never buy one of their cookies again.
Hitler Youth were not as political.
The Second Amendment. Don't leave home without it.
ITEM 4
:
Rush Limbaugh reported
, "Panic! MSNBC Only Finds One Biden Voter Out of 50 in Arizona."
Limbaugh quoted MSNBC correspondent Vaughn Hillyard, who reported on early voting in Arizona.
Hillyard said, "It is stunning and worth noting that the president going up to the rural part of the state where there's a much larger population base -- is worth noting. I stopped up there yesterday, into a couple towns -- Lake Havasu, Kingman, Bullhead City. I went to one early voting location, and one only one person out of 50 said they were voting for Joe Biden!"
President Trump had no problem finding his supporters in Goodyear, Arizona.
Fox averaged 4.9 million people, MSNBC averaged 2.7 million, and CNN averaged 2.4 million.
Obviously, the truth no longer matters to millions of Americans.
"The 'Anonymous' writer turns out to be Miles Taylor, a former chief of staff during Kirstjen Nielsen's brief stint as Homeland Security Secretary. Never heard of him? No worries, no one else had, either."
Isn't resisting inside a duly elected administration sedition?
Is that legal?
President Trump needs to bring that clown down. I am tired of being nice to evil people like Miles Taylor, Al Vindman, and the rest of the sleazy crowd.
ITEM 8
: President Trump should hit Minnesota harder this weekend.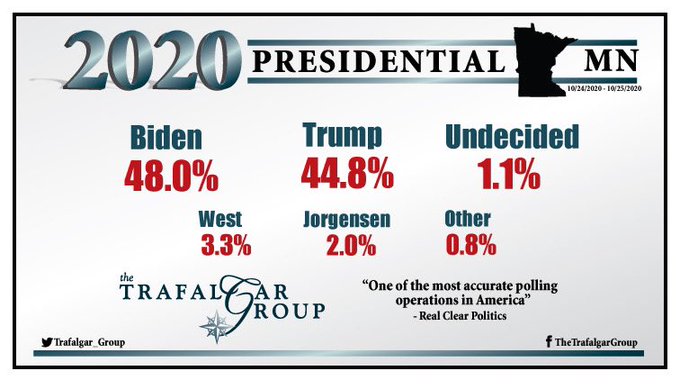 It has been 48 years since Minnesota went Republican in a presidential race.
Today, he will be in Florida and North Carolina. On Friday, he will be in Michigan, Wisconsin, and Minnesota. On Saturday, he will hold three rallies in Pennsylvania.
Biden will be in the basement, cellar, and laundry room.
The story said, "It comes a day after Tony Bobulinski, a former business associate of Hunter Biden, told Fox News' Tucker Carlson Tonight in an exclusive interview, that the former vice president's denials of knowledge or involvement in his son's foreign dealings are a blatant lie.
The Bidens are hoping the story dies soon. The Democrat Party is putting the arm on any reporter who dares broach the subject.
Increasingly, I feel as if I am in East Berlin watching the wall rise in 1962.
ITEM 10
:
Fox reported
, "Florida man charged with changing Governor DeSantis' voting address."
Obama turned a JV squad into one of the largest terrorist groups in the world.
Under President Trump, it no longer is even a JV squad.
The story said, "As a result, more than 20 female students who were employed by Big City Coffee found themselves without jobs."
SJWs are never about social justice. They are strictly seeking power.
McDaniel simply sends out the attendance of each Trump rally. While Biden finally drew 771 people to a rally, President Trump has held 25 rallies of 12,000 people or more in the past couple of weeks.
Drawing more than 300,000 people to rallies in 2 weeks is more telling to me than ABC screaming Biden is up 17 points in Wisconsin.
"The homicide rate in Chicago has reached a 5-year high so far in 2020, with total murders through almost 10 months already more than 50% higher than last year's full-year total. That spike broke a four-year downward trend occurring within a larger two-decade-long decline of killings in the Midwestern metropolis.
"Police data show that murders in the city year-to-date as of Sunday were 633, a 53% spike from the 415 murders recorded at the same time last year. Those numbers come in after several years of declining murder rates. An extensive dataset compiled by the Chicago Tribune earlier this year show that murders in the city were declining steadily from the year 2017 onward, reaching a low of 492 last year."
There are things worse than covid 19.
And Democrats are unleashing those things on us.
"'These absentee ballots will not be counted if it cannot be confirmed from the Intelligent Mail barcode that the ballot was mailed on or before the date of the relevant election,' Judge William W. Eldridge IV wrote.
"The judge also said that ballots with illegible postmarks should count provided that the oath on the envelope has been signed either on or prior to the date of the election.
"The ruling came in a case regarding the Virginia Department of Elections' guidance to allow the counting of mailed absentee ballots that are missing a postmark and ballots that have an illegible postmark when they arrive following Election Day but prior to noon that Friday."
John McCain Roberts is OK with holding up election results for up to 9 days for ballots postmarked on November 3rd or earlier. Republicans should make sure the postmarks are barcoded.
He outmasked Hillary 4 years ago.
Hey, this is as scientific as any of the public opinion polls.
"Citizen Free Press raised the alarm on Twitter about an hour after the disappearance.
"'Attention Bing: Citizen Free Press has completely disappeared from your search results in the past hour,' the secretive one-man operator who goes by Kane tweeted. 'The link to our homepage suddenly is gone from your results 7 days before the election. CFP gets 15,000 visitors per day thru Bing.'"
The bastards.
Kane has worked his ass off for 3 years to build a following only to have Bill Gates (Bing) try to pull him down.
Don't let the bastard Gates win.
Don't go by the public polls. They come out of the north end of a southbound bull.
The National File reported that early voting in Florida -- which was supposed to give Basement Biden an insurmountable lead on Election Day -- is split
No Miami, no Florida for Democrats, and no Florida, no White House.
While Biden cannot get elected without Pennsylvania, he needs more than Pennsylvania to win. Ask Presidents Gore or Kerry how that works.
Don't buy that dung about Texas or Georgia flipping blue.
And President Trump will save Lindsey Graham in South Carolina.
What can readers do?
Vote and pray. Those are the most powerful weapons in any American's arsenal.