An actual campaign ad. pic.twitter.com/0rd6UhHnTF

— Ian Miles Cheong (@stillgray) October 27, 2020
​Donald John Trump is still our president -- and the Frisbee golf champion of the world.
ITEM 1
:
NPR reported
, "A week before the U.S. presidential election, U.S. Secretary of State Mike Pompeo signed a military agreement Tuesday in India before heading to Sri Lanka on a multi-country tour aimed at pushing the Trump administration's anti-China message.
"Pompeo was joined in New Delhi by U.S. Defense Secretary Mark Esper. Together they signed a pact with their Indian counterparts to share sensitive satellite data, often used to steer missiles and drones.
"It's the latest in a series of U.S.-India military agreements designed to counter Red China's growing power in the Indo-Pacific region."
India has a long-standing reluctance to enter such agreements.
Prime Minister Modi, though, realizes he needs help to stop Red China's quest to dominate the world. India, the USA, Australia, and Japan are forming the Quad to stand up to Red China.
You can see why Chairman Xi wants Trump dumped. He no doubt is leaning on corporations to back Biden, who is on Red China's payroll.
ITEM 2
:
The New York Post reported
, "A US airstrike in northwestern Syria is believed to have killed seven leaders of al Qaeda affiliates, a military official said.
"The strike was conducted on Oct. 22 as the alleged terrorists were meeting near the city of Idlib, Central Command spokeswoman Maj. Beth Riordan told the Associated Press.
"The seven people who were killed were not identified, but Riordan said airstrikes like this will damage the terrorist group as they attempt to attack Americans and US allies across the globe.
"On Monday, Afghanistan officials said they killed a top al Qaeda propagandist who was on the FBI's most wanted list."
Winning a war, confirming judges, defeating covid 19 (personally and professionally) and hitting the campaign trail relentlessly while his opponent sits watching TV all day.
It is the working man versus the welfare recipient.
ITEM 3
:
The New York Post reported
, "A month-long mission in Ohio recently turned up 45 missing children and led to 179 arrests, authorities said.
"In an operation dubbed Autumn Hope, the U.S. Marshals Service in Ohio and Virginia tracked the children, including a high-risk 15-year-old girl from Cleveland who was linked to suspected human trafficking, authorities said Monday.
"Twenty other children were also located as authorities checked on their well-being.
"During one of the missing children recoveries, a loaded gun was recovered. A 15-year-old boy had two warrants and is suspected in multiple shootings and a murder, authorities said.
"Two other juveniles were found in West Virginia during a traffic stop, leading to the arrest of an adult male who was charged with concealment/removal of a minor child in Jackson County."
The Marshals Service, not the FBI. How about less spying and lying for Obama, and more law enforcement, FBI?
ITEM 4
:
The Hill reported
, "Biden leads newspaper endorsements — just like Clinton."
What good are newspapers if they just keep giving us bad advice?
In Arizona, Democrats have a 6-point lead. They won by 13 points in 2016.
In Michigan, Republicans have a 2-point lead.
In Wisconsin, Republicans have a 5-point lead.
In Florida, Democrats have a 7-point lead. They won early voting by 1.5 points in 2016.
In Georgia, Republicans have a 7-point lead.
In Ohio, Republicans have a 9-point lead.
In North Carolina, Democrats have a 10-point lead. They won early voting by 13 points in 2016.
Not bad. Not bad at all.
ITEM 6
: Democrats in Philadelphia celebrated their election victory a week early.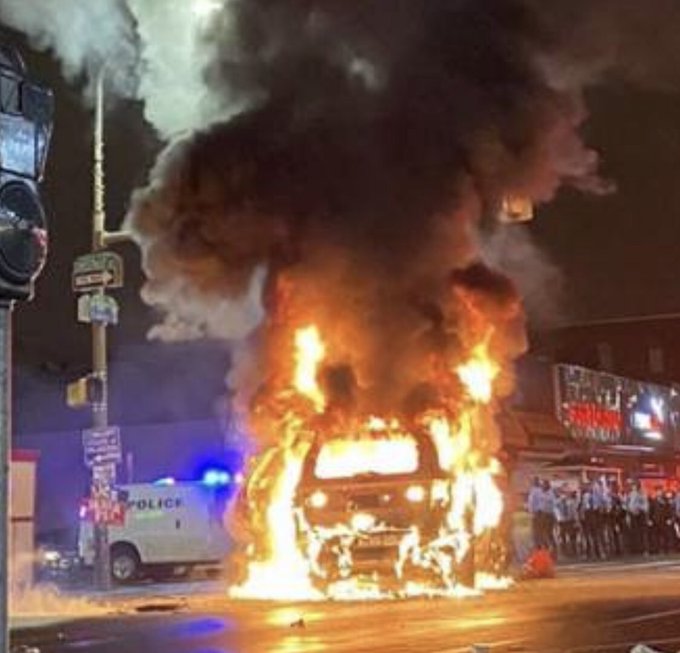 How nice of the party to give people a free sample of what's to come under a Democrat administration.
ITEM 7
: Joshua Flippo reported, "Donald Trump has just been nominated for the fifth time for the 2021 Nobel Peace Prize."
Blessed are the peacemakers.
ITEM 8
: Marshall Cohen of CNN tweeted, "Kavanaugh said 'most states' require absentee ballots to arrive by Election Day to get counted. That's technically true but really misleading. 'Most' in this case is 28 states. The other 22 states and DC accept ballots that are postmarked on Election Day but arrive later."
Come on, AT&T. CNN is a cash cow. Surely you can afford to hire a few reporters who graduated in the top half of their classes.
ITEM 9
:
Just the News reported
, "A majority of likely voters – including a near-majority of Democrats – say social media companies will censor information harmful to the Biden campaign in the lead-up to next week's election, according to a new Just the News Daily Poll with Scott Rasmussen.
"A total of 57% likely voters say that scenario will likely occur, while 29% disagree. The remaining 14% was unsure."
When have the social media elitists ever censored a Democrat?
ITEM 10
:
Dan Bongino reported
, "Corona virus cases are surging in Europe just months after the media pushed the narrative that Europe had it under control while America twiddled its thumbs.
"European media leans even further left than American media, and greatly amplified the narrative that America's response to the corona virus had been an unmitigated failure."
The American media is just as leftist. It just cannot reveal as much of its agenda because the American people are not euro-sheep.
No, Joe. We don't. We already knew that all along.
ITEM 12
: Nate Silver tweeted, "One state that's more important than you'd think for figuring out the relationship between the Electoral College and the popular vote is... California. Clinton won it by 30.1 points whereas Biden's lead in our polling average is 'only' 29.6."
Boy who got 2016 entirely wrong decided to snark.
ITEM 13
: The woman wrote, "I recently discovered your blog after 3.9 very demoralizing, down-trodden, fake-news fueled years. I would not watch or discuss much news because I could not take the hate and overt cheering (and actual plotting) by every conceivable outlet to distort the truth about right-leaning Americans and President Trump.

"As a conservative couple deep behind enemy lines in a very liberal suburb of Boston, we could not be more happy to have found your refreshing, hysterical and pithy words. Your slaying of the media and the ridiculous spin put out by the DNC (and others who wish to silence every alternative voice) has turned my hate for all things political to joyful glee! I wait, wait, WAIT for your daily news highlights to drop and gobble up your spot-on analysis. As such, I have turned my hubby and several fellow local closeted Republican friends on to your blog as you shine a lovely, truly patriotic beacon of hope on our shy but huge Trump love. We are filled with gratitude at how enjoyable you are making this last week of election fingernail gnawing and hand-wringing a HOPE-filled experience.
"Whereas we were quite afraid to consider any alternative before, thanks to this hope you bring, my hubby and I now have a saying to each other....'Have we won yet!?
"Thanks again for making me a smiling Surber junkie."
I thanked her.
I receive an email like that every other day it seems. That did not happen when I was a newspaper writer. I am having the time of my life.
ITEM 14
:
The Associated Press reported
, " A convoy of cars decorated with American flags and Trump 2020 banners on Tuesday drove from Tel Aviv to Jerusalem, holding a rally outside the U.S. Embassy in support of the American president ahead of next week's election.
"Some two dozen vehicles joined the procession, which was organized by Republicans Overseas Israel.
"While Jews in the United States are expected to vote overwhelmingly for Democrat Joe Biden, Donald Trump is a popular figure in Israel. Prime Minister Benjamin Netanyahu has described him as the greatest friend Israel has ever had in the White House. Most of the people in Tuesday's convoy appeared to be American immigrants, though there were also some activists from Netanyahu's Likud party."
He also is the greatest friend working people have had at 1600 Pennsylvania Avenue since Reagan.
ITEM 15
:
The New York Post reported
, "A former US Postal Service worker tossed dozens of absentee ballots and other mail into a dumpster in Kentucky, federal prosecutors said. DeShawn Bojgere, 30, who no longer works for USPS, was charged with delay or destruction of mail-in connection to the ballot dump earlier this month in Louisville, the US Attorney Russell Coleman's office said.
"More than 100 general election absentee ballots being sent out to voters were discarded in a construction dumpster, prosecutors said. They were tossed along with 69 mixed class pieces of mail, 320 second-class pieces of mail and two national election campaign flyers from a political party in Florida."
Democrats have more ways to steal an election than I can imagine.
ITEM 16
:
AL.com reported
, "Kimber Manufacturing is moving its corporate headquarters to Troy, Alabama, and will aggressively hire in all departments. The firearms manufacturer last week announced it is moving to a new facility it built last year on 80 acres with more than 225,000 square feet of space, with design engineering, product management and manufacturing space.
"The company, formerly based in Yonkers, N.Y., pledged two years ago to open a $38 million production facility in Troy, creating 366 jobs over the next five years, which Gov. Kay Ivey announced in her 2018 State of the State address."
Between Cuomo and taxes, New York shot itself in the foot.
Alabama targeted Kimber. The company scoped the offer, and is moving lock, stock, and barrel.
ITEM 17
:
Sara Carter reported
, "The Crow Indian Tribe Endorses Trump: 'Why Change Horses In Midstream?'"
Liz Warren hardest hit.
ITEM 18
:
Stephen Singer reported
, "Pratt & Whitney will build a 1-million square foot manufacturing plant in low-cost North Carolina, investing about $650 million and creating 800 jobs through 2027, the jet engine manufacturer and state officials have announced.
"Pratt & Whitney did not approach Connecticut as a possible site for expansion, said a spokesman for the Department of Economic and Community Development. Commissioner David Lehman said Raytheon Technologies has advised the state the project will not affect jobs in Connecticut."
That is how the slide out of a state usually begins. Instead of investing in the home state, it starts a new project elsewhere. Then it doesn't re-invest as much in its original factories. Then one day, state officials discover the company itself is leaving for greener pastures.
One more reason to re-elect our favorite president.
ITEM 20
:
The Washington Free Beacon reported
, "Civil Liberties Union, Legal Aid Society File Lawsuit Against de Blasio. Eleven protesters say mayor, police commissioner directed police to use unjustifiable force."
Maybe he thought they were Jewish.
FINALLY
, I will expand to add a post at 7 PM Eastern for the next few days (still no Sunday) simply because the information flow has ramped up.
The schedule is Highlights at 7 AM, a post at 11 AM, and a post at 3 PM.