Donald John Trump is still our president.
ITEM 1
: Let's start the day with a little Trumpenfreude.
Media-ite reported
, "Shepard Smith, once a star anchor at Fox News, made headlines last year when he abruptly left the network. Now, his highly anticipated — and heavily promoted — new show at CNBC is falling behind repeats of Fox Business show Lou Dobbs Tonight.
"Since its launch on September 30, CNBC's The News with Shepard Smith has presented a sleek hard news program with big name guests like Dr. Anthony Fauci — all while facing a continued decline in viewership.
"Bringing in an average of 343,000 total viewers in its first week according to Nielsen, the show dropped to 268,000 in its second week, 254,000 in its third, and is set to continue to decline for week four."
His show is quickly becoming the Witness Protection Program for politicos.
Oh, and it gets worse. He airs at 7 Eastern and is pummeled by MSNBC's Joy Reid, CNN's Erin Burnett and Fox News' Martha MacCallum.
And a Lou Dobbs rerun.
Hahaha.
Smith is a lefty. That is not the problem. The problem is he arrogantly tries to pass himself off as a neutral newsman. He's not impartial. He's insufferable.
ITEM 2
: I have one question about this next item.
Where are the feathers?
ITEM 3
: The Washington Pundit had an interesting take on the laptop of Hunter Biden, 50.
The post said
, "BGY is a system the Chinese have implemented to entrap and control powerful people. Blue involves investment in USA mainstream media for internet and media control; Gold provides financial benefits to influence business and companies overseas; and Yellow is the use of honey traps to compromise espionage targets."
Blackmail gets you what bribes cannot.
ITEM 4
:
Forbes reported
, "This has never happened before. The oil and gas business - the industry, its health and its impact on inflation and consumer prices - has always played some small role in presidential politics, at least since the oil shocks and embargoes of the 1970s. Most times in the past, the key issue surrounding oil and gas has related to the price of gasoline and what the candidates planned to do about it.
"The issue of oil and gas has only arisen whenever gas prices were considered to be too high, never when consumers were benefiting from them being historically low, as they are today. Yet, suddenly this year, this key industry is playing a huge role in the 2020 presidential politics, and it is wholly unrelated to anything having to do with prices at the pump.
"The issue in this election campaign is fracking, and whether or not it will remain legal should Democrat candidate Joe Biden become our next president."
(By the way, I corrected a typo in the quote. I find I have to copy edit too many mainstream articles. Yes, I make plenty of errors and I appreciate reader help in ironing them out of posts. I just wish the pros would do better with their prose.)
Fracking is a proxy war between capitalism and communism. The commies have been trying to shutter the oil industry for decades, inventing new excuses for a shutdown all the time.
ITEM 5
:
Government Executive reported
, "President Trump on Wednesday signed an executive order creating a new classification of policy-making federal employees that could strip swaths of the federal workforce of civil service protections just before the next president is sworn into office.
"The order would create a new Schedule F within the excepted service of the federal government, to be composed of 'employees in confidential, policy-determining, policy-making, or policy-advocating positions,' and instructs agency heads to determine which current employees fit this definition and move them — whether they are members of the competitive service or other schedules within the excepted service — into this new classification. Federal regulations stating that employees hired into the competitive service retain that status even if their position is moved to the excepted service will not apply to Schedule F transfers.
"Positions in the new Schedule F would effectively constitute at-will employment, without any of the protections against adverse personnel actions that most federal workers currently enjoy, although individual agencies are tasked with establishing 'rules to prohibit the same personnel practices prohibited' by Title 5 of the U.S. Code. The order also instructs the Federal Labor Relations Authority to examine whether Schedule F employees should be removed from their bargaining units, a move that would bar them from being represented by federal employee unions."
This is how it should be.
Civil Service was meant to protect clerks, not bosses.
Schedule F employees formed a resistance and tried a bureaucratic coup against the democratically elected president of the country. That sedition does not deserve a job guarantee. It deserves dismissal.
We need more political appointees and fewer lifers in government because the lifers are immune to accountability thanks to Civil Service.
Frankly, I doubt Civil Service is constitutional. The president heads the executive branch, not the bureaucrats.
ITEM 6
:
Fox reported
, "Democratic presidential nominee Joe Biden said that the government could provide four-year college educations for $150 billion, only for his campaign to later admit it would really be closer to double that amount.
"During an interview that aired Sunday on 60 Minutes, Biden bragged about the number as a feature of proposed 'significant institutional changes' that would include a 15% minimum tax on corporations, saying it would raise more than $400 billion."
We already spend way too much on education as it is. The system will not be reformed until we reduce spending, dump the educrats, and force schools and colleges to get back to teaching.
ITEM 7
:
The Center for American Greatness announced
, "A poll conducted by InsiderAdvantage for the Center for American Greatness of 400 likely voters in Pennsylvania shows Donald Trump now leading in the state. The poll was conducted the evening of October 25 by both IVR and live cell phone interviews. It has a margin of error of plus or minus 4.9 percent and is weighted for age, race, gender, and political affiliation."
Donald Trump: 48.4%

Joe Biden: 45.5 %

Jo Jorgensen: 3 %

Undecided: 3 %
The same poll had Biden in the lead less than two weeks ago.
That aligns with my observations. I would not be surprised to learn that is where we are nationally.
ITEM 8
: The New York Times (no links to pay sites) reported, "Troubling for Mr. Biden in a different way is the fact that he has not yet matched Mrs. Clinton's share of support in Philadelphia proper. Averaging the results of the two recent polls, he has the backing of 73% of Philadelphia voters, down from 83% for Mrs. Clinton in 2016. According to the Times/Siena poll, Mr. Trump was supported by 24% of Philadelphians, nine points ahead of his exit poll numbers in 2016."
And the story said, "High-quality polls of Pennsylvania conducted this month have put Mr. Biden up by anywhere from five to 13 points among likely voters. But they have also shown 5 percent to 10 percent of those voters declining to express support for either major nominee."
So Biden is up 5 to 13 points but 5% to 10% of the people polled won't say who they support. And those polls are days old as the Trump Train gains traction.
Biden has lost Pennsylvania. If we see it, the press sees it but refuses to report it.
ITEM 9
:
Top Trade Gurus reported
, "With 1,294,660 ballots cast, the GOP leads the early vote in Wisconsin. 42% GOP to 36% DEM. About 46% of the estimated total votes for 2020 have been cast. In Wisconsin, you can register and vote the same day, so this is still a close race. Over the past few days, Republicans have stormed the polls and are beginning to take the lead in early voting in several sates."
The cliche is that the only poll that counts is the one on Election Day.
People do not register Republican for this election to vote for Biden.
ITEM 10
:
Breitbart reported
, "Hundreds of suburban women and other Connecticut citizens gathered in Greenwich Sunday to show their support for President Donald Trump and police officers.
"A combination Trump 2020 and Back the Blue rally saw about 350 attendees meet at the Island Beach parking area and then march along Interstate 95.
"A Facebook grassroots group called Make America Great Women's Group organized the rally through social media."
Connecticut is not
in the 37 states
Donald Trump will win, but the rally is an indication that Democrats will need to make drastic changes before 2024.
ITEM 11
: Scott Adams tweeted, "Trump's 'leave it all on the field, happy warrior' campaign strategy for the closing week is brilliant. We are wired to appreciate conspicuous effort, and we overweight whatever is happening recently.
"He sponges up the news cycles, creates massive contrast to barely sentient Biden, and Trump's extreme workload to entertain his supporters triggers the base to give back. Humans are wired for reciprocity. Trump works hard, so the least you can do is return the favor and vote.
"Shifting to happy warrior mode, especially coming off his most presidential debate performance, makes the few undecideds wonder if they misjudged him.
"Every time you see Trump intentionally shift his performance mode to fit the situation, he seems smarter and less scary. You start to understand why he treats dictators well — because it works — while aggressively putting America first.
"Trump also takes advantage of the pattern-spotting part of your brain that believes he outworked Clinton in 2016 and something like that is happening again. And when we imagine a future, we tend to unconsciously bias our actions toward it. Meaning legendary GOP turnout.
"And by legendary, I mean all signs point to millions of Trump supporters engaged in the world's greatest dad joke. Wink wink."
That's a great analysis that Adams gave away as free content to give Twitter.
So let me scoop it up because I do not disagree with the man.
ITEM 12
:
Zero Hedge reported
, "Hillary Clinton is STILL salty about losing to Trump four years later, telling a New York Times podcast that she was 'born' to be president."
So what?
A million babies each year are not born because of abortion.
She got to be first lady. That's something to be proud of.
If losing the presidency haunts her the rest of her days, that is her choice, not mine. Her misery pleases many people who just don't like her.
ITEM 13
: New York radio talker Mark Simone tweeted, "Why do Dems/Fake News keep running the same play that always fails, each time showcasing a meaningless mediocre loser to go after the President, like Bolton, Avenatti, Omarosa, Vindman, Mary Trump, Michael Cohen, Michael Wolff, etc. Always forgotten two weeks later."
Because they are stupid.
Conservatives always overestimate the intelligence of liberals. If they were intelligent, they would be conservatives.
ITEM 14
: Pence went to Minnesota while his predecessor hibernated in Delaware.
The Star-Tribune whined
, "The rally exceeded state limits on the number of attendees after a weekend dust-up about Trump's Duluth rally."
All summer the "mostly peaceful protests" that destroyed Minneapolis exceeded those limits as well.
ITEM 15
: Astead W. Herndon tweeted, "A small scoop on my lebron beat: LBJ and Barack Obama have recorded a conversation for More Than A Vote to be debuted this week. it continues Obama's focus on black men ahead of Nov. 3."
Democrats are losing the black male vote to President Trump and Democrats are scared to death.
ITEM 16
: Clarence Thomas swore in Amy Coney Barrett as the new justice.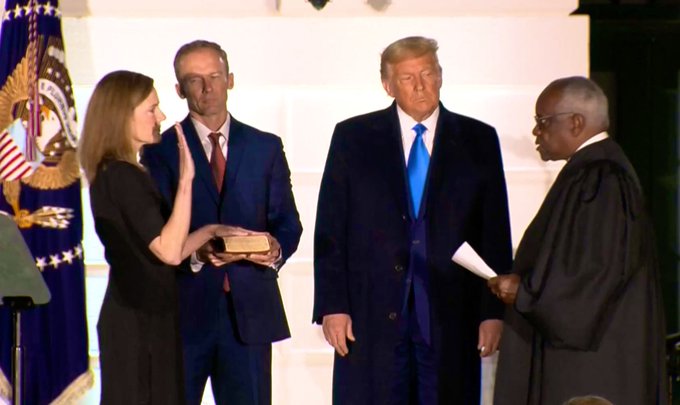 I hope this is a sign that Chief Justice John McCain Roberts retires next summer and President Trump appoints Justice Thomas to the post.
Among male senators, the vote was 44-30 to confirm her.
Women senators voted 18-8 against her.
ITEM 17
:
The New York Post reported
, "Most American voters believe Democratic nominee Joe Biden was involved in his son Hunter's controversial business dealings, a new poll has found in the wake of The Post's exclusive reporting on the family's murky overseas ties.
"The survey of 1,000 likely voters by Rasmussen Reports found 54% believe it's 'likely that Biden was consulted about and perhaps profited from Hunter's overseas business deals.'"
Let's see if any of that 54% vote for Biden.
ITEM 18
: Old: Trump the Press.
New: Troll the Press.
It is no more petty than a Washington Post fact-check.
ITEM 19
:
Citizen Free Press reported
, "The Supreme Court on Monday evening voted 5-3 against Democrats who were pushing to extend the deadline for counting absentee ballots in Wisconsin by six days in order to provide the state more time to deal with the surge in mail-in voting caused by the Covid-19 pandemic.
"The decision, announced in an order, came eight days before Election Day. Wisconsin is a key battleground state in the battle between President Donald Trump and Democratic nominee Joe Biden. As a result of the Supreme Court's decision, ballots will have to be delivered by 8 p.m. on Nov. 3 to be counted.
"The court's eight justices divided along partisan lines, with the court's three Democratic-appointees in dissent. The order, which came amid a flurry of election-related disputes that are making their way to the justices, was released as the Senate voted 52-48 to confirm Judge Amy Coney Barrett to the Supreme Court. Barrett's confirmation gives conservatives a 6-3 majority."
John McCain Roberts joined the 4 conservatives in upholding the law.
ITEM 20
:
Breitbart reported
, "North Carolina Democratic U.S. Senate candidate Cal Cunningham has been kicked out of his family's home in Raleigh, North Carolina, according to reports.
"Cunningham, a U.S. Army Reserve lieutenant colonel, was kicked out of his home following revelations that he cheated on his wife with at least one mistress, according to NationalFile.com and the Washington Free Beacon."
I can hear Hank Williams singing:
Came in last night at half past ten

That baby of mine wouldn't let me in

So move it on over (move it on over)

Move it on over (move it on over)

Move over little dog cause the big dog's moving in
If your life has turned into a Hank Williams song, maybe you ought not seek public office.
ITEM 21
:
The Daily Mail reported
, "Texas is preparing to send in 1,000 troops to five major cities across the state 'to deter any civil disturbance' post-election while stores in Washington DC begin to board up their windows Monday.
"Major General James K. Brown, of The Texas National Guard, told The Express News the move would offer support to local law enforcement 'as we did previously to deter any civil disturbance at sites in various cities within Texas'.
"In the nation's capital businesses close to the White House began to board up their windows Monday. Rodeo Drive in Beverly Hills will also board up ahead of November 3. The U.S. will vote on November 3 to choose between President Donald Trump and his Democrat Party challenger Joe Biden."
If Biden wins, they will destroy in celebration.
If Biden loses, they will destroy in anger.
If Biden ties, they will destroy in celebration of their anger.
ITEM 22
: Tom Bevan tweeted, "It's been 67 days since the end of the DNC. Biden has made 26 campaign visits. That's one visit every 2.57 days."
But don't worry. He will be a ball of fire as president.