Donald John Trump is still our president.
ITEM 1
:
The White House announced
, "President Donald J. Trump has informed Congress of his intent to formally rescind Sudan's designation as a State Sponsor of Terrorism. This follows on Sudan's recent agreement to resolve certain claims of United States victims of terror and their families. Yesterday, in fulfillment of that agreement, the transitional government of Sudan transferred $335 million into an escrow account for these victims and their families.
In addition, Sudan agreed to recognize the state of Israel and open diplomatic relations with Israel.
The experts said moving the embassy to Jerusalem would be a disaster.
It is.
For the experts.
"Now that is changing, leaving Mr. Zucker frustrated and his future at the cable news network in doubt.
"Mr. Zucker, who has overseen CNN for seven years, felt blindsided by a recent restructuring carried out by parent WarnerMedia, and has had friction with its chief executive, Jason Kilar, according to people familiar with the situation.
"The 55-year-old's contract expires next year and he hasn't committed to extending his deal in meetings with WarnerMedia brass and communications with CNN employees, the people say."
7 years of finishing 3rd in a 3-way race go down the drain.
I know all my readers are saddened by this news.
"October is already Trump Victory's largest online fundraising month ever, with this surge of donations double the size of the surge that propelled President Trump to victory in 2016 — this time a week earlier. The re-election effort's continued fundraising success is powering the largest infrastructure in political history, with only 11 days to go until Election Day."
The momentum shifted after the first debate. Now it is in overdrive.
Timing is everything in politics and comedy.
"While holding packed mostly maskless rallies that are often filled with seniors (even shouting out a pair of over 90 year old vets in the crowd at one recently)."
My body, my choice.
Why did the incarceration rate in federal prisons suddenly rise in 1995?
Oh yes, a Democrat Congress and a Democrat president passed and signed into law Biden's Crime Act of 1994 which lengthened sentences.
Kim Kardashian lobbied, and a Republican Congress and a Republican president dialed it back.
"Just 22% of the likely voters expressed doubt about surviving the virus and 7% were unsure."
He did.
Now, most people no longer fear the virus.
ITEM 7
:
Peter Nicholas reported
, "I Found a Clinton-Trump Voter."
ITEM 9
:
The Associated Press reported
, "The man who bought two rifles that terrorists used to kill 14 people in a 2015 attack in San Bernardino, California, was sentenced Friday to 20 years in prison.
This may mark the first time the AP called the Muslims behind the Riverside Christmas Party Massacre terrorists.
For a brief shining moment AP told the truth.
Wasn't he labor secretary under President Hillary?
"The nationwide, weeklong immigration enforcement activity, which concluded Oct. 9, focused on targeting and arresting individuals in sanctuary cities."
The story also said, "Individuals arrested in New York were citizens and nationals from the following countries: China, Dominican Republic, Ecuador, El Salvador, Guatemala, Grenada, Guyana, Honduras, Ireland, Jamaica, Mexico, Moldova, Mozambique, Pakistan, Panama, Peru and St. Lucia.
"The New York arrests included charges filed for assault, sexual assault against a child, lewd and lascivious acts upon a child, rape and criminal possession of a loaded firearm. Other charges include criminal possession of stolen property, driving while intoxicated, robbery and grand larceny."
"The ruling is a defeat for President Donald Trump's campaign and other Republicans, who had challenged the decision by Pennsylvania election officials, arguing that efforts to match signatures on ballots to signatures on voter rolls were necessary to prevent fraud."
This will bite Democrats in the seat. Bigly.
Democrats control the state Supreme Court.
I expect that to change quickly.
Remember: Vote Democrat and break your mother's back.
ITEM 13
: Worst debate moment was Mike Dukakis answering Bernie Shaw's question in 1988, "Governor, if Kitty Dukakis were raped and murdered, would you favor an irrevocable death penalty for the killer?"
He began his answer, "No I don't..."
Now we know why she drank.
On Thursday night, Biden topped that.
TRUMP: "Would you close down the oil industry?"
BIDEN: "By the way, I have a transition from the old industry, yes."
TRUMP: "Oh, that's a big statement."
BIDEN: "I will transition. It is a big statement."
A Bob Byrd move.
That's a compliment. Sheets knew Senate rules.
ITEM 15
:
The Sun reported
, "Thousands of witches are plotting to cast a binding spell on Donald Trump on Halloween, so that he loses the US election. The mystic women believe that the two full moons this month have given them extra magical powers to kick Trump out of the White House. The witches are also celebrating the rare confluence of the two powerful moon events in October - in effort to get Joe Biden elected in November."
It did not work last time.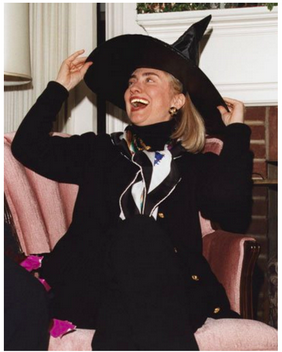 Behar is a zealot who sees a political disagreement as a crime against humanity.
Lefty rhetoric has spiraled into the danger zone.
"It will be the first time since World War II -- when Annapolis hosted the 1942 game and West Point the 1943 game -- that the rivalry has been played at a home site. The two schools also rotated hosting the first four games from 1890 to 1893."
Finally, something good emerges from the pandemic panic.
"The air is forecast to be so cold at its peak as to bring nighttime low temperatures to within a few degrees of zero in parts of Idaho, much of Montana and Wyoming, as well as the western parts of the Dakotas and northern Colorado.
"For example, 'in Billings, Montana, the temperature is forecast to shatter the current record of 18 set in 1997 Saturday night by at least 14 degrees and to blow away the record low of 22 set in 2002 on Sunday night by 22 degrees,' according to AccuWeather Meteorologist Reneé Duff.
"Record-challenging cold will be felt as far south as New Mexico, Kansas, Oklahoma and Texas by early next week, where temperatures are forecast to dip into the teens and 20s at night.
"Heavy snow, on the order of a foot or so, is most likely over the north- and east-facing ridges and peaks from Washington on Friday to northern Idaho and Montana on Saturday, Colorado on Sunday and northern New Mexico on Monday as the cold air pours in."
I liked global warming better.
ITEM 19
:
The Zia Poll has President Trump up by 4 in Michigan
. The poll said, "Biden has a slight lead among African American voters."
Slight?
The Senate Candidate John James Effect.
63 million viewers?
Son of a gun.
Um, no links for pay sites.
"Mark Kelly's full yearbook page is seen here, including a photo of him wearing what appear to be the same pair of sunglasses used in the Hitler costume."
Kelly is running in Arizona.
The reporter breaking this story broke the story that Democrat Governor Ralph Northam liked to dress up as a klansman in medical school.
The Trump Train rolls on.
"In a 4-1 decision, justices on the Maine Supreme Judicial Court rejected a lawsuit seeking to require state election officials to count any ballots that were postmarked by Election Day but do not arrive before polls close.
"The lawsuit from the Alliance for Retired Americans, Vote.org and two Maine residents had sought to extend the cutoff by 10 days because of the unprecedented use of absentee ballots this year and concerns about delayed mail delivery. The plaintiffs had also sought to require municipal clerks to take additional steps to contact voters whose ballots were deemed invalid.
"But the justices agreed with a lower court that the absentee ballot deadline imposed by the Maine Legislature 'even in 2020 imposes only a modest burden on the right to vote.' While the majority justices concluded that 'it is beyond dispute that a citizen's right to vote is fundamental,' they said the processes put in place by Secretary of State Matt Dunlap's office during the pandemic provided ample opportunities and ways for Mainers to cast their ballots."
This is common sense.
The deadline was set in 1845 by a federal law.
"According to the tracking survey, Trump's approval jumped nine points from Thursday to Friday, going from 37% on Thursday to 46% on the morning following the presidential debate. Overall, Trump has experienced a 24% bump in approval among likely black voters since Monday."
Let's see, Obama finally campaigns for Basement Biden, and Trump's approval among black voters soar.
Good news: They are sending Havana Barry to campaign in Miami Beach!