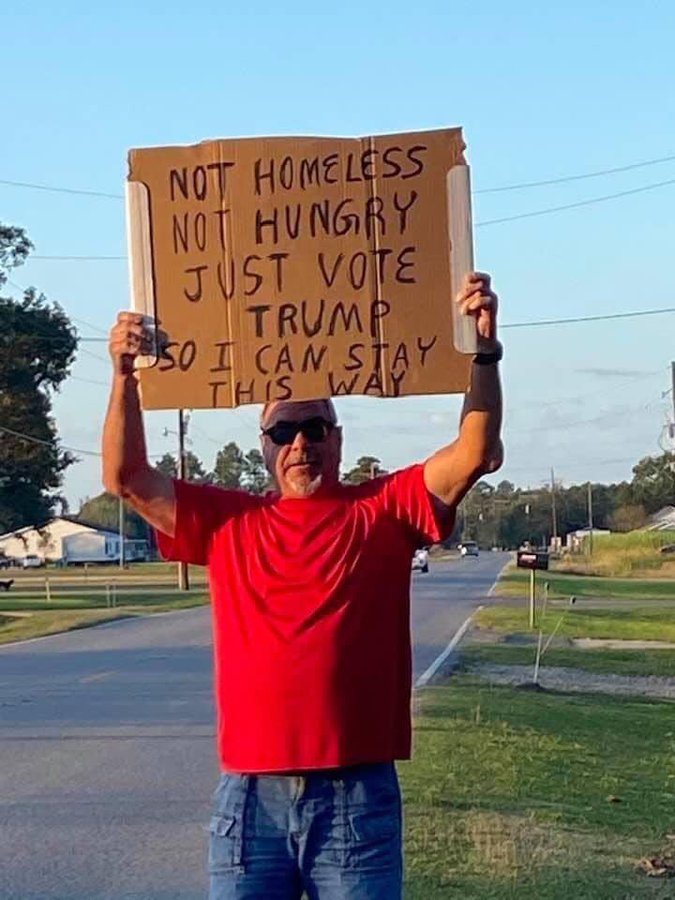 Donald John Trump is still our president.
ITEM 1
: Hamilton Nolan at Columbia Journalism Review wrote, "Washington Post public editor: the powerful have realized they don't need the Post."
Hahaha.
What a great day for freedom from a bunch of Marxist propagandists.
Nolan wrote
, "This month, we learned that Tesla, a $400 billion public company run by one of the richest people in the world, has done away with its media relations department—effectively formalizing an informal policy of ignoring reporters. Though we should all be grateful for the chance to hear less about Tesla, we should also recognize this for what it is: one more glaring data point showing that powerful people no longer think they need the mainstream press, especially critical and ethical outlets like the Washington Post."
Ethical?
The Post promoted the Russian Collusion Hoax for 2 years, pocketed a Pulitzer, and never ever corrected its errors.
That comes after ignoring bribes, payoffs, and sellouts by Obama for 8 years.
Houseflies are more ethical.
ITEM 2
: Sadly, though, Big Tech has replaced the media as the biggest deterrent to free thought and expression.

Suddenly, Alex Jones does not seem so crazy. Tyranny starts by nibbling at the edges before consuming us all.
ITEM 3
:
Via Breitbart, Joe Scarborough said
, "If you don't think people aren't going to look back at those rallies with the same horror that we now look back on the Salem witch trials, you don't think that's going to happen 50 years from now, 100 years from now, you are kidding yourself."
This is further proof that the Left has run out of things to call Our Beloved President.
The screaming meemies like Scarborough called him Hitler too soon and now have nothing to top it.
Constant anger can be a sign of mental illness. But I am no doctor.
ITEM 4
: More than 300 retired generals and admirals signed a letter of support for President Trump.
It read
, "The 2020 election affords the American people an urgently needed opportunity to affirm their devotion to the Constitution of the United States and to the American way of life. As senior leaders of America's military, we took an oath to defend the United States from all enemies, foreign and domestic. At present, our country is now confronted with enemies here and abroad, as well as a once in a century pandemic.
"As retired military officers, we believe that Donald J. Trump has been tested as few other presidents have and is the proven leader to confront these dangers.
"It can be argued that this is the most important election since our country was founded. With the Democratic Party welcoming to socialists and Marxists, our historic way of life is at stake. During the Obama/Biden administration, America's armed forces were subjected to a series of ill-considered and debilitating budget cuts. The Democrats have once again pledged to cut defense spending, undermining our military strength.
"The Democrats' opposition to border security, their pledge to return to the disastrous Iran nuclear deal, their antagonism towards the police and planned cuts to military spending will leave the United States more vulnerable to foreign enemies.
"President Trump's resolute stands have deterred our enemies from aggression against us and our allies. The proposed defense cuts by the Democrats will, in our professional judgment, create a potentially perilous situation for the United States during a time of great external and internal threats to our Nation.
"For these reasons, we support Donald Trump's re-election. We believe that President Donald Trump is committed to a strong America. As president, he will continue to secure our borders, defeat our adversaries, and restore law and order domestically. We urge our fellow Americans to join us in supporting the re-election of Donald Trump for President."
That's great, but how are the sergeants major voting?
ITEM 5
: Biden, Obama, and their wives, 2008.
Obama by himself, 2020.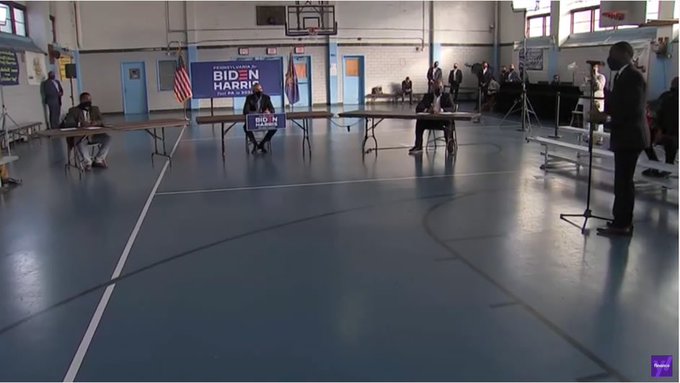 Alone again. Literally.
To be fair, 300 cars showed up for his Jumbotron-ed rally. That is at best 1,000 people. Now compare that to the Real President's rallies, such as this one in North Carolina.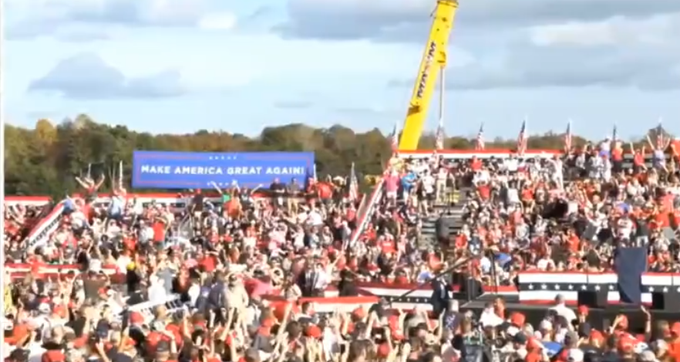 But, hey, he is down 100 points nationally, amirite?
ITEM 6
: Ari Fleischer tweeted, "Obama tonight on Biden: 'No one is better than you, Joe, but you're better than nobody.' What in the world does that mean?"
Better than nobody. That's a campaign slogan worthy of Joe.
ITEM 7
: The Daily Caller tweeted, "Tucker Carlson reveals a letter to CNN anchor Chris Cuomo from the management of his New York City apartment complaining about how he refuses to wear a mask."
Arrest him, Governor Cuomo.
ITEM 8
:
Breitbart reported
, "CBS's This Morning highlighted the enthusiasm of President Donald Trump's supporters outside his Tuesday night campaign rally in Erie, Pennsylvania.
"Reporter Tony Dokoupil said, 'In our election series At America's Crossroads, we are finding fresh evidence of voter enthusiasm here in Erie, Pennsylvania. Now you can only vote once in America that is bedrock, but people who plan to cast their ballot for President Trump may be voting with a bit more passion. Pollsters have found that two-thirds of President Trump supporters say they strongly back their candidate compared to just 46% of Joe Biden's supporters, who tend to be driven by opposition to the president. To learn what is behind those feelings among Trump supporters, we talked to members of the crowd at Mr. Trump's rally last night here in Erie.'"
Anchor Gayle King ended the segment by saying, "It's just a reminder to me that people want to be heard and they want validation. What I hear from that interview that you did with the Trump voters, they feel that Donald Trump hears them and validates them, and that is what everybody wants."
The media knows what is happening. If I can see it in Poca, West Virginia, they can see it too.
ITEM 9
: Monday is the 4th anniversary of the Greatest Tweet In History.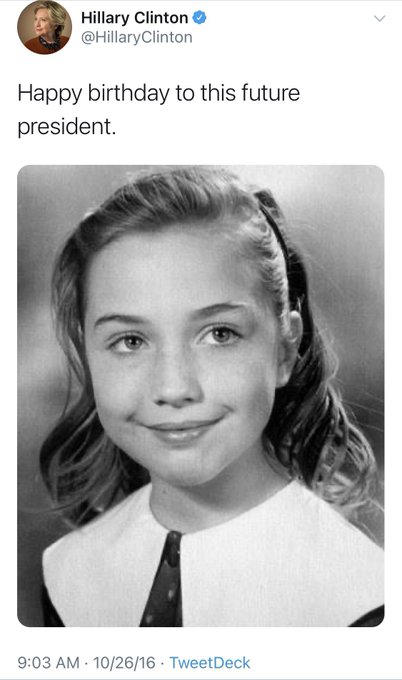 Can Hillary top it?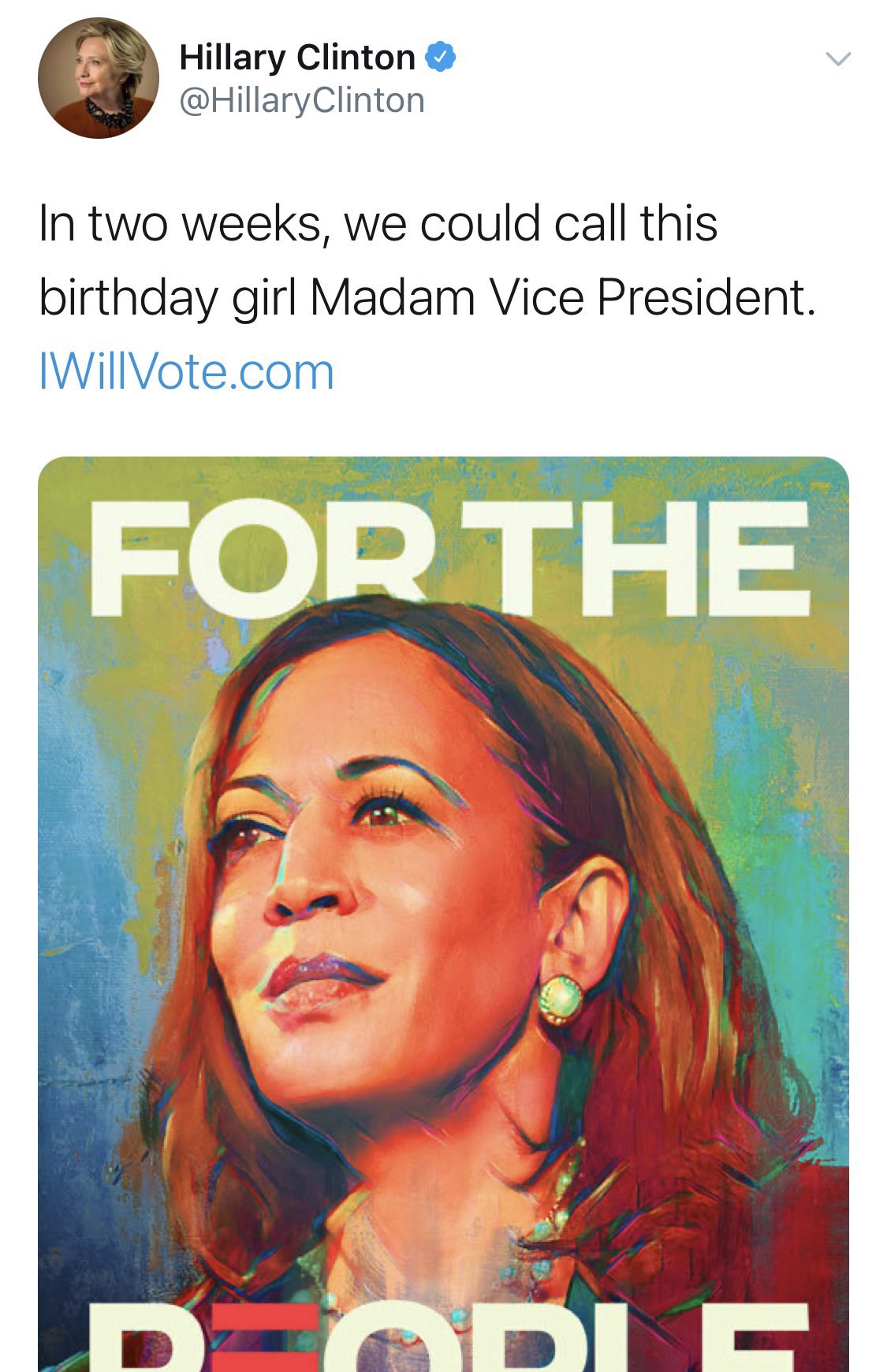 This is not a photoshop.
The Kiss Of Death just filed with the Trademarks Office to have its name changed to Kiss Of Hillary.
ITEM 10
:
The White House announced
, "Today, President Donald J. Trump signed Executive Grants of Clemency to commute the sentences of the following individuals: Lenora Logan, Rashella Reed, Charles Tanner, John Bolen, and Curtis McDonald."
Their stories.
Lenora Logan turned her life around after she was sentenced to 27 years in prison for her role in a cocaine conspiracy. During her time in prison, she heroically came to the aid of a Bureau of Prisons nurse who was under vicious assault by an unstable inmate.
Rashella Reed was a former Atlanta Public School teacher before her involvement in a public benefits fraud scheme. She was sentenced to 14 years in prison after her convictions for wire fraud and money laundering. While in prison, Ms. Reed used her teaching background to tutor inmates and facilitate children's programs at the prison. Ms. Reed is a model inmate, and many attest to her innate ability to encourage and uplift others despite her circumstances.
Charles Tanner was a young professional boxer with a promising career who sadly became involved in a drug conspiracy. At the age of 24, he was arrested, tried, and initially sentenced to life in prison, which was later reduced to 30 years. It was his first conviction of any kind. He has served 16 years in prison. Although Mr. Tanner began incarceration under a life sentence, he immediately worked to better himself by enrolling in educational courses.
John Bolen was a small business owner who used his boat to transport cocaine from the Bahamas to Florida. After a jury trial, he was sentenced to life imprisonment. It was his first conviction of any kind, and Mr. Bolen has no documented history of violence. He has served more than 13 years in prison without incident.
Curtis McDonald was convicted in 1996 for drug trafficking and money laundering and is now 70 years old. After a jury trial, he was sentenced to life in prison. He was a first-time offender who has now served nearly 24 years in prison and has an excellent record of good conduct.
As The Bard said, "The quality of mercy is not strained. It droppeth as the gentle rain from heaven. Upon the place beneath. It is twice blest: It blesseth him that gives and him that takes."
ITEM 10
:
Legal Insurrection reported
, "Senate Democrats plan to skip ACB's committee vote and instead, fill their seats with cardboard cutouts of people who they claim would be hurt should Barrett eventually rule against Obamacare."
The IQ of the Senate Judiciary Committee will automatically double.
ITEM 11
: Kevin D. Williamson, the Fake Conservative who portrayed Trump supporters in 2016 as Nazis, wrote a defense of Jeff Toobin whacking on Zoom at a company meeting.
Williamson began
, "Oh, Jeffrey Toobin — let him among us with a free hand cast the first stone."
Um, never shake hands with Sticky Fingers Williamson.
He ended his piece again hating Trump supporters, writing, "Toobin's shenanigans were gross, but not as gross as our public-hate ritual. I'm not nearly as offended by clumsy pudwhackers as I am by people who savor the humiliation of others.
"I don't want to commune with them in hate, or in anything else — I'm embarrassed to be a member of the same species."
The feeling is not mutual. Pray for Kevin.
ITEM 12
:
Sohrab Ahmari of the banned-on-Twitter New York Post reported
, "There are at least half a dozen 'Chinese nationals who are working on censorship,' a former Facebook insider told me last week. 'So at some point, they [Facebook bosses] thought, 'Hey, we're going to get them H-1B visas so they can do this work.'"
Weird.
He went on, "When it comes to censorship on social media, that means teaching the Facebook code so certain content ends up at the top of your newsfeed, a feat that earns the firm's software wizards discretionary bonuses, per the ex-insider. It also means making sure other content shows up dead-last.
"Like, say, a New York Post report on the Biden dynasty's dealings with Chinese companies."
ITEM 13
:
The Associated Press reported
, " NASA's Osiris-Rex spacecraft crushed rocks and sent rubble flying as it briefly touched an asteroid, a strong indication that samples were collected for return to Earth, officials said Wednesday."
Environmentalists immediately began searching for an Obama judge to issue an injunction stopping NASA from hurting an asteroid.
Yes, I remember when AP said Neil Armstrong crushed rocks and sent dust flying when he stepped on the moon. One small step for man, one giant Environmental Impact Report to file when he returns to Earth.
ITEM 14
:
Kylee Zempel reported
, "Director of National Intelligence John Ratcliffe and FBI Director Christopher Wray announced Wednesday that Iran and Russia are working to undermine the integrity of the 2020 election.
"'We would like to alert the public that we have identified that two foreign actors, Iran and Russia, have taken specific actions to influence public opinion relating to our elections,' Ratcliffe said during an evening press conference, following efforts by the intelligence and law enforcement communities to ensure the election is safe and secure.
"According to Ratcliffe, Iran and Russia got their hands on U.S. voter registration information, enabling the foreign adversaries to send false information to registered voters as a means to sow chaos and confusion and undermine the public's confidence in America's electoral process.
"'To that end, we have already seen Iran send spoofed emails designed to intimidate voters, incite social unrest, and damage President Trump,' Ratcliffe said.
"The foreign nations aren't the only disseminators of false information. American groups including Never Trump operation the Lincoln Project served as Iran's American digital foot soldiers, buying into the disinformation and amplifying it."
Who funds the Lincoln Project?
ITEM 15
:
Fox reported
, "The FBI's subpoena of a laptop and hard drive purportedly belonging to Hunter Biden came in connection with a money laundering investigation in late 2019, according to documents obtained by Fox News and verified by multiple federal law enforcement officials who reviewed them.
"It is unclear, at this point, whether the investigation is ongoing or if it was directly related to Hunter Biden."
Oh, it is very clear.
My guess is they could indict the SOB (Son Of Biden) yesterday but Wray is awaiting the outcome of the election.
ITEM 16
: Ronna McDaniel on the crowd in Gastonia, North Carolina, for President Trump's rally.
✅ 28,278 signups
✅ 32.2% NOT Republican
✅ 23.5% did not vote in 2016
But the media says the race is over and Biden won.
ITEM 17
:
Just the News reported
, "The campaign for Democratic presidential nominee Joe Biden is being criticized for a TV ad about a struggling business owner who unbeknown to viewers is also a wealthy investor.
"Joe Malcoun, the man featured in the ad, portrays the life of a struggling bar owner working hard to make money in 'Trump's economy.' The ad failed to mention the bar owner is also a wealthy tech investor who has made contributions to Biden's campaign."
Struggling Bar Owning Billionaires for Biden.
FINALLY,
4 years ago, Politico reported,
"From polling to early voting trends to TV ad spending to ground game, Donald Trump's Florida fortunes are beginning to look so bleak that some Republicans are steeling themselves for what could be the equivalent of a landslide loss in the nation's biggest battleground state.
"Trump has trailed Hillary Clinton in 10 of the 11 public polls conducted in October. According to Politico's Battleground States polling average, Clinton has a 3.4-point lead. Even private surveys conducted by Republican-leaning groups show Trump's in trouble in Florida, where a loss would end his White House hopes.
"'On the presidential race we've found Clinton with a consistent 3% - 5% lead in surveys that attempt to reflect Florida's actual electorate,' Ryan D. Tyson, vice president of political operations for the Associated Industries of Florida business group, wrote in a confidential memo emailed to his conservative-leaning members this weekend and obtained by Politico.
"Though Clinton's lead is 'within the margin of error for this survey, we would suggest that 3% really isn't as close as it may seem in the state of Florida,' Tyson wrote, estimating a turnout of as much as 71%, or as many as 9.2 million Florida voters overall. If that happens and the polling margins hold, Clinton's raw vote lead over Trump could end up being 275,000 to 460,000 votes."
9.3 million people voted in Florida. Donald Trump won by more than 100,000 votes -- a victory of 1.2 points.
Vote and pray.
Wednesday was the first day of early voting in West Virginia. My wife and I were in line for 90 minutes. It was worth it.