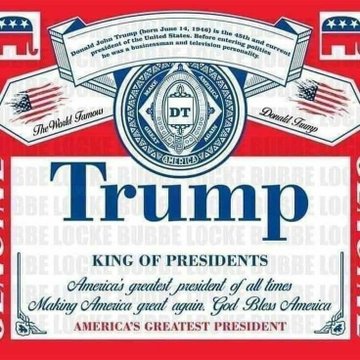 Donald John Trump is still our president.
ITEM 1
: Michael Steele wrote, "
I'm a Republican voting for Joe Biden over Trump. Because I'm an American first.
"
I don't think he is a Republican anymore.
ITEM 2
:
Axios reported
, "Facebook and Twitter's frantic attempts to stop the spread of the New York Post's Hunter Biden story didn't prevent the article from becoming the top story about the election on those platforms last week, according to data from NewsWhip.
"Why it matters: The data shows that even swift, aggressive content suppression may not be swift or aggressive enough to keep down a story with as much White House backing and partisan fuel as this one.
"By the numbers: The Post's story generated 2.59 million interactions (likes, comments, shares) on Facebook and Twitter last week — more than double the next biggest story about Trump or Biden."
If the media played it straight, Donald Trump might be toast.
But the media's constant barrage of Fake News and censorship are helping re-elect the man.
My guess today is they will learn nothing, double down on November 4, and help elect President Pence. The people running the media are largely idiots.
ITEM 3
: Mitch McConnell said Judge Amy Barrett will be confirmed as a justice on Monday, the fourth anniversary of the best tweet ever.
For the record, President Trump was born on June 14, Flag Day.
ITEM 4
:
Politico reported
, "Party-switcher puts Kansas Senate seat in play for Democrats. Democrat Barbara Bollier, who left the GOP two years ago, is outraising GOP Rep. Roger Marshall as she expands Democrats' path to a Senate majority."
Democrats think they can buy the election.
The flaw in the plan is she hates President Trump, while most voters in Kansas support him.
ITEM 5
:
Vox reported
, "Silicon Valley megadonors unleash a last-minute, $100 million barrage of ads against Trump. Facebook billionaire co-founder Dustin Moskovitz has put more than $20 million into a little-known Democratic super PAC that is spending big."
That's $15 million in fees going into the pocket of some political consultant who knows how to milk the rich.
ITEM 6
:
Politico reported
, "Biden eyes GOP candidates for Cabinet slots."
The story listed Meg Whitman, John Kasich, Charlie Baker, and Jeff Flake.
I don't see any Republicans. Do you?
ITEM 7
:
The Hill reported
, "Most arrests during protests are suburban adults not extremists: analysis."
Suburban adults?
Those mugshots of Antifa arrestees make me wonder what kind of zoo The Hill's newsroom is.
ITEM 8
:
Variety reported
, "Netflix's growth in the third quarter cooled considerably after its blockbuster covid-fueled bump in the first half of 2020.
"The company netted 2.2 million subscribers in the third quarter of 2020 — below Wall Street's expectations and under the Netflix's own previous forecast. The streaming giant also posted net earnings below analyst consensus estimates. Shares were down 6% in after-hours trading."
The story didn't mention the backlash in the final month of the quarter against Netflix showing the child porn movie, Cuties.
ITEM 9
:
PJ Media wrote
, "On Monday, Curtis James Jackson III, better known by his stage name 50 Cent, endorsed President Donald Trump after discovering that Democratic nominee Joe Biden would raise taxes to 62% for top earners in California and 58% for top earners in New York state. He doubled down on Tuesday, explaining, 'I don't want to be 20 Cent.'"
As the late, great Bernie Mac said, I'm a Republican on Tax Day.
ITEM 10
:
Via Breitbart
, Fox sportscasters Troy Aikman and Joe Buck were caught mocking America during a military flyover of the football game they covered.
Aikman: "That's a lot of jet fuel just to do a little flyover."
Buck: "That's your hard-earned money and your tax dollars at work."
Aikman: "That stuff ain't happening with [a] Kamala-Biden ticket, I'll tell you that right now partner."
Tony Romo was a better quarterback then, and he is a better football analyst now.
As for Buck, he is a reason there is a mute button.
Fox failed to discipline these anti-American shills for Democrats. Fox is the Bill Kristol of broadcasting.
ITEM 11
:
CNBC reported
, "General Motors is investing about $2.2 billion in its U.S. manufacturing operations, largely to increase production of electric vehicles, the company announced Tuesday.
"The investment is the latest for the Detroit automaker as it pivots toward EVs under GM CEO Mary Barra's Triple Zero vision of zero crashes, zero emissions and zero congestion -- an overarching goal for the company.
"Since March 2019, GM has committed to invest more than $4.5 billion in three U.S. manufacturing sites to prepare for EV-related production. The company has previously said it plans to release at least 20 new electric vehicles globally by 2023, including the upcoming GMC Hummer EV, which will be unveiled Tuesday night."
Triple Zero? GM did better when its goal was 60% market share.
ITEM 12
: A reader noted on the Biden child porn/cocaine/ bribery scandal, "The deep state leakers have thoroughly been discredited in the past 48 hours. The unnamed deep state boys who cried wolf finally did it one too many times and the wolf came for real. But it's not Putin.
"Social media and big media had plenty of chances, and probably had their own sources that were warning them. Did they think they could beat this? Trump used Rudy to leak and use exclusives to non traditional outlets to further their humiliation. This is the biggest thing since LGF and PowerLine ended Dan Rather (and probably bigger).
"Media further compounded their credibility issue rolling out two men with revoked security clearances (Brennan and Clapper) to assure us this was Putin. Radcliffe destroyed them.
"The uneasy Bernie/Biden alliance just got REALLY complicated. How do Bernie Bros feel knowing Joe had this skeleton in his closet, the Obama crowd knew it, and still pushed him over the line? The prudent thing for D's is for Joe to suspend, send Harris to debate and say his electors will be bound to Kamala. (Bernie has leverage in this case, but he wouldn't use it.) But the likely outcome by Joe is to deny, lie, and cry.
"Does Kamala feel used about now. Was she blindsided? If not how does she walk this tightrope. She would definitely want to wash off this stink?
"The FBI had plenty of chances to do the right thing. They failed miserably. They allowed a sham impeachment, they allowed the crimes to go unnoticed, and if they allow crimes against children by powerful men to go unnoticed, Trump has more than enough moral authority to kick Wray's ass out of 7th floor so hard his grandchildren feel it."
Democraticide.
The whole darned mess should cave in on itself.
Power corrupts. It rots, too.
ITEM 13
:
Tom Del Beccaro wrote
, "A Trump 'surprise' victory is in the offing -- here are the 10 tea leaves pointing to it."
He made the points I have made. The chief ones are: 56% of the nation says it is better off now than 4 years ago, Republican registration is up, President Trump draws 15,000 to his rallies, Biden draws flies, and there is no enthusiasm for Basement Biden.
Voters think President Trump will win. Reporters don't. How many Electoral College votes does the White House Correspondents Association get?
ITEM 14
:
Fox reported
, "Adrian Powell, of Red Boiling Springs, rolled out a unique show of support on a stack of hay bales over the weekend, after vandals cut down a half dozen of his purchased pro-Trump signs.
"He painted an American-flag themed mural over a stack of bales with President Trump's trademark golden hairdo and red tie, along with the phrase, Trump 2020."
Sha na na na.
Sha na na na.
Hay, hay, hay.
Go Trump!
ITEM 15
:
CBS News reported
, "Man putting Black Lives Matter sign in his yard arrested after shooting at Trump supporters."
But it was a mostly peaceful shooting, as the media says.
ITEM 16
:
Fox reported
, "More than 1 million New Yorkers can't afford food, and standing in long lines at food banks is now too common amid the pandemic."
More of that great leadership from Mayor Mini Adolf and Governor Fredo. They panicked and shut down the city and the state, people lost their jobs, and a million people go hungry.
Instead of re-opening the town, the mayor helped paint graffiti in front of Trump Tower.
This is the Democrat plan for the rest of America under President Harris.
ITEM 17
:
The Independent reported
, "Hindu groups in the US have expressed outrage at a morphed photo of the Hindu goddess Durga with Kamala Harris's face, after it was shared online by the vice presidential candidate's niece. Meena Harris, who has been very active on social media with support for her aunt Kamala for the upcoming election, said in a tweet which has now been deleted: 'I am speechless, other than to say that the first day of Navratri was LIT.'"
The LITwit Meena is from the senator's Jamaican side of the family, not the Indian side.
There is no African-American side.
ITEM 18
:
Roger Simon wrote
, "Whether he did it accidentally, on purpose, or (most likely) something in between, when Hunter Biden left a laptop loaded with incriminating evidence about himself and his family, at a computer repair shop in Delaware, he was trying to tell us something.
"That something was that his father, aka the big guy, who had only days before announced he was running for president, was big trouble.
"You don't have to be Sigmund Freud to figure that out. Nor is it hard to figure out why Hunter might have become an addict and engaged in other self-destructive acts not suitable for a family website but apparently immortalized on the hard drive.
"The Joe Biden that is being sold to us ad infinitum as Mr. Just-Plain-Folks-American was not the man his son saw. (This is not to absolve Hunter of responsibility for his actions, but to put them in perspective.)"
Hmm.
I think it is simpler. Daddy covered the man's tracks all his life and Hunter grew up to be an irresponsible grifter. Of course he would misplace a laptop with child porn and other go-to-jail stuff on it.
ITEM 19
: President Trump tweeted, "I am pleased to inform you that, for the sake of accuracy in reporting, I am considering posting my interview with Lesley Stahl of 60 Minutes, PRIOR TO AIRTIME! This will be done so that everybody can get a glimpse of what a FAKE and BIASED interview is all about. Everyone should compare this terrible Electoral Intrusion with the recent interviews of Sleepy Joe Biden!"
Fair warning to play it straight.
If the fire department let your house burn down, you'd sue.
This is no different.
The message is clear in Minneapolis: move to St. Paul.
ITEM 21
:
The Hill reported
, "President Trump at his rally on Tuesday played a video that spliced together clips of Democratic presidential nominee Joe Biden and vice presidential nominee Sen. Kamala Harris (D-Calif.) discussing fracking as he argued the Democratic ticket would damage the natural gas industry.
"'This is an original Donald Trump Broadway play,' Trump told a crowd of supporters in Erie, Pennsylvania, Tuesday evening. 'First time I have ever pulled it out. I had it done specifically for the people of Erie because you guys like energy. You like being energy independent.'
"The clip includes edited clips of Biden and Harris answering questions on fracking, or hydraulic fracturing, a method of drilling into shale in order to release oil and natural gas."
[EDITOR'S NOTE: The Hill story used edited quotes from the president.]
"One clip of Biden is taken from the July 31, 2019, Democratic primary debate during which CNN anchor Dana Bash asked Biden if there would be 'any place for fossil fuels, including coal and fracking' in his administration.
"'No, we would — we would work it out. We would make sure it's eliminated and no more subsidies for either one of those, either — any fossil fuel,' Biden said in response.
"The video also includes clips of Harris saying there is 'no question' she favors banning fracking and that it is 'critically important' to end fossil fuel leases on public lands. Harris made those remarks when she was still a presidential candidate, before she dropped out of the race and later agreed to run alongside Biden."
The opposition to fracking is unscientific nonsense promoted by Marxists who want us to continue to be at the mercy of Saudi Arabia and other oil exporters.
This is why Dumb Joe and what's her face support a ban.
ITEM 22
: Ronna McDaniel release the figures from the Erie, Pennsylvania, rally:
21.9% did not vote in 2016
Erie County has been a bellwether for Pennsylvania for decades. In 19 of the last 20 elections, whoever won Erie won Pennsylvania.