Biden in the dark lashes out at a CBS reporter for asking him about the child porn found on his son's laptop. (Photo since pulled from Twitter Oh well.)
Meanwhile, President Donald John Trump is having the time of his life with rallies all over the map.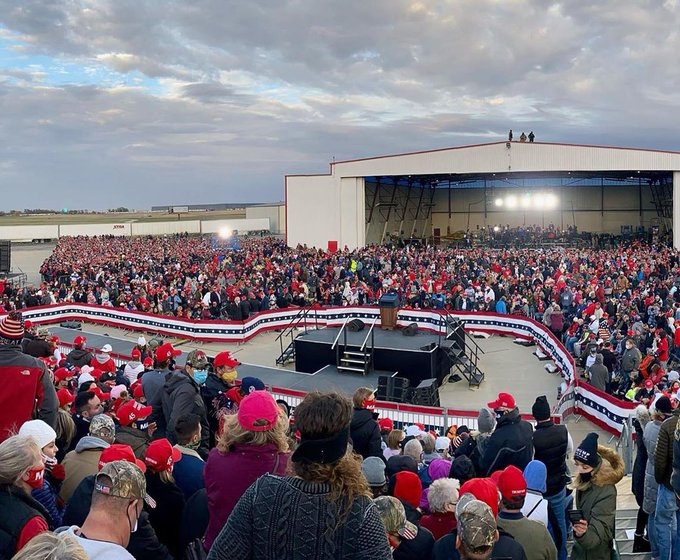 But double-digit leads and Cindy McCain's endorsement will carry the day for Basement Boy.
ITEM 1
:
The Associated Press reported
, "A free speech demonstration staged by conservative activists quickly fell apart in downtown San Francisco on Saturday after several hundred counter protesters surged the area, outnumbering and attacking those gathered, including knocking one in the mouth.
"A photographer working for The Associated Press witnessed a Trump supporter being taken away in an ambulance and an injured San Francisco police officer on the ground by San Francisco's United Nations Plaza."
A mob attacked peaceful protesters.
Police arrested no one, which means this was a mob attack sanctioned by the municipal government.
ITEM 2
:
Newsweek reported
, "On Friday, a federal district court judge allowed a lawsuit brought by 21 businesses against the city of Seattle to proceed, despite the city's attempt to have it dismissed.
"The lawsuit accuses the city of harming local business owners by allowing the existence of Capitol Hill Organized Protest (CHOP), a self-declared autonomous zone that was established and occupied by racial justice protesters from June 8 to July 1.
"The occupied zone blocked all car traffic, reducing the businesses' access to customers, vendors and revenue, the lawsuit says. The lawsuit further alleges that city police largely neglected the zone, allowing protesters and others to damage business property and threaten business owners without punishment."
The judge is an 85-year-old Reagan appointee. Elections have consequences, as they should. Otherwise, why bother?
ITEM 3
:
The Daily Caller reported
, "There is no significant evidence that President Trump's campaign rallies have been superspreaders of covid 19, a Daily Caller analysis of publicly available health data has found. State health officials responsible for maintaining such data concur that covid 19 numbers cannot be directly tied to campaign rallies.
"Speculation from some observers before and during the events raised alarms that they could worsen the ongoing pandemic. But a combination of publicly available statistics on the spread of corona virus and analysis from public health experts concludes that the president's campaign rallies cannot be tied to spikes in covid 19 infections in their surrounding areas, if cases in the area even increased, which not all did."
Chipmunk reporters chirping the chump Democrat Party line are the real super spreaders -- of disinformation.
ITEM 4
:
USSA News reported
, "The Chinese description of what's on Hunter Biden's hard drives has been listened to and were turned over to the Department of Justice and Rudy Giuliani. It is from Biden's laptop that the emails were acquired by the NY Post.
"Natural News revealed that the Hunter Biden laptop has multiple videos of Hunter Biden engaged in extreme sexual abuse of underage Chinese teens, and that there are multiple victims in the videos."
We shall see how this works out, but imagine being able to blackmail a president like this.
Before he was mayor, Giuliani brought down the Five Families in New York City. That is how he became mayor.
This is not a complicated story. Red China plied Joe Biden's son with cocaine and money. Red China also gave him underage girls and apparently he did kinky things with them.
This gave Chairman Xi all the blackmail he could want on a President Biden.
The money and the drugs won't do Biden in. The underage sex will.
ITEM 5
: Sunday's public schedule of a 74-year-old man a week after surviving covid 19:
8:40 AM: En route to International Church of Las Vegas.
8:55 AM: Arrive at the International Church of Las Vegas.
10:05 AM Depart the International Church of Las Vegas en route to McCarran International Airport.
10:30 AM En route to Santa Ana.
11:30 AM Arrives at John Wayne Airport, Santa Ana.
11:40 AM En route to Newport Beach.
12:30 PM Participates in a round table with supporters.
1:00 PM Delivers remarks at a fundraising committee reception.
1:30 PM Departs Newport Beach, en route to Santa Ana.
1:55 PM Departs Santa Ana, en route to Reno.
3:25 PM Departs Reno, en route to Carson City.
4:00 PM Delivers remarks a Make America Great Again Rally, Carson City.
5:15 PM Departs Carson City, en route to Reno.
5:55 PM Departs Reno, en route to Las Vegas.
I had to take a nap after reading that. That's his day-off schedule.
ITEM 6
: Ronna McDaniel tweeted on the Muskegon rally:
✅ 11,842 voters matched
✅ Only 48.3% Republican
✅ 36% who did not vote in 2016
And on the Janesville rally:
✅ 13,850 signups
✅ 47.5% not Republican
✅ 24.1% did not vote in 2016
But hey, Nate Silver gives him only a 9% chance of winning.
ITEM 7
:
Steve Bannon said
, "Joe Biden is a liar, a fraud, and compromised by Chinese cash. In short, he is a national security crisis. The hard drive combines emails and text messages that show a massive involvement with companies controlled by the Chinese Communist Party. Also, there are 25,000 images that show a drug-addled, depraved lifestyle — one that decent hardworking Americans will not want near the White House."
It is a question of getting the story out. Democrats are freaking over this.
ITEM 8
:
Just the News reported
, "President Donald Trump during a campaign rally in Georgia on Friday said that Democratic rival Joe Biden's family acts unlawfully and should be jailed.
"'I'm telling you that Biden family, and others, but that Biden family is corrupt,' the president said.
"Members of the audience chanted, and Trump, in what seemed to be a response to the chant, said: 'You should lock them up. Lock up the Bidens. Lock up Hillary.'
"Earlier during the rally, Trump described the Democratic challenger's family as 'a criminal enterprise.'
"'Frankly it makes crooked Hillary Clinton look like an amateur,' Trump said."
President Trump was in Macon making some noise.
I often have thought of returning to Georgia and opening a pastry shop called Macon Bakin'.
ITEM 9
:
Judicial Watch announced
"353 U.S. counties had 1.8 million more registered voters than eligible voting-age citizens. In other words, the registration rates of those counties exceeded 100% of eligible voters. The study found eight states showing state-wide registration rates exceeding 100%: Alaska, Colorado, Maine, Maryland, Michigan, New Jersey, Rhode Island, and Vermont."
On November 3rd, the dead shall rise from the graves and elect one of their own as president.
Or so the Democrat plan goes.
ITEM 10
:
Just the News reported
, "As the race for the White House reaches its homestretch, President Trump continues to lead opponent Joe Biden in small donor fundraising, while Biden leads among big donors.
"Trump raised $252 million among small donors compared to Biden's $203.7 million, according to the latest data from the Center For Responsive Politics.
"Contributions from small donors — those giving $200 or less — are a telling, but imperfect, metric in presidential campaigns, serving as a rough proxy for enthusiasm among the base. The correlation applies in this case, as Trump's lead in small donations aligns with polling showing Trump voters are more enthusiastic about their candidate than Biden voters are about theirs.
"Americans who donate to campaigns are more likely to vote, according to the Pew Research Center."
Having skin in the game matters.
The big donors are being shaken down by Democrats Inc.
ITEM 11
:
Just the News reported
, "Georgetown University has hired former FBI agent Peter Strzok as an adjunct professor.
"The university did not respond to a Just the News request for the date of the hiring and the courses that Strzok is teaching.
"Strzok is listed on the university's staff page and he mentions the Walsh School of Foreign Service on his Twitter profile.
"According to Georgetown University's Coursicle page, Strzok, an alumnus of the university, is teaching a Counterintelligence & Nat'l Security class in the fall semester."
The big fish get million-dollar book deals.
The little fish get think tank fellowships.
The guppies get adjunct professorships.
Do federal prisons have Zoom? Asking for a soon-to-be adjunct.
ITEM 12
:
Zero Hedge reported
, "Police in France have arrested an 11th suspected terrorist following a brutal attack in a Paris suburb that left a teacher decapitated. The assailant, an 18-year-old immigrant from Chechnya, was shot and killed by police, but the gruesome nature of the attack has rattled French citizens, who are inured to violence tied to Islamic terror.
"French police arrested 4 close relatives of the attacker shortly after the attack unfolded on Friday afternoon. Five other individuals were detained later, including the father of a pupil at Paty's school and an acquaintance of the pupil's father known to the intelligence services, according to anti-terrorism prosecutor Jean-Francois Ricard said on Saturday. It's unclear if the acquaintance is suspected of somehow playing a role in the attack. A 10th person was placed in custody later on Saturday, then the 11th suspect was arrested early Sunday. No information about the latest arrest has been released, Reuters reports.
"Teachers and millions of others are furious, directing some of their ire at social media companies, and part at the government, which did nothing to protect the victim, a teacher named Samuel Paty, who was identified in a social media post as a teacher who had shown students cartoons of the Prophet Mohammad produced by the satirical magazine Charlie Hebdo. This doxxing is suspected to have played a role in his murder, as Muslims parents banded together to complain to the school.
"The doxxing was reportedly perpetrated by the father of one of Paty's students, who was urging other Muslim parents to complain to the school about the teacher's decision to show the Charlie Hebdo naked man cartoons of the Prophet Mohammed. Initially, a complaint was lodged by the father of a 13-year-old girl who studied at the school in Conflans-Sainte-Honorine, where Paty taught history and geography. The father later said in a Facebook video that the teacher had shown the class a caricature of a naked man, stating it was the Muslim prophet, as part of a lesson on freedom of expression.
"According to media reports, Paty asked any Muslim students to leave the class before the lesson, claiming he didn't want to offend them, or anybody. Despite this, some students stayed, then complained about the lesson to their parents later, saying that they had taken offense at the depiction of the prophet."
11 arrests and the killer shot dead.
Wow.
Muslim terrorists have overstayed their welcome in Paris.
ITEM 13
: I condemned Biden calling for police to shoot in the legs people who pull a gun on them as too asinine for highlights.
But I was wrong.
"Joe, it's real-life, not a crime drama. A cop doesn't use the lethal force of shooting a criminal unless it's needed and justified. The gun is not used as a scare tactic; it's used as a last resort to save lives. Most police officers go through their whole careers of 20, 30, or more years and never discharge their weapons. But there is always a chance of being confronted by a bad guy with a gun."
Nominating Biden shows the contempt for America that today's Democrats have.
ITEM 14
:
CNBC reported
, "House Speaker Nancy Pelosi has called on the Trump administration to reconcile remaining disputes on corona virus stimulus legislation within 48 hours as lawmakers attempt to pass a bill before the 2020 election."
The best stimulus is to make every mayor and every governor lift all covid 19 restrictions.
"Since the first cases were identified in Wuhan, China, last December, infections have grown to 40,229,438 in tracking by Worldometers.info and 39,845,660 by Johns Hopkins.
"With a mortality rate of 2.8%, the death toll stands at 1,117,540, according to Worldometers."
99.5% of the world does not have this virus.
ITEM 16
:
Breitbart reported
, "Twitter removed a tweet on Sunday from one of President Donald Trump's top corona virus advisers, which said that masks do not prevent corona virus spread.
"The tweet was replaced with a notice which said, 'This tweet is no longer available,' adding a link to Twitter's rules and policies explaining why certain posts are removed.
"The now-deleted tweet, posted by Dr. Scott Atlas on Saturday, according to NBC News, read, 'Masks work? NO: LA, Miami, Hawaii, Alabama, France, Philippines, UK, Spain, Israel. WHO: 'widespread use not supported" + many harms; Heneghan/Oxf CEBM' despite decades, considerable uncertainty re value"; CDC rvw May:' no significant reduction in influenza transmission'; learn why.'
"Atlas wrote in a second tweet that day that the 'right' policy is Trump's guideline: 'use masks for their intended purpose, when close to others, especially high risk. Otherwise, social distance. No widespread mandates.'"
The masks do not stop a virus smaller than the airholes.
This is not about public health. This is about control.
ITEM 17
:
The New York Post reported
, "Kristen Welker, upcoming presidential debate moderator, has deep Democrat ties."
The story said, "Welker comes from an established Democratic family — who have poured cash into party coffers, and to Trump opponents, for years.
"Her mother, Julie Welker, a prominent real estate broker in Philadelphia, and father, Harvey Welker, a consulting engineer, have donated tens of thousands of dollars to Democratic candidates and close to $20,000 to Barack Obama alone.
"There was also $3,300 for Joe Biden's 2020 campaign and $2,100 for Hillary Clinton's doomed 2016 presidential effort against Trump. Another $7,300 was contributed to the Democratic National Committee between 2004 and 2020.
"In 2012, Welker and her family celebrated Christmas at the White House with the Obamas."
Even as he turns Fox News into MSNBC-lite to placate his new Red Chinese masters, Rupert Murdoch seems to allow the Post to run free. Perhaps he hedges his bet against The Donald.
Never Bet Against Donald John Trump.
ITEM 18
:
The San Francisco Chronicle reported
, "After months of seeing its shelves repeatedly cleaned out by brazen shoplifters, the Walgreens at Van Ness and Eddy in San Francisco is getting ready to close.
"'The last day is November 11,' Walgreens spokesman Phil Caruso said.
"The drugstore, which serves many older people who live in the Opera Plaza area, is the seventh Walgreens to close in the city since 2019."
Democrats want this. It is part of their plan. They decriminalized shoplifting.
The story said, "Under California law, theft of less than $950 in goods is treated as a nonviolent misdemeanor. The maximum sentence for petty theft is six months in county jail. But most of the time the suspect is released with conditions attached."
Under Reagan, California was the Golden State.
Democrats stripped it bare.
FINALLY
, I still have readers who are worried. Never worry. Pray. Worry has never accomplished a darned thing. Prayer works. Pray for your family. Pray for friends. Pray for your nation. Pray for your president.
We have learned a lot since 2016. The Trump campaign has 2 million volunteers and the party is totally behind him both among the rank-and-file and leadership.
Democrats learned nothing. There is no outreach to Trump voters. And they have hundreds of volunteers and no rallies. Donald John Trump's daughter-in-law outdraws Biden.