Donald John Trump is still our president.
ITEM 1
:
Taiwan News reported
, "Derek Grossman, a senior defense analyst at the Washington, D.C.-based think tank RAND Corporation, believes the U.S. has significantly changed its policy on arms sales to Taiwan.
"Grossman stated that the U.S. has sold many types of weapons, including iconic weapons systems such as F-16 fighters, to Taiwan in the past to enhance the island country's asymmetric defense capabilities. However, he noted that the U.S. has clearly adjusted its approach, Deutsche Welle reported.
"Grossman believes the U.S. hopes Taiwan can become powerful enough militarily to counter China. The Pentagon's goal, he stated, is to make Taiwan an indestructible fortress, helping it establish an effective enough defense to prevent China from conducting an amphibious landing during a potential war."
Pray for peace, prepare for war.
ITEM 2
:
Breitbart reported
, "In data released on Friday morning, the Trafalgar Group found Trump with a lead of less than one percentage point" in Michigan.
His lead was 0.7 points last month, 0.6 points this. He took Michigan by less than 0.3 points in 2016.
Trafalgar does state-by-state polling and totally nailed it in 2016.
ITEM 3
: President Trump tweeted, "There is a nasty rumor out there that Senator Collins of Maine will not be supporting our great United States Supreme Court Nominee. Well, she didn't support Healthcare or my opening up 5000 square miles of Ocean to Maine, so why should this be any different. Not worth the work!"
We like to think of Collins and former Maine Senator Olympia Snowe as weak sisters but let's not be sexist. They are as two-faced and back-stabbing as any man.
Women are the equal of men. Darn them!
ITEM 4
:
PJ Media reported
, "Three Orthodox Jewish congregations in Rockland County, N.Y., sued Gov. Andrew Cuomo (D-N.Y.) for issuing a 'blatantly anti-Semitic' coronavirus order restricting religious services in Jewish areas, just before three sequential Jewish holy days. Cuomo falsely blamed the Orthodox Jewish community for a surge in COVID-19 cases in New York, referring to the surge as 'a predominantly ultra-orthodox cluster,' and he admitted the lockdowns were based on fear rather than science.
"According to the lawsuit, Cuomo's October 6 executive order 'is blatantly anti-Semitic, creating religious-observance based color coded 'hot-spot' zones directed towards particular Jewish communities.'"
There's your Hitler, America.
Fredo's Dumber Brother and Mayor Mini Adolf.
ITEM 5
:
Fox News reported
, "San Francisco may change 'inappropriate' names of 44 city schools, including Washington and Lincoln."
The San Francisco Chronicle tweeted, "A school named after Sen. Dianne Feinstein made the list because as mayor in 1986 she reportedly replaced a vandalized Confederate Flag, one of several historical flags flying in front of City Hall at the time."
Why don't the Marxists just admit they hate white people?
ITEM 6
:
The Daily Caller reported
, "Democratic presidential nominee Joe Biden falsely claimed Thursday that a trade union, which represents craftsmen and industrial workers, had overwhelmingly endorsed him. Former Vice President Biden's comments came during a discussion on fracking at an ABC News town hall in Philadelphia, Pennsylvania Thursday evening. The union, Boilermakers Local 154, endorsed President Donald Trump citing the president's energy policies, according to a Sept. 2. letter."
He thinks the boilermakers endorsed him? He needs to lay off the whiskey mixed in beer.
ITEM 7
:
The Hill reported
, "President Trump and former Vice President Joe Biden are tied in Florida with just 18 days to go before Election Day, according to a new Hill/Harris poll released on Friday.
"The poll shows both Biden and Trump garnering 48% of support among likely voters in the Sunshine State, while another 4% are unsure of how they will vote.
"Trump wins his strongest support from white voters, 59% of whom say they plan to cast their ballot for the president. But Biden has strong support among Black voters and Hispanics, who together accounted for about a third of Florida's electorate in 2016.
"82% of black voters say they support Biden, while 13% are backing Trump, according to the poll. Among Hispanic voters in the state, 57% say they will vote for Biden compared to 39% who plan to support Trump.
"Hillary Clinton carried 62% of the Hispanic vote in Florida four years ago to Trump's 35%. The Hill/Harris poll, however, suggests that Trump has marginally improved his standing among those voters."
Polls had him losing Florida by 3 to 5 points in 2016. He carried it.
ITEM 8
:
The Associated Press reported
, "The arrest of Mexico's former defense minister, retired Gen. Salvador Cienfuegos, on drug and money laundering charges shakes one of the few Mexican institutions that had maintained the confidence of the people. Cienfuegos was arrested at Los Angeles International Airport Thursday at the request of the U.S. Drug Enforcement Administration. He had been Mexico's top military official during the presidency of Enrique Peña Nieto from 2012 to 2018."
No one wants to say it out loud, but Mexico deliberately flooded America with drugs and illegal aliens on Barack Obama's watch.
And we know Democrats and RINOs don't do anything without a cut of the action.
History will ignore it, just as the American press does.
ITEM 9
:
Zero Hedge reported
, "With the US logistical economy still overheating thanks to the trillions in fiscal stimulus, incoming cargo to the Port of Los Angeles is surging as businesses restock depleted inventories and retailers prepare for an early holiday season, the executive director for the nation's busiest seaport told Reuters.
"Workers unloaded 471,795 20-foot equivalent units (TEU) of imports in September, 17% more than the year earlier, just shy of the August record high, and marking the second month of robust import gains at the top gateway for US trade with China. That trend has carried into October, said Gene Seroka, executive director of the Port of Los Angeles, where there are now 16 vessels docked and 10 at anchor with cargo waiting to be unloaded."
Chairman Xi wishes you a Merry Christmas.
Unlike 2008-2009 when shipping came to a standstill, the economy is booming.
ITEM 10
:
CBS reported
, "Ice Cube defends advising Trump on plan for Black Americans."
The money quote from the rapper/actor was "I don't trust none of them. No president has done right by us so I don't trust none of them. So putting our hopes and dreams behind any of them just don't work, we got to make them do what we want them to do and there's only a few ways to do that."
That includes Obama.
In fact, if black voters compare the two, they will re-elect The Donald.
ITEM 11
:
Just the News reported
, "White House covid 19 adviser Dr. Scott Atlas is criticizing what he said was an ongoing obsession with masks, claiming that universal masking mandates don't work at suppressing the spread of SARS-Cov-2.
"Atlas made the remarks during an appearance on Fox News's The Ingraham Angle following President Trump's Miami town hall event. During that broadcast, host Savannah Guthrie challenged the president several times over his stance on masking.
"On host Laura Ingraham's show, Atlas criticized what he called a 'lame, bizarre obsession at this point that everyone must have universal masking.'"
The emperor is naked and masks don't stop a virus that is smaller than the holes in the mask.
ITEM 12
:
CNBC reported
, "Consumers spent at a much faster pace than expected in September, with retail sales rising 1.9% in a sign that the U.S. economy's biggest driver remains healthy.
"Economists surveyed by Dow Jones expected sales to increase 0.7%, up from a 0.6% rise in August.
"Excluding autos, the gain amounted to 1.5%, which also was better than the 0.4% estimate.
"Clothing and accessories led the advances, rising by 11%, while sporting goods, music and books jumped 5.7%. Electronics and appliances was the only major sector that was negative, dropping 1.6% from the August levels."
The economy is growing faster than economists realize.
They are almost as good at their predictions as Nate Silver is. Oh wait. He's an economist, too.
ITEM 13
:
The Atlanta Federal Reserve reported
, "The GDPNow model estimate for real GDP growth (seasonally adjusted annual rate) in the third quarter of 2020 is 35.2% on October 16, unchanged from October 9 after rounding.
"After this week's data releases by the U.S. Bureau of Labor Statistics, the U.S. Department of the Treasury's Bureau of the Fiscal Service, the Federal Reserve Board of Governors, and the U.S. Census Bureau, a decrease in the nowcast of third-quarter real gross private domestic investment growth from 48.4% to 47.0% was offset by an increase in the nowcast of third-quarter real personal consumption expenditures growth from 37.0% to 37.3%."
Quickest and best recovery ever.
President Trump gave us an economy even Democrats and RINOs could not kill.
ITEM 14
:
The Associated Press reported
, "Absentee ballots must arrive by Nov. 3 to be counted, the Michigan Court of Appeals said Friday, blocking a 14-day extension that had been ordered by a lower court and embraced by key Democratic officials."
Remember when experts said Donald Trump was wrong to suggest that the election be delayed?
It forced liberals to oppose dragging the election out past November 3rd.
ITEM 15
:
Colorado Peak Politics reported
, "Denver Mayor Hancock has ordered residents to abide by confusing new covid 19 rules and claims it might be too dangerous for families and friends to gather for Thanksgiving.
"Only five people are now permitted to gather together, and there's a mandate that masks be worn outdoors.
"The only exceptions for not wearing a mask are if you are alone, with family, or participating in certain organized sports."
Sounds like Rankin/Bass musical holiday cartoon: How The Jive Turkey Stole Thanksgiving.
Oh, and the Coloradoans For Trump Committee thanks the mayor.
ITEM 16
: The scrappy Scranton native needs some help in Pennsylvania.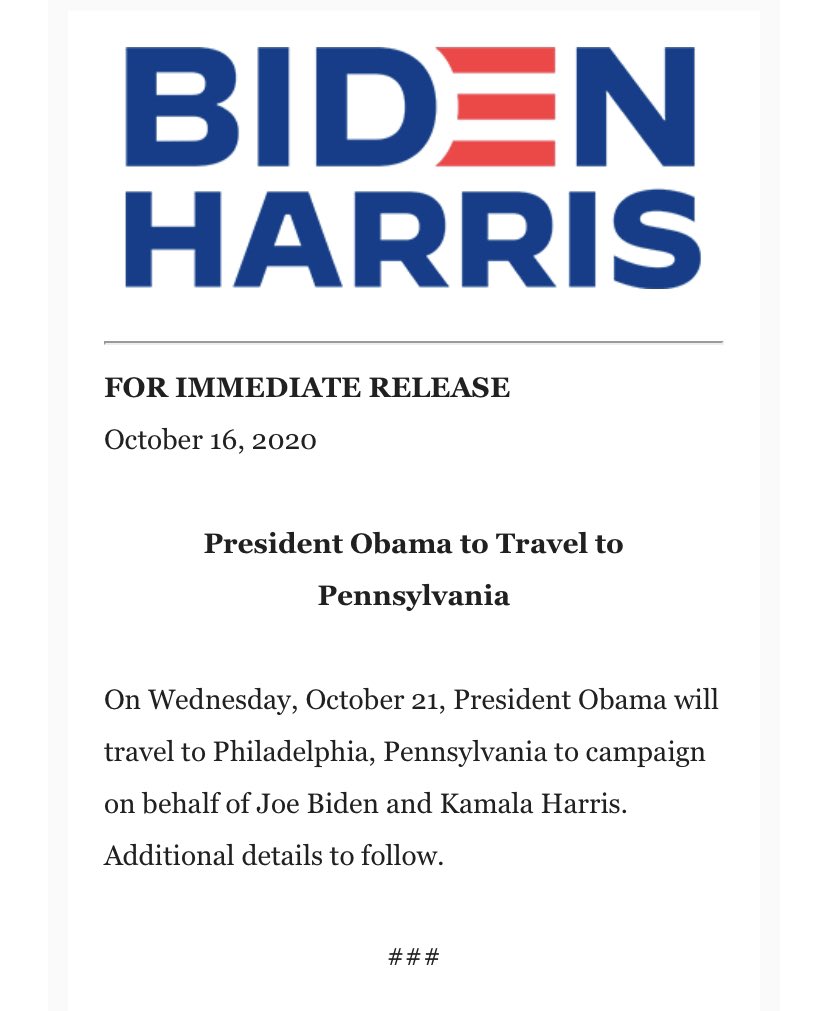 Kiss O' Death Obama.
ITEM 17
:
Zero Hedge reported
, "Emails from a former business associate of Hunter Biden's inner-circle who's serving time in prison for a 2016 investment scheme reveal that Hunter and his colleagues used their access to the Obama administration to peddle influence to potential Chinese clients and investors - including securing a private, off-the-books meeting with the former Vice President.
"The emails, given to investigative journalist Peter Schweizer by former Biden associate Bevan Cooney and published by Breitbart also reveal that in 2011, the younger Biden and his business associates discussed strengthening relations with China Inc. as part of a 'new push on soft diplomacy for the Chinese.'"
I wonder what Obama's cut of the action was.
ITEM 18
:
The Daily Caller reported
, "The United Auto Workers union abandoned a lawsuit over a Michigan law, which mandates that public sector union workers reauthorize their union membership annually.
"Judge George C. Steeh of the Eastern District Court of Michigan approved the United Auto Workers' (UAW) request, and stipulated agreement with defendants, to dismiss the case entirely Wednesday. UAW filed the lawsuit on Sept. 3 along with the American Federation of State, County and Municipal Employees (AFSCME) and Service Employees International Union "
They have no case.
The 1960s are truly over.
ITEM 19
:
Fox reported
, "Scotts Miracle-Gro is main financial supporter of push to legalize weed in New Jersey."
Well, it is the Garden State.
FINALLY,
Allen Smithee tweeted, "Lost my pizza cutter. So I used my Bryan Adam's C.D.
"It cuts like a knife."
Two more posts today, then I will be back Monday. Have a great weekend.