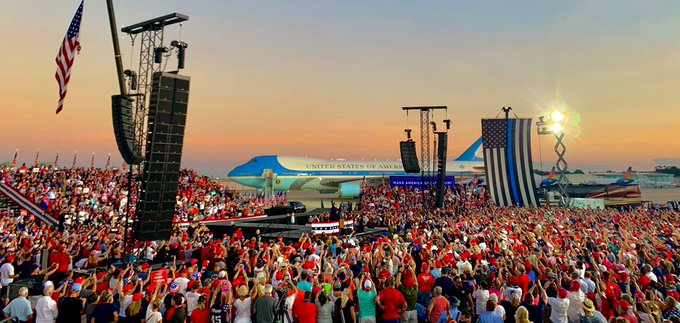 Donald John Trump is still our president.
ITEM 1
: Joe Biden spoke to
40 people at a campaign rally in Ohio
. But they were masked and socially distanced and sitting in their cars, unlike the 14,000 who showed up at President Trump's rally in Sanford, Florida.
Biden is totally up by 16 points.
Biden said, "You're the ones who sent Barack Obama the presidency. And I have a simple proposition here: I'm here to ask you for your help. Where I come from, you don't go very far unless you ask. My name's Joe Biden. I'm a Democratic candidate for the United States Senate. Look me over. If you like what you see, help out. If not, vote for the other Biden. Give me a look though, OK?"
Totally competent enough to run the government.
Meanwhile, James Woods tweeted, "The President is recovering from COVID, is standing in the Florida heat in a suit, and he is a LION. Joe Biden thinks he's running for the Senate and can't wait to get back into his basement."
Covid met its match -- as I predicted 10 days ago!
ITEM 2
:
Breitbart reported
, "The viewership numbers for the sixth and final game of the NBA Finals are in, and they are atrocious. Game 6 drew, at its peak, 6.028 million viewers. To put that in perspective, Game 6 of the 2019 NBA Finals, which included a team from Canada and did not include LeBron James, drew 18.34 million viewers.
"Those figures represent a 66% drop."
Maybe the problem is not BLM. Maybe it is LBJ.
ITEM 3
:
Fox reported
, "8 key moments of Amy Coney Barrett's first day of confirmation hearings."
They added up to zero reasons to watch. Just confirm her and end the silly TV show.
ITEM 4
:
Jordan Davidson reported
, "A Centers for Disease Control report released in September shows that masks and face coverings are not effective in preventing the spread of covid 19, even for those people who consistently wear them.
"A study conducted in the United States in July found that when they compared 154 case-patients, who tested positive for covid 19, to a control group of 160 participants from the same health care facility who were symptomatic but tested negative, over 70% of the case-patients were contaminated with the virus and fell ill despite always wearing a mask."
When does this Mask Parade Masquerade end?
ITEM 5
:
Ronald Stein reported
, "The Northwest has spoken loudly as the Benton Public Utility District has documented their actual battleground experiences with intermittent electricity from wind farms that should be a wake-up call to our policy makers. Their message is "no more wind".
"The Washington state utility 16-page report titled Wind Power and Clean Energy Policy Perspectives of July 14, 2020, provides a devastating counter attack to the wind lobbyists that they question the efficacy of wind farms for power generation and resulted in the utility's commissioners saying they 'do not support further wind power development in the Northwest.'
"Kudos to this Washington state public utility for speaking up after seeing the costs and dangers of California's experience with an over-reliance on intermittent electricity from wind and solar. In a statement and report, the utility said overly aggressive clean energy policies bring about an unacceptably high risk of power grid blackouts. They go on to say the development of wind farms may be politically fashionable and appeal to many in the general public, but science and economics show that attempting to power modern civilization with intermittent electricity from wind and solar will come at a high financial and environmental cost."
Wait till they have to pay the actual cost of wind.
ITEM 6
:
Breitbart reported
, "The UN announced Sunday the electric car boom will result in a number of devastating ecological side effects for the planet.
"While the shift to electric cars reflects ongoing efforts to reduce the world's dependence on fossil fuels, the UN warns that the raw materials used to produce electric car batteries are highly concentrated in a small number of countries and their extraction and refinement pose a serious threat to the environment.
"The UN trade body, UNCTAD, has issued a new report breaking down some of the unintended negative consequences of the shift, which include ecological degradation as well as human rights abuses."
Mankind is ruining the world in its attempt to create a utopia of wind-powered cars. Why not simply hoist a sail?
ITEM 7
:
The Daily Wire reported
, "After an Idaho state government agency denied the great-grandparents of a 1-year-old girl the right to apply to be her foster parents and eventually adopt her because of their religious views vis-a-vis sexuality, a United States District Judge reversed the decision, holding that the state regulations likely violated the Free Exercise Clause and thus ruling in the great-grandparents' favor, allowing them to apply for a foster-care license.
"As Professor Eugene Volokh writes in Reason, James and Gail Blais, devout Seventh-Day Adventists, wanted to foster and eventually adopt their great-granddaughter, "H.V." That was prompted by the Idaho Department of Health and Welfare (IDHW) removing H.V. from her birth parents' care, then contacting the Blaises about the possibility of fostering or adopting her.
"IDHW then asked the Washington Department of Children, Youth, and Families (WDCVF) to evaluate the Blaises to see if it was appropriate for them to have a foster care license."
We have gone from tolerance for gay adoptions to intolerance of straight adoptions.
ITEM 8
:
Zero Hedge reported
, "Billionaire Leon Black gave his longtime pal Jeffrey Epstein $50 million dollars after the deceased financier got out of prison for pedophilia.
"The transfer of funds was made in at least two payments, one of which Deutsche Bank flagged as unusual, according to the New York Times, citing 'two people familiar with the matter.'
"Epstein served as a director on the Leon Black Family Foundation for over a decade, and also accepted a $10 million donation for his Gratitude America foundation from Black's BV70 LLC charity."
Black said, "It is true that I paid Mr Epstein millions of dollars annually for his work. It also is worth noting that all of Mr Epstein's advice was vetted by leading auditors, law firms and other professional advisor."
Instead of paying to vet Epstein's advice, why not hire the vetters?
Oh wait, they had no incriminating evidence against Black.
ITEM 9
:
Zero Hedge reported
, "In what may prove to be an ill omen for Joe Biden, Dennis Gartman - who no longer publishes his Gartman Letter but appears in official capacity as chairman of the University of Akron Endowment Investment Committee - appeared on a Fox Business panel for Varney & Co, in which he said that 'it does appear Mr. Biden is going to win the presidency unless something untoward is to happen in his campaign and I wish otherwise but that seems to be the reality.'"
The S&P 500 is up 65% since we elected Donald Trump president.
The two words that tell you a statement is wrong are "experts say."
The story gave no reason for the surge.
Last month,
the Texas Tribune reported
, "New voter registrations plummeted during the pandemic in Texas, where you can't register online.
"Groups on both sides of the aisle say it's harder to register voters when you can't go door to door and big public events are canceled. Registration was down 24% in the first seven months of this year, compared with the same period in 2016."
I think I can explain the surge in Texas from here in Poca, West Virginia.
ITEM 11
:
The Post Millennial reported
, "The man who was reported to be a private security guard who shot and killed Trump supporter at a Denver Patriot Rally has been revealed by CBS Denver affiliate to not have been a security guard after all.
"Matthew Dolloff, who was identified by 9News as a security guard who had been contracted by them for the rally, was reported by the City of Denver to not have been licensed for that work.
"CBS4's Andrea Flores learned from the the Denver Department of Excise and Licenses that Dolloff was not licensed as a security guard in Denver."
I smell a lawsuit against a certain TV station.
ITEM 12
: A longtime reader DM'd: "The perfect plan:
1. Impeach the President to rile up the base and fail spectacularly.
2. Have every candidate under 70 crash and burn spectacularly, leaving three senior citizens standing by April. Push the party machinery behind the oldest one with the most cognitive decline.

3. Embrace the total lockdown, pray for a 1929 economic landscape.
4. Totally sell the lockdown by foregoing ALL party field operations.

5. Put the dementia sufferer in the basement, isolating totally to protect the candidate AND sell the lockdown.

6. Realize the incumbent is making headway into winning more black votes. Burn down businesses all summer.

7. Rally sports figures to stoke racial division. (With the expectation the old man in the basement can portray himself as a racial healer.)

8. To further sell the economic misery and perhaps generate opportunity for phantom votes, use every legal mechanism to force vote by mail. Hope that the opportunity to cheat exceeds the ballots lost by unionized postal carriers.

9. Pick a veep chiefly on race and gender. Realize she's as unlikable as the loser to the incumbent the last time around. Put the former prosecutor in witness protection.

10. Realize your candidate is so far gone he can't even pretend like he's not using the teleprompter even for small talk. Realize your handlers are so inept, they keep making mistakes with the teleprompter recreating scenes from a Will Farrell movie.

11. Realize that the people who usually shepherd youth vote on campus have been more interested in rioting (and worse) than campaigning. Worse yet, they are so resentful of voters that they chastise diners and shoppers in the bluest of blue neighborhoods.
"I could go on and on. But at the end of the day, Joe Biden will not win the presidency, even if Trump loses. Trump has had to lead in the most challenging circumstances imaginable with a media damn determined to burn it all down."
ITEM 13: At his rally in Florida on Monday, our beloved leader said, "We'll take care of it all after the election. We caught 'em cold. Bad people. Crooked Hillary. And by the way, Obama and Biden knew everything that was happening. We'll take care of it after the election..."
Jeff Carlson of the Epoch Times tweeted, "Consider what's being said. And the confidence it implies."
Somebody goes to prison after this election. The American people will decide whom.
ITEM 14
:
The Detroit Free Press reported
, "Emergency orders Gov. Gretchen Whitmer has issued under the Emergency Powers of Governor Act are struck down, effective immediately, the Michigan Supreme Court said Monday in a 4-3 order that added an exclamation mark to an Oct. 2 ruling.
"But new emergency orders that the Whitmer administration has issued through the state health department director — which replicate mask requirements, restrictions on gathering sizes and restaurant capacity, among other features — are not affected by the court's ruling.
"Monday's Supreme Court ruling is in response to a lawsuit brought by the Michigan Legislature. The Oct. 2 ruling, which was a 4-3 decision striking down the Emergency Powers of Governor Act of 1945, was in response to questions sent to the court by a federal judge handling a lawsuit brought by medical service providers in western Michigan.
"In Monday's ruling, which is another 4-3 ruling along partisan lines, the high court reversed a 2-1 decision of the Michigan Court of Appeals that said Whitmer could use the Emergency Powers of Governor Act to address the corona virus pandemic."
Sure, it is just partisan. The state constitution doesn't matter to journalists any more.
ITEM 15
:
Just the News reported
, "An FBI spreadsheet that evaluated the credibility of Christopher Steele's dossier found almost no corroborating evidence from official intelligence reporting, leaving analysts to grope after flimsy sources like a Democratic operative, a Russian propaganda news site and U.S. news media story leaks that amounted to circular reporting.
"In one entry, FBI analysts tried to evaluate one of Steele's most lurid claims — later debunked — that Trump was videotaped committing lewd sex acts with prostitutes at the Ritz Carlton Hotel in Moscow. 'There is no confirmation that Trump stayed here,' they found. 'There is no Presidential Suite currently listed.'"
As you recall, that was the lie that Donald Trump hired hookers to pee in a bed the Obamas slept in.
This was bullshit all along. CNN, the New York Times, the Washington Post, and the rest all knew it was bullshit. They fed it to the public anyway.
Just remember, the devil is the lord of lies.
ITEM 16
:
Just the News reported
, "Federal Communications Commission Chairman Ajit Pai applauded the U.K. and Germany for sharing President Trump's security concerns by rejecting widespread reliance on Red China's telecom giant Huawei for their 5G infrastructure.
"Late last month, the German government announced that while it was not banning Huawei, it would increase government scrutiny of the Chinese firm, making it more difficult for Huawei to compete. In July, the British government moved to ban telecom companies from purchasing new equipment made by Huawei for their 5G networks, following encouragement from the United States.
"Pai said he had personally visited the U.K., Germany, Brazil, Bahrain and Malaysia to obtain a shared understanding of what the risks are on 5G and other issues."
The world wants to take Red China on. It unleashed covid 19, and is backing Biden in the weird hope that they can stop Donald Trump.
Never Bet Against Donald John Trump.