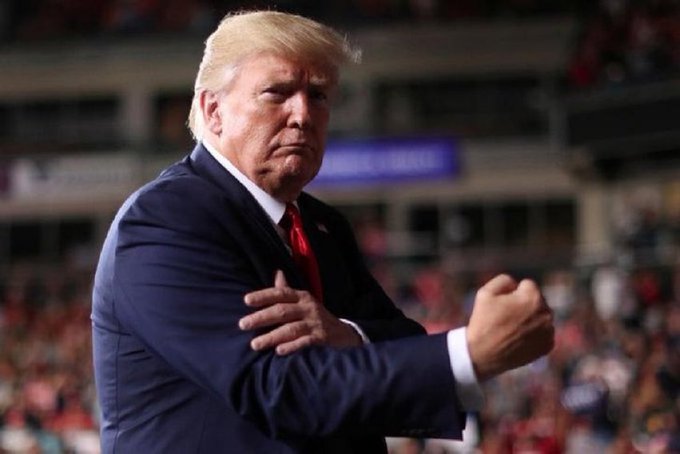 Donald John Trump is still our president. It is undebatable.
ITEM 1
: Debate follow-up.
I detest Donald Trump. And I hope he wins in a landslide. #debate

— Bernard Goldberg (@BernardGoldberg) September 30, 2020
Yes, we are at the point where people won't hold their nose and vote for him, but instead they will vote for him and enjoy the smell of freedom.
ITEM 2
:
The Commission on Presidential Debates announced
, "Tuesday night's debate made clear that additional structure should be added to the format of the remaining debates to ensure a more orderly discussion of the issues. The CPD will be carefully considering the changes that it will adopt and will announce those measures shortly. The Commission is grateful to Chris Wallace for the professionalism and skill he brought to last night's debate and intends to ensure that additional tools to maintain order are in place for the remaining debates."
Professionalism? He kept interrupting the debaters.
Facts:

Chris Wallace interrupted Donald Trump 76 times last night.

He only interrupted Joe Biden 15 times.

Trump shouldn't have to debate two opponents at once, but he did—and he STILL won.

— Charlie Kirk (@charliekirk11) September 30, 2020
Here's an idea: have an actual debate instead of a joint interview by some TV celebrity.
The next debate is scheduled for October 15, which gives me plenty of time to skip it.
ITEM 3
:
Just the News reported
, "A 36-year-old male has been arrested and charged with attempted murder in connection with the recent shooting of two L.A. County sheriff deputies, authorities said Wednesday.
"District Attorney Jackie Lacey announced the arrest and identified the person charged as Deonte Lee Murray.
"Murray is accused of shooting the two law enforcement officers September 12 while they sat in their squad car.
"Security footage shows an individual approach the deputies' car and fire a handgun through the passenger window, in the Compton area of Los Angeles. The deputies, a 31-year-old mother, and 24-year old male, were able to radio for help.
"Murray was separately arrested two weeks ago following a carjacking. He was set to return to court in late October for a hearing, but was suddenly called back to Compton court on Wednesday morning with no indication of the reason for being brought back."
No excitement without an indictment. Too many people in LA are indoctrinated to hate the police.
ITEM 4
:
United Press International reported
, "Former FBI Director James Comey on Wednesday defended his actions to investigate possible links between Donald Trump's 2016 presidential campaign and Russian operatives.
Testifying before the Senate judiciary committee as part of its oversight into the Crossfire Hurricane investigation, Comey disputed assertions by Trump, Republican senators and Attorney General William Barr that the probe was unfounded and politically motivated.
"Crossfire Hurricane was the code name given to the FBI investigation into links between Trump's campaign and Russian officials, as well as whether there was coordination between the two parties to interfere in the election four years ago."
There was no collusion.
They knew it all along.
They named it Crossfire Hurricane -- taken from a Rolling Stones song -- to mock the president, a well-known Rolling Stones fan.
ITEM 5
:
Breitbart reported
, "American Airlines said it will begin furloughing 19,000 workers after lawmakers and the White House can't agree on a coronavirus relief deal.
"The major airlines have held off on layoffs and mass furloughs under the terms of a $25 billion payroll support program Congress passed in March. The deal was aimed at helping the airlines cope with shutdowns, quarantines, and a crash in bookings, but at the time it was passed, lawmakers believed demand for air travel would recover in a few months.
"The March legislation's ban on cutting jobs expires October 1. Demand for air travel has recovered a bit since the depths of March and April, but passenger volume remains 70 percent below pre-pandemic levels.
"Airline executives say they simply cannot avoid eliminating jobs and furloughing employees without a new round of relief from Congress."
When outgo exceeds income, disaster looms.
Shutting down a nation costs jobs, none of which are held by the people who shut the country down arbitrarily.
ITEM 6
:
Breitbart reported
, "More Minnesota voters now view the Black Lives Matter movement unfavorably than view it favorably, according to an MPR News/Star Tribune/KARE-11 Minnesota Poll released on Saturday.
"When asked, 'Do you have a favorable or unfavorable opinion of the Black Lives Matter movement?' 46 percent of poll respondents said unfavorable, while 42 percent said favorable.
"This net favorable rating of negative four for Black Lives Matter in Minnesota reflects the dramatic drop in support for the controversial movement since its high water mark in June, when it had a net approval rating of 22 points."
Live by the riot, die by the riot.
Minnesota is looking flippable.
ITEM 7
:
The Duluth News-Tribune reported
, "President Donald Trump signed an executive order and declared a national emergency Wednesday to expand the domestic mining industry.
"The executive order is also meant to support mining jobs, alleviate unnecessary permitting delays and reduce the nation's dependence on China for critical minerals.
"According to a White House description of the order sent to the News Tribune, it directs all relevant agencies to accelerate the permitting process for mining projects. 'There are several key permits for mines that might be able to be completed and finalized in the next several weeks,' the release said.
"Twin Metals is under review by both state and federal regulators. Its proposed underground copper-nickel mine, processing plant and tailings storage facility is along Birch Lake, which flows into the Boundary Waters Canoe Area Wilderness via the Kawishiwi River. Even with federal approval, Twin Metals would face years of environmental and permitting review by the Minnesota Department of Natural Resources and Minnesota Pollution Control Agency."
Yep. Minnesota is flippable.
ITEM 8
:
Citizen Free Press reported
, "73 million watched the debate… 84 million watched Trump vs Hillary."
That does not bode well for the challenger.
ITEM 9
:
Jennifer Van Laar reported
, ""According to a report from Joseph Simonson in the Washington Examiner, then-Vice President Joe Biden inappropriately touched the wife of a police officer injured while apprehending the Boston Marathon bombing suspects and made a suggestive comment to her during a remembrance ceremony in April 2013.
"Kim Donohue, whose husband was shot in the leg during the manhunt, said in a Facebook post that Biden even pushed her husband aside."
She said he said, "Look at those eyes, where did you get those eyes? Anyone else as good looking as you in that family…those eyes are mesmerizing, people must just do whatever you say."
She made the allegation 4 years ago on Facebook when he was seemingly on his way out of politics. She won't talk about it now.
ITEM 10
:
Autoblog reported
, "Ford has good news for many of the motorists who reserved a 2021 Mustang Mach-E. It sent its dealers a notice to announce it's dropping the electric crossover's price by $1,000 to $3,000 -- with one exception.
"The lineup still includes five basic trim levels named Select, Premium, GT, California Route 1, and First Edition, and some of these variants are offered with either rear- or all-wheel drive. Ford lowered the price of the entry-level model by $1,000, according to Mach-E Forum, so it starts at $43,995 with rear-wheel drive and $46,695 with all-wheel drive after a mandatory $1,100 destination charge elbows its way into the bottom line.
"You'll receive a $3,000 discount if you're in line for a Premium model; it now starts at $48,100 with rear-wheel drive and $50,800 with all-wheel drive. California Route 1 buyers get $2,000 off ($50,900), while the no-longer-sold-out First Edition's new base price is $1,000 lower at $59,400. Note these figures don't include incentives."
Wake me when they make it in a convertible.
I would love to drive a car that runs on coal.
ITEM 11
:
The Wall Street Journal reported
, "Boeing Co. will set plans this week to consolidate 787 Dreamliner assembly in South Carolina, people familiar with the matter said, ending production of that jetliner in Washington state as the coronavirus pandemic saps demand for aircraft.
"The decision carries significant implications for the Seattle-area economy and Boeing's unionized workforce around Puget Sound. It wasn't clear over what period of time the consolidation would play out, or how many employees might be affected by the move."
You can have CHAZ or jobs. You cannot have both.
ITEM 12
:
The Daily Caller, reported
, "Multiple Fox News hosts attacked one of their own, anchor Chris Wallace, after Tuesday's first presidential debate.Wallace struggled to control Tuesday's debate, which saw President Donald Trump and Democratic presidential nominee Joe Biden clash and insult each other numerous times. Following the debate, some of Wallace's co-workers began to criticize how he handled the evening, with many saying Trump was forced to debate him in addition to Biden."
Popcorn?
You can serve management or you can serve the viewers. You cannot do both.
ITEM 13
:
Business Insider reported
, "California is the first state in the nation to consider reparations for those harmed by slavery and racial discrimination. Gov. Gavin Newsom signed a bill on Wednesday that will create a task force to study the issue."
California was never a slave state.
So oppressed.
Definitely he needs reparations.
His basketball prowess earned him the mansion.
His racism earned my scorn.
ITEM 15
: Chief, millions of people showed up for the Biden Express.
Would you believe thousands?
ITEM 16
: The New York Post reported, "Matt Drudge is the latest media mogul rumored to be looking for a cash infusion in the form of a partial sale of his popular news website Drudge Report.
"The juicy tidbit bounced around this week from the financial world to the publishing world, reaching both high-level executives and humble reporters and editors, including this columnist. Matthew Lysiak, author of The Drudge Revolution, says he, too, has heard the rumors, but brushed them off as just that."
I thought he already sold out.