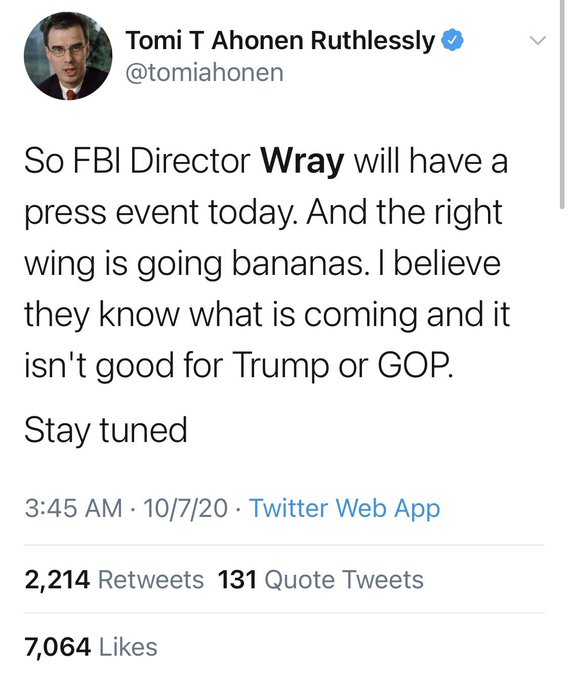 Last night, FBI director Christopher Wray sent the press a notice about announcing a major criminal development. The left flipped and said the Orange Man and his staff were going down.
Tomi T. Ahonen, 77,
took time from writing books on how to profit off 3G
to tweet about how President Donald John Trump was finally going to go down. Forget Mueller. Forget Stormy Daniels. Forget Impeachment. This announcement was going to finally end the reign of the last man to stand up to communism in America.
Ahonen tweeted, "So FBI Director Wray will have a press event today. And the right wing is going bananas. I believe they know what is coming and it isn't good for Trump or GOP.
"Stay tuned."
The responses were as one may expect crazy people to respond.
1. "I hope they've arrested Barr and Dejoy for conspiring with a foreign government to interfere in the election."
2. "Maybe he's going to say they've finally realized the Most Wanted on their list is the domestic terrorist in the WH."
3. "That would be the best news ever!!!"
Today is going to be a good day to be alive! #TrumpIsNotWell #TrumpMeltdown

— Rosanne 🐩🐩🐩 (@RosanneR429) October 7, 2020
​Well, it turned out to be a pretty good day for Americans because Wray announced the arrest of two ISIS militants who murdered Americans in Syria.
The press release said, "Two militant fighters for the Islamic State of Iraq and al-Sham (ISIS), a foreign terrorist organization, are expected to arrive here today in FBI custody on charges related to their participation in a brutal hostage-taking scheme that resulted in the deaths of four American citizens, as well as the deaths of British and Japanese nationals, in Syria.
"Former British citizens Alexanda Amon Kotey, 36, and El Shafee Elsheikh, 32, are expected to make their initial appearances here in federal court this afternoon."
The story also said
, "According to allegations in the indictment, from 2012 to 2015, Kotey, Elsheikh, Mohamed Emwazi (deceased), and a fourth British citizen (CC-1) currently incarcerated in Turkey, were ISIS fighters and participated in the abduction of American and European hostages in Syria. The men also allegedly engaged in a prolonged pattern of physical and psychological violence against the hostages, including against American citizens James Wright Foley, Kayla Jean Mueller, Steven Joel Sotloff, and Peter Edward Kassig. Due to their English accents and their history together in the United Kingdom, the four men were often referred to by hostages as The Beatles."
ABC reported
the families of four Americans who were kidnapped, tortured and murdered by ISIS -- James Foley, Peter Kassig, Kayla Mueller and Steven Sotloff -- released a joint statement celebrating the news Wednesday.
It said, "Now our families can pursue accountability for these crimes against our children in a U.S. court.
"Kotey and ElSheikh's extradition and trial in the United States will be the first step in the pursuit of justice for the alleged horrific human rights crimes against these four young Americans, who saw the suffering of the Syrian people and wanted to help, whether by providing humanitarian aid or by telling the world about the evolving Syrian crisis."
We should be rejoicing. In the 20th year of our endless war on terrorists, we have not only eliminated ISIS but are bringing its survivors to justice.
Instead of asking Wray about this case, reporters went into their usual Washington political spin. No wonder they are so dizzy all the time.
Bloomberg (pay site, no link) reported, "FBI Director Christopher Wray has no plans to resign, a bureau official said, as President Donald Trump and his supporters step up demands for the release of sensitive files that they say will show 'spying' on Trump's 2016 campaign."
Yes, the media still denies that Obama spied on Trump's campaign despite FISAs and admissions of spying by Obama's henchmen.
Wray is not my favorite and I really want the FBI to be reined in.
But good grief, we have taken into custody two cowards who tortured and killed Americans overseas. Can we all just agree that is a big, huge victory in the war on terrorists? James Foley, Peter Kassig, Kayla Mueller and Steven Sotloff will get justice. Hooray!