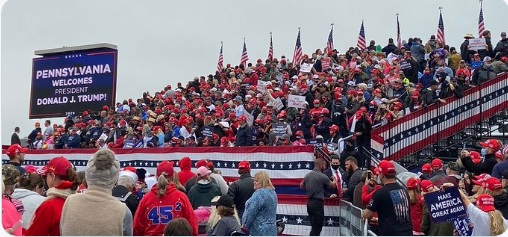 Lititz, Pennsylvania, a town of 9,458 people, easily tripled its population on Monday when Air Force One landed at its airport for a rally by barn-storming President Donald John Trump.
Overall, N8 Ag gives President Trump a 12% chance of re-election.
But President Trump keeps holding rallies, people keep showing up, and a good time is had by all.
This makes reporters nervous because he is a wild and entertaining man. Jokes are reported as straight news. Victor Fiorillo of Philadelphia attended a Trump rally in January and he was horrified to meet people who support the president. They are outside his ken.
Fiorillo ended his story
, "He'll turn 18 in time to vote in his first election, and he'll be voting for Trump. I asked him what he hopes to hear from Trump at the rally. He seemed to think about it for a moment, and then he shook his head.
"'Honestly, I just really want to be in the room with the man,' he told me. 'He's like a rock star … I just hope that I get in.'
"Hours later, he texted me this photo from his well-earned seat:
"'Congrats!' I replied.
"And then I signed off for the night and went to bed, but I didn't sleep well at all."
Many of his fellow elitists in the media are not sleeping well. They realize that their past 4 years of lies, manipulations, and exaggerations about the 45th president were fruitless.
Shawn McCreesh, an editorial assistant at the New York Times, wrote on Tuesday, "Can We Trust Pennsylvania's Polls?"
I do not link pay sites.
He visited Bensalem, Pennsylvania, and wrote, "Polls show Mr. Biden leading by five to 13 points, but I grew up around here and am dubious. This place — the land of hoagies and Bradley Cooper and Rocky Balboa worship and Tina Fey's 'Cousin Karen' accent — has transmogrified into Trumplandia."
I have no idea what the Cousin Karen accent is. But judging by Fey's work on Sarah Palin, I imagine it is less than sophisticated.
There is a Trumplandia, but there is no Bidenistan is there? That seems like a problem to me.
McCreesh wrote, "On Sunday, I went back to visit the neighborhood I grew up in, in Hatboro, where the most febrile of Fox News talking points are in bloom on many of the front lawns. One house, belonging to Richard Gottshall, is in a league of its own. Hand-painted posters sprout like weeds from every corner of his yard. 'We the people are tired of the dirty Demo-rats,' says one. 'Liars idiots troublemakers news media as well the best is yet to come.'
"Mr. Gottshall, a retired carpenter and volunteer firefighter, said that some 20 like-minded people had congregated on his lawn that morning to show support for their candidate. His neighbor was not pleased about the gathering."
Yes, it was one of those cringe-worthy burn-my-bridges columns.
He asked, "Is the Trumpmania here restricted to a fortissimo minority circling the drain, or is it a blinking red warning sign that the polls are, once again, badly discombobulated?
"One thing is for sure: It is a florid expression of how many Americans feel alienated from the system. They were here last time and they will remain here no matter what happens on Tuesday."
He visited Lochel Bakery where they sell cookies in a pastry poll. The score was Trump 18,241, Biden 3,367.
In 2016, the Lochel Bakery cookie poll was more accurate than any pollster other than Trafalgar Group, which also predicted Donald Trump winning Pennsylvania.
Polls in general fell in disrepute because they failed not only in the presidential race in 2016 but five Senate races in 2016 and 2018. All the errors favored Democrats. If the polls were fair and balanced, there would be a 3% chance of that happening.
Using non-polling data, which is to say real data as polls are junk science, Jakubowski and Makridis determined, "President Trump is going to win the 2020 presidential election — and win big."
The pair wrote, in Pennsylvania, "there were 803,427 more registered Democrats than Republicans as of May, but that gap has narrowed to 700,853 as of October. In fact, Republicans have netted seven times as many registered Republican voters than Democrats since 2016. Similar trends are taking place in North Carolina and Florida."
Now then, people did not register this year as Republican only to turn around and vote for Biden.
Will the polls suddenly drop the charade and tell the truth? I doubt it for two reasons. First, the pollsters really believe they are right. Those who know their data are wrong believe their lies serve the greater purpose by trying to oust President Trump. By any means possible is the amoral rationalization of political evil.
Second, there is no penalty for getting it wrong.
But there is hope.
On Sunday, Insider did something that had not been done since May 31. It posted a poll that showed President Trump with a lead in Pennsylvania of 2.9 points. You have to go back through 47 polls in Pennsylvania to find the last one Real Clear Politics listed as showing President Trump leading in Pennsylvania.
It is 2016 all over again when poll after poll after poll showed Hillary winning Pennsylvania.
Two weeks earlier, Insider Advantage posted a poll that showed Biden up by 3.2 points.
That's more than a 6-point swing in two weeks. Bad polling? Maybe.
But Democrats are filled with fear, so much so that N8 Ag sought to calm them down with a column that said Biden is not toast if he loses Pennsylvania.
Hmm.
While plenty of Republicans have won the presidency without Pennsylvania, the last Democrat to do so was Harry Truman, who campaigned relentlessly to keep his job.
Who is more like Truman this time?
Democrats can count. They see that rise in Republican registration in Pennsylvania and it has them questioning their own polls.
Instead of investigations and impeachments, Democrats should have spent the last 4 years concentrating on voter registration and making appeals to Trump supporters.