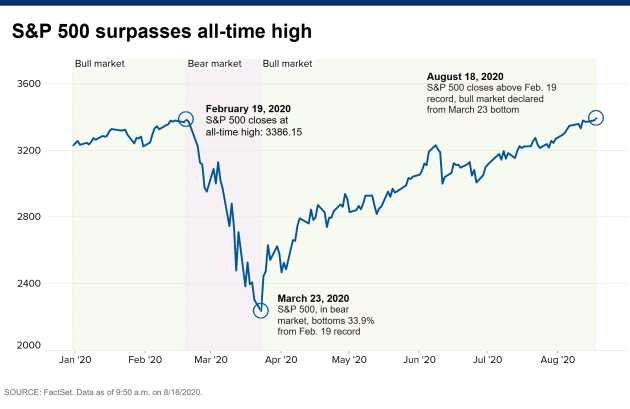 The Dow Jones Industrial Average fell 650 points on Monday because (
spins wheel of misfortune
) "new data showed a jump in covid 19 cases in both the U.S. and Europe."
If Jill Biden thinks this will help her brain-dead hubby get elected president, she has another thing coming because supporters of President Donald John Trump have been through the drill before.
Stocks plunged 34% (as measured by the S&P 500) from February 19 to March 23.
On August 18, the S&P 500 topped its record close on February 19 and I recovered everything I "lost" during the pandemic panic. All my money is in Vanguard's S&P 500 Index fund.
I did not lose a dime because I don't panic when the market goes down. I ride it out. I am an investor, not a trader.
The pros know we know we have a good thing going with Donald Trump.
Mini Mike's news service
, Bloomberg, reported, "With the final stretch of the election upon us, it's still nearly impossible to guess how the stock market will react to next week's vote. One estimate from JPMorgan Chase & Co.'s chief equity strategist puts U.S. stocks in for a double-digit advance if Donald Trump keeps his office.
"A victory for the Republican candidate could push the S&P 500 to as high as 3,900 at year-end under the most optimistic case laid out by Dubravko Lakos-Bujas, the bank's chief U.S. equity strategist. The figure, some 300 points above his base-case target for year-end, implies a 12.5% advance from the gauge's Friday close. While a number of traders have come to consider a Democratic sweep followed by a prompt fiscal deal among bullish scenarios for the equity market, Lakos-Bujas disagrees, seeing Trump's victory as the most favorable outcome."
3,900?
That would be a 19% gain in the S&P 500 means Grandpa Surber is closer to that Bentley convertible he wants.

The stock market is doing so well that CBS reported, "Donald Trump has 87% chance of winning the election, stock market researcher says."
The story said
, "The research, going back to George Washington, found 16 times in U.S. history when an incumbent president ran for reelection and the stock market was up more than 20% in the preceding three years. In 14 of those 16 times, the incumbent won reelection, giving a success rate of 87%. If the trend holds, Mr. Trump could be No. 15."
The story said stocks are up 32% in the last 3 years.
Overall, the S&P 500 is up 58% since we elected him.
A year ago, before there was any covid 19, I said a recession would not stop President Trump because he had worked to give America its best economy in 50 years.
That was true then. That is true now.