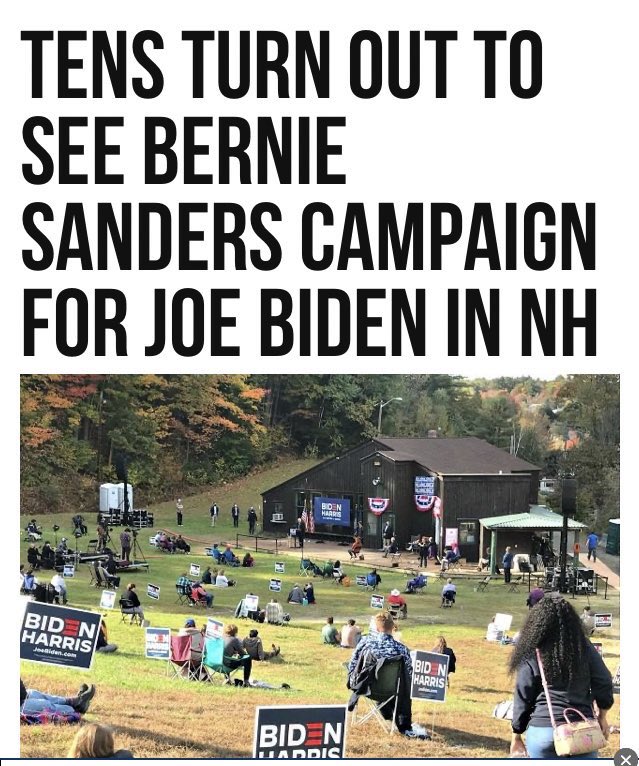 To everything there is a season, and in the presidential campaign we have entered the silly season where stars threaten to leave the USA if the Republican wins -- and Democrats claim early voting means their candidate will win in a landslide.
Amid all this craziness, though, are two new signals that this is a re-election.
First, drummer Tommy Lee and mumbler Bruce Springsteen have promised to leave the country when we re-elect President Donald John Trump.
Lee said
, "Dude, I swear to God if that happens then I'm coming over to visit the UK. I'm out of here. I'll go back to my motherland, go back to Greece and get a house on one of the islands."
A reader wondered will he head for Epstein Island?
The reader pointed out the lyrics of a Springsteen song:
Hey little girl is your daddy home

Did he go away and leave you all alone
Hmm.
In 2016, the list of stars saying they were leaving if we elected Donald Trump president included Cher ("If he were to be elected, I'm moving to Jupiter"), Miley Cyrus ("My heart is broken into a 100000 pieces. I am moving if this is my president! I don't say things I don't mean!"), Barbra Streisand ("I'm either coming to your country [Australia], if you'll let me in, or Canada"), Samuel L. Jackson ("If that motherf---er becomes president, I'm moving my black a-- to South Africa") Amy Schumer ("My act will change because I'll need to learn to speak Spanish because I will move to Spain, or somewhere. It's beyond my comprehension if Trump won. It's too crazy"), and Bryan Cranston of Breaking Bad ("I would definitely move. It's not real to me that that would happen. I hope to God it won't.")
Out of all of them, she is the only one who is no longer here.
I am tempted to file a complaint with the Federal Elections Commission. After all, these stars all promised to leave and none of them did. Can't we deport them anyway?
Then there is early voting.
Bloomberg reported
, "Millions of Americans are breaking voter-turnout records with three weeks to go before Election Day and Democrats are casting early ballots at a far higher rate than Republicans.
"Concerns about the corona virus pandemic have increased mail-in voting and led to unprecedented levels of early voting, especially among Democrats. More than 21.2 million voters have cast their ballot early, either in person or by mail, in states that report voting data, according to the University of Florida Elections Project."
"The total represents 12% of all the votes cast in the 2016 presidential election, even as eight states are not yet reporting their totals and voters still have more than two weeks to cast ballots. Americans' rush to vote is leading election experts to predict that a record 150 million votes may be cast and turnout rates could be higher than in any presidential election since 1908."
Worried?
Don't be.
This is a quadrennial story.
The story said, "More than 46 million votes have been cast in advance of Election Day, breaking records in state after state and suggesting the prospect of a heightened Hispanic turnout that could upend politics in several battleground states.
"While there's no way to know whether Hillary Clinton or Donald Trump is ahead, the available data about who has voted so far, and where, provides some insight into what the results might hold. There are signs of an unusually diverse electorate, marked by robust Hispanic numbers in places like Florida and Nevada. Women seem to have turned out in disproportionately high numbers in some states. In others, Republicans appear to have made late gains."
Finally, this post does have some news. Fox News ratings are through the roof.
Heck, The Five at 5 PM drew 5 million viewers and beat everyone except the Masked Singer.
But big numbers at Fox News are nothing new. What is new is Fox News is attracting viewers. Carlson, Hannity, and Ingraham were No. 3, 4, and 5 on cable among people 18-49. Only two baseball games beat them on cable.
In fact the entire Fox News lineup from 5 PM to midnight held top 10 slots in that age bracket.
Carlson was No. 1 among women 18-49.
Among people 18-34, Carlson was No. 3 and Hannity No. 4, and the rest of the Fox News lineup also scored high.
This bodes well for President Trump in that it shows the under-50 crowd is engaged in conservative politics.
Wait a second, that was not silly enough for this post.
This is.
WPVI reported
, "It's a heated election season and political conversations can get a little tricky. But in Montgomery County, Pennsylvania, a bakery is adding a little levity by making the race more fun and delicious.
"Political cookies flying off the shelves at Lochel's Bakery in Hatboro. They feature the name and party color of each candidate. The bakery tallies the sales like votes in an unofficial, tasty little poll that's now sweeping the nation.
"'Everyone can agree on a cookie,' says Kathleen Lochel, the owner of Lochel's Bakery.
"But this is an election year and that means everyone's picking their cookie on party lines."
The story also said, "For the past three elections, the sugary sales have accurately predicted the presidential winner."
And the Lochel woman said, "If the winner was chosen today, from our poll, Donald Trump would blow it out of the water."
I for one am gonna miss Tommy Lee.