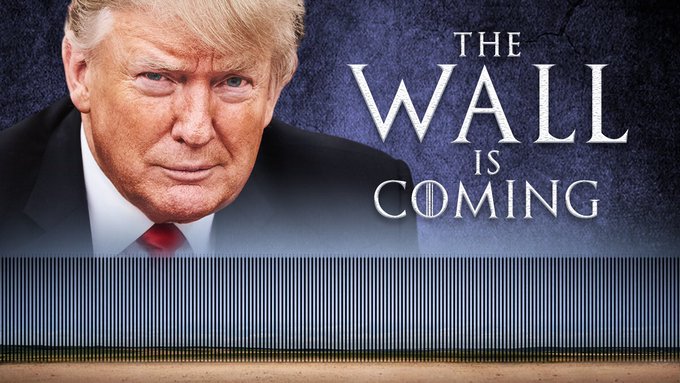 I try to notice the things that are missing. It's the silence is golden approach to politics and journalism.
The biggest silence in this presidential campaign is the Mexican Wall.
4 years ago the media and Hillary mocked Donald John Trump's call to build the wall. She laughed and said it wouldn't happen, and even if it did, it would not work.
For two years, House Speaker Paul Ryan stood athwart efforts to finance the construction of the wall. He looks like Aaron Rodgers but acted like Nancy Pelosi. When the real Nancy took over, President Trump finally got funding for a few miles by forcing her hand on a government shutdown.
President Trump then re-appropriated military funds and finally construction began in earnest. We now have 360 miles built with another 1,600 miles to go.
But the administration has walled off the heavy traffic areas, replacing 10-foot-tall fences with 30-foot walls first before expanding the barrier. Illegal immigration is down dramatically -- and it is not only because the wall is going up.
Last year, before going to France for the 75th anniversary of D-Day, President Trump told the Mexican government, oh by the way, I am going to slap tariffs on your exports unless you agree to protect our border.
He gave them a week to decide.
The anti-American press howled about a trade war. Suddenly the political reporters who predicted Hillary's win in 2016 were experts on economics.
National Review's editors huffed and puffed, "The president here is unnecessarily complicating his own life. He has just overseen the successful renegotiation of NAFTA, which will be reconstituted as the U.S.–Mexico–Canada Agreement (USMCA). But that agreement has not yet been ratified — not by the United States, and not by Mexico. Imposing punitive tariffs over a policy dispute unrelated to trade five minutes after negotiating a new trade pact makes the Trump administration — and the United States — look like an unreliable negotiating partner. Mexico is not wrong to resent it, and even Trump allies such as Senator Chuck Grassley (R., Iowa) are against him on this."
Mexico's socialist president gave President Trump everything he wanted and more.
And the border continues to be protected.
Reuters reported
, "Mexico's president on Friday [October 2] said he suspected political interference behind a new migrant caravan in Central America, promising to keep his country out of the U.S. presidential race as the group splintered and some began turning back.
"More than 2,000 migrants, many wearing face masks against the coronavirus, barged past Guatemalan troops at the Honduras-Guatemala border on Thursday. Some said they were seeking to escape poverty aggravated by the pandemic.
"President Andres Manuel Lopez Obrador, who has taken steps to curb illegal immigration so as to avoid entanglements with his U.S. counterpart Donald Trump, suggested that the caravan's departure from Honduras had been timed to provoke."
After decades of dumping the poor from Mexico and Central America on the United States, Mexico is protecting our border because good fences make good neighbors.
There also is a growing sense that this is human trafficking.
The Daily Caller reported
, "A director set out to make a documentary favoring illegal immigration and migrant caravans. But after probing deeply into the subject, Namrata Singh Gujral realized that illegal immigration actually harmed everyone involved, the director told the Daily Caller News Foundation.
"Gujral, a registered Democrat, said the stories of a homeless veteran, an illegal alien, a dead six-year-old girl, and the mother of a law enforcement officer killed by an illegal alien — all featured in her film, America's Forgotten — are representative of those impacted by illegal immigration. In her investigation into their stories, she 'discovered the truth behind immigration fraud,' she said.
"I set out to make a film that was going to be very pro-illegal immigration, pro-caravans, pro-migrants, that's where I started. The film ended up completely different, and I think it was because I stuck with the investigation.'"
We know President Trump was right about the wall because neither the media nor the rest of the Democrats want to talk about it.