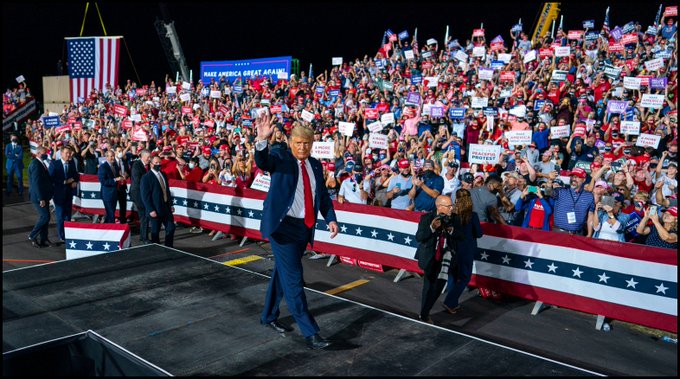 President Donald John Trump continued his schedule of working as a president by day and a presidential nominee at night with large rallies. His pace would tire a man half his age, which would be 37. Decades of putting in 12-hour days prepared his body and mind for this.
Obama finally campaigned for Biden on Wednesday. He talked to 300 parked cars in Pennsylvania. He also talked to a spontaneous crowd of 5 Biden campaign workers and a lost little girl. He used a megaphone so that TV camera crews could give the appearance that a large crowd was there.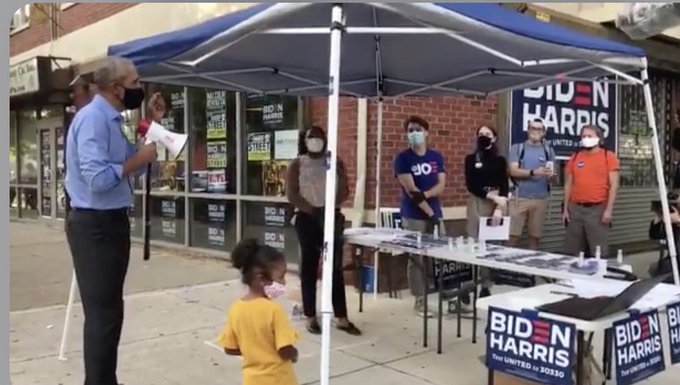 President Donald John Trump flew into Gastonia, North Carolina, for a rally. GOP chairwoman Ronna McDaniel tweeted the numbers.
28,278 signups
32.2% NOT Republican
23.5% did not vote in 2016
Once again, President Trump had a good day, Biden lost another day to the basement. If you cannot do the job of campaigning for president, then you cannot do the job of being president.
Those good days by Donald Trump are adding up.
Paul Bedard reported
, "In the 13 reelection events since returning to the campaign trail following his covid 19 diagnosis, President Trump has attracted more than 167,000 rally goers, many of them first-time voters and even more who are not Republicans."
The non-Republicans are not there to troll because they would be shut down quickly.
They are there to enjoy the show.
The second Trump campaign is rallies and door knocking. Republicans say they have 2 million volunteers.
The rallies show the enthusiasm for President Trump that Biden lacks. The president is campaigning all over the map spending Sunday in California and Nevada, Monday in Arizona, Tuesday in Pennsylvania, and Wednesday in North Carolina.
Biden and his campaign are stuck in Pennsylvania, the one state his party knows it cannot afford to lose.
And yet in one stop in Erie on Tuesday, President Trump drew nearly 20,000 people, which is more than the combined total of all of Biden's campaigning in the Keystone State.
President Trump does not need Pennsylvania. He has avenues to 270 in the Electoral College that Biden does not enjoy. And so Donald Trump visited Florida, Wisconsin, Michigan, Georgia, Iowa, and Ohio last week and weekend.
Those are all states he took last time, true. But those were enough states to get elected. He does not have to expand his base.
Democrats do.
Staying holed up in Delaware does not cut it.
There is no Joe-mentum. There never was. Democrats can prop him up, but they cannot carry him over the finish line.
President Trump can get there on his own. He showed that 4 years ago.