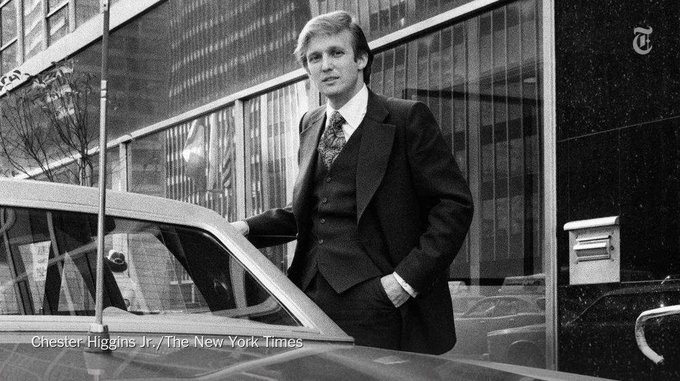 The Vietnam Veterans Plaza in New York City honors the 1,741 New Yorkers who died in Vietnam, as well as 250,000 New Yorkers who served during that war. When Mayor Ed Koch needed someone to raise the money to build it in 1983, he called on Donald John Trump.
Trump raised the money the old-fashioned way, by writing the first check. He donated a million bucks, which was 40% of the $2.5 million needed.
Thomas Lipscomb wrote about it in USA Today on April 14, 2017. He was the founder and president of Times Books – then The New York Times book division.
He wrote
, "The New York Vietnam Veterans' Leadership Program, run by a brilliant former infantry platoon leader, Eugene Gitelson, was able to take the money Trump contributed and helped raise through the Commission to create the largest program in the country. Gitelson's VVLP, as the Commission's Living Memorial, trained veterans first to become job ready, and then find jobs. He and his staff helped place thousands of them.
"And to top it all off, at the dedication of the Commission's New York Vietnam Memorial in May of 1985, the 'heroes' welcome' the New York Times noted had not occurred at the sparsely attended parade in Washington actually happened.
"Streaming across the Brooklyn Bridge and down Broadway came tens of thousands of Vietnam veterans, often marching in their units. Americal Division, 101st Airborne, 1st and 3rd Marine Divisions, Special Forces, to name just a few, often under one of their old commanding officers, flags flying, headed by Mayor Koch himself pushing a wheelchair for John Behan, a Medal of Honor winner who had lost both legs to a landmine.
"And close behind him, General William Westmoreland, their former commander in Vietnam, marching along with them and another 18 Medal of Honor winners for the largest parade of participants in the history of New York City.
"They marched to the lower tip of Manhattan island as tons of tickertape and paper turned the skies above them a blizzard of white as the crowds packing the sidewalks roared its welcome.
"As The Los Angeles Times headlined it: 'New York's Biggest March — 10 Years Late: Vietnam Veterans Get Their Parade at Last.'
"But neither The New York Times nor The Los Angeles Times stories ever mentioned the name or involvement of the supposed self-promoter Donald Trump.
"It never would have happened without him. And that was 32 years ago."
But wait. There's more.
As Lipscomb pointed out, when President Trump skipped the second Fox News debate to spite Megyn Kelly, he held a competing fund-raiser on debate night -- for veterans groups. I don't know much about politics, but I do know that candidates hold fund-raisers for themselves, not others.
Donald Trump in 2016 was not a politician.
He raised $6 million. The press mocked him because he included his own contribution of $1 million in the total.
But wait. There's more.
A decade after the Welcome Home Parade for Vietnam veterans, New Yorkers went back to ignoring veterans again.
Tom Fox was head of the 1995 Veterans Day parade. He was ready to bag the whole thing due to lack of funding.
He told United Press International, "Donald Trump saved the parade. We had asked for donations from 200 corporations, and none of them came through."
The Donald did. He raised the $500,000 they needed for security and the like. $200,000 came from his own pocket.
It was worth every penny.
The UPI story said
, "More than 500,000 people jammed the sidewalks of Manhattan's Fifth Avenue Saturday to watch three generations of veterans march in the Nation's Parade.
"The crowd cheered as 25,000 veterans marched in one of the last national events marking the 50th anniversary of the end of World War II. The mood of the parade was festive despite the blustery weather, with marching veterans smiling and onlookers shouting 'Thank you.' '
"It's just a great day to see all the people here to honor our veterans,' said Paul Bucha, a 52-year-old Vietnam War veteran and winner of the Congressional Medal of Honor. 'For too many years this day was ignored by too many people, but now we have it back in perspective,' he said shortly after a 21-gun salute rattled the windows of Manhattan apartment buildings.
"'I think in the future Veteran's Day will be bigger and bigger.' 'I feel good; this is a great day,' said 109-year-old Herbert Young, a World War I veteran who participated in the parade. Freida Schwartz, who stood in the first row of the crowd packed five and six deep, was among those who tossed roses in the path of the 82nd Airborne.
"Her son, David, died shortly after the D-Day invasion of Normandy on June 6, 1944. 'My son was in the 82nd Airborne, and I wanted to throw these flowers to them,' said the 82-year-old Brooklyn woman. 'I want to let the survivors know we care. This is in memory of my son.'"
Last year, CNBC reported
, "Trump becomes first sitting president to attend New York's Veterans Day Parade."
Why not?
He saved it.
And he saved it because he knows our nation too often sends men (and now women) to war only to forget about them later.