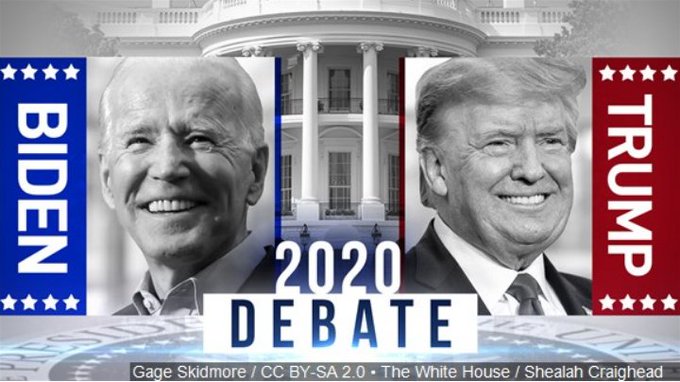 President Donald John Trump is scheduled to debate Biden in Cleveland, which 40 years ago was the home of the one and only Reagan-Carter debate. That debate turned a close race into a romp for President Ronald Reagan.
Ordinarily, I would advise the president to skip the debate despite his record of 14-0 in televised debates. He won each of the 11 Republican debates he participated in in the 2015-2016 primary season by slicing and dicing his opponents.
Hillary really thought she won all 3 of her debates with Donald Trump. That is what happens when you believe your own press releases even when Maggie Haberman at the New York Times slaps her byline on it.
But an incumbent president can only lose a debate.
Still, Reagan got Mondale so good that Mondale laughed.
Besides, President Trump is no ordinary incumbent, and 2020 is no ordinary year.
Covid 19 and a vicious media have combined to thwart President Trump's efforts to talk directly to the people. A debate would cut through the barbed wire barriers the media installed.
Biden appears to have the most to lose this year but because he often looks and acts like a dementia patient, he may need to appear at one debate just to show he is not too addle-brained to be president.
Democrats are not particularly choosy this year. They just wanted to prevent Bernie Sanders from becoming president, which would force them to actually implement such loser policies as Medicare For All and the Green Deal. That's the problem with promising pie in the sky. Eventually people expect pie.
Conservatives suspect that Biden will magically contract covid 19 which will allow him to remain in hiding.
The media certainly has opposed debates because debates allow Donald Trump to appear before the public unedited and uninterrupted -- well until his Fox News overlords prod Chris Wallace to break protocol and stop Donald Trump from telling the truth.
The Donald said, "I don't understand what's going on. He doesn't seem to be answering questions and he can't answer questions and much worse, a little while ago when he was on the stage with the Democrats, he couldn't do well."
Biden cannot think on his feet, which cost him the nomination until Obama decided to stop Sanders once and for all.
President Trump said Biden was "horrible when he was debating the Democrats. Pocahontas just destroyed him."
Kamala Harris also stung him like a wasp with her "that little girl was me" line.
The president threw shade on Biden's mental acuity.
He said, "Well, I don't know which Biden is going to show up because I watched him during the debates where they had 20 people on the stage … and he was a disaster, you don't get worse. He was grossly incompetent. Then I watched him against Bernie and he was okay. He wasn't Winston Churchill, I can tell you that, but he was okay. He was fine, I said it was like an even debate."
If Biden is as bad off as I believe he is and melts on TV, Donald Trump is going to have to hold back on the comic destruction of the man. I hope he piles up the zingers, but is willing to not fire until he sees some light -- any at all -- in Biden's eyes.