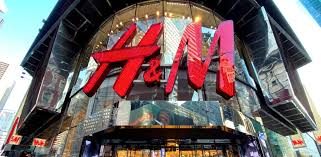 A Swedish company just did what businesses in the United States should do. It cut ties with Red China over slavery.
Agence France-Presse reported
, "Swedish clothing giant H&M said on Tuesday it was ending its relationship with a Chinese yarn producer over accusations of forced labor involving ethnic and religious minorities from China's Xinjiang province.
"The fashion retailer specified that it did not work with any garment factories in the region and that it would no longer source cotton from Xinjiang, which is China's largest cotton growing area.
"A report by think tank the Australian Strategic Policy Institute, published in March, pointed to H&M as one of the beneficiaries of a forced labor transfer program through their relationship with the dyed yarn producer Huafu's factory in Anhui."
H&M's mill is in Shangyu.
The company told AFP, "While there are no indications for forced labor in the Shangyu mill, we have decided to, until we get more clarity around allegations of forced labor, phase out our indirect business relationship with Huafu Fashion Co, regardless of unit and province, within the next 12 months."
Meanwhile punks like LeBron James continue to sell slave-labor products for Nike, even while they publicly display disdain for America.
We ended slavery 155 years ago at the cost of America's bloodiest war.
Now descendants of those slaves profit from the exploitation of those slaves. Our whole country does. We import so much junk from Red China that our railroads cannot handle the traffic.
The American Journal of Transportation reported
, "A Northern California logistics consultant was unable to book containers on the Burlington Northern Santa Fe or Union Pacific railroads for the first week of September going to and from U.S. West Coast ports and Midwest destinations.
"The consultant said, 'I have been working in the industry for 30 years and I have never seen anything like this. It's weird.'
"The result is that importers of low value products being shipped by containers such as tee shirts would be at an economic disadvantage transporting containers by truck as opposed to by rail between U.S. West Coast ports and Midwest destinations, because of the higher cost.
"The consultant explained that there is a huge shortage of rail capacity: 'There are no rail cars and there are no chassis.'"
For shame, America. For shame.