Good morning. Donald John Trump is still our president.
ITEM 1
:
Jonathan S. Tobin wrote
, "Democrats' new strategy for winning the White House: Threaten riots if they lose."
He said, "Behind all that high-minded talk from pompous columnists about virtuous patriots stopping Trump from cheating is a brazen threat. They're saying in effect: The same forces that have wreaked havoc in the name of a false charge that America is an irredeemably racist nation may well inflict even worse damage in order to ensure that Trump's re-election is thwarted.
"That's the subtext of the talk from Biden supporters about democracy. Their ace in the hole isn't an accurate count of the votes but the certainty that America's cities will burn ­unless the electorate bows to their demands.
"Aided by the devastation from the pandemic, Biden may yet win without any help from mobs. If he does, Trump will likely bow to the verdict of the people and go home.
"But in what is likely to be a close election in a deeply ­divided country — immersed in a culture war about a largely false charge of racism — the real threat to the process isn't a presidential spoilsport. It's a Democrat Party that is fully prepared to unleash ruin on the nation if it loses again."
They want power.
Maoists took over the party, and I am pretty sure Red China finances them.
To be fair, Corporate America does too. Most CEOs are
post turtles
who want no trouble.
They saw
Brendan Eich's head on the pike
.
ITEM 2
: The company that owns ABC and ESPN is controlled by Red China.
Disney: It will be very difficult for us to keep filming in Georgia if the state enacts its pro-life heartbeat bill

Also Disney: Thank you, China, for allowing us to film 'Mulan' in the province where you're imprisoning and indoctrinating Muslims in camps

— Alexandra DeSanctis (@xan_desanctis) September 8, 2020
What a sad end to a once-decent and patriotic company. But that was why the communists targeted Disney.
ITEM 3
:
Yahoo reported
, "The Rochester, N.Y., police department's chief and two deputy chiefs announced Tuesday that they were retiring from their positions after a long weekend of scrutiny over the death of Daniel Prude, a black man who died in police custody in March.
"Mayor Lovely Warren announced at a City Council meeting that Chief La'Ron Singletary would be retiring after 34 years on the force. In a letter, Singletary said he would 'not sit idly by while outside entities attempt to destroy my character.'
Chief Singletary wrote, "The events over the past week are an attempt to destroy my character and integrity. The members of the Rochester Police Department and the Greater Rochester Community know my reputation and know what I stand for. The mischaracterization and the politicization of the actions that I took after being informed of Mr. Prude's death is not based on facts, and is not what I stand for."
I don't know what happened to Prude. No one does. It is being investigated. The death is no excuse for riots or even protests.
Michael D. Brown's death wasn't. Freddie Gray's death wasn't. George Floyd's death wasn't. In each case, the homicide was investigated.
The media failed to learn the lesson that there are two sides and police often are in a no-win situation.
But reporters and their bosses do not care. It is not their businesses the mob destroys.
ITEM 4
:
The New York Post reported
, "First lady Chirlane McCray's pet project to erect more city statues to women is a monumental failure, critics say.
"Mayor Bill de Blasio's wife started the effort two years ago — yet has chosen only one artist for a single monument so far.
"A rep for McCray insists her boss's She Built NYC effort had to be temporarily shelved because of the corona virus, but critics note that construction restraints on the Big Apple amid the pandemic were lifted several months ago — and claim City Hall's incompetence and scattered priorities are really to blame."
Corona virus ate my homework.
ITEM 5
: Remember when Senator Harris was a hard-ass prosecutor?
Kamala Harris just called Jacob Blake and his family "incredible". Jacob Blake is charged with sexually assaulting a woman and his dad Blake Sr. has posted deeply anti-Semitic comments dozens of times attacking Jews. This is who Kamala calls "incredible".

pic.twitter.com/s6aEyjnEbr

— Robby Starbuck (@robbystarbuck) September 7, 2020
We have been spelling her name wrong. It's Chameleon.
ITEM 6
:
The Washington Examiner reported
, "Polls showing consistent black voter support for President Trump at levels higher than those of previous Republican candidates may cost Democratic presidential nominee Joe Biden the election. Biden's backing from this key voting group is less than it was for 2016 Democratic presidential nominee Hillary Clinton and former President Barack Obama."
The story also said, "The black vote has been in focus since Trump was elected. Since entering the White House, the president emphasized programs targeting black people, boosted employment for African Americans, and featured several black speakers at the Republican National Convention."
To offset the loss of black and Hispanic votes, pollsters are trimming white support from President Trump. Neat trick.
ITEM 7
:
Just the News reported
, "Earlier this year, the infamous dossier author Christopher Steele revealed he had destroyed nearly all the records detailing his dirt-digging on Donald Trump and Russia.
"'They no longer exist,' Steele told a British court.
"Now comes word that Steele's primary and longtime contact inside the Obama State Department, Jonathan Winer, also destroyed records of the former British MI6 agent's contacts inside that federal agency, including many of the 100-plus unsolicited intelligence reports Steele provided the Obama administration.
"'I destroyed them, and I basically destroyed all the correspondence I had with him,' Winer is quoted as saying in a little noticed passage of the Senate Intelligence Committee's final report on the Russia collusion scandal.
"Winer apparently destroyed the records at Steele's request, the report said."
Isn't destruction of government records against the law?
But the law no longer applies to Democrats.
ITEM 8
:
The Hill reported
, "The San Francisco salon owner, who Speaker Nancy Pelosi (D-Calif.) alleges set her up by recording her visit to the facility without a mask last week, has received more than $300,000 in donations.
"A GoFundMe page for Erica Kious, the owner of the salon where Pelosi was videotaped without a mask for a hair appointment, raised $310,725 from 8,800 donors as of Tuesday afternoon. The fundraiser surpassed its $300,000 goal on Labor Day.
"Kious thanked the donors, her daughters, their loving dad, and her family and friends in a letter published on the page on Monday."
Good. Now she can file a libel suit against Pelosi for saying she was set up.
ITEM 9
: George S. Bardmesser noticed Harris is not campaigning much.
He wrote
, "So what explains Harris' near-invisibility? She is not lazy. She put in the hours a year ago until her own presidential bid crashed and burned in the fall. Harris is not a gaffe factory — unlike Biden, they can let her out of the basement without too much worry about what she'll say. I am certain there is a complex game of 5D chess going on here, and we just can't see it, much less figure it out.
"Is she refusing to go out because she already knows Biden is toast and wants to be associated with him as little as possible? Does she think that staying barely visible now helps her more with her 2024 run? Has the Biden campaign changed its mind about Harris aiding the ticket, now that the polls are in, and it is clear that Harris is helpful with big-money donors, but no help at all with the voters? Are they worried nobody will show up to see Harris at her events? Is the Biden-Harris campaign so far behind the curve that they still believe the basement strategy is the way to go?"
My theory is she was talked into running with the promise of getting the 2024 nod.
The Maoist Obamas control the party.
ITEM 10
: Rolling blackouts in green energy California force people to turn off ACs in triple-digit heat.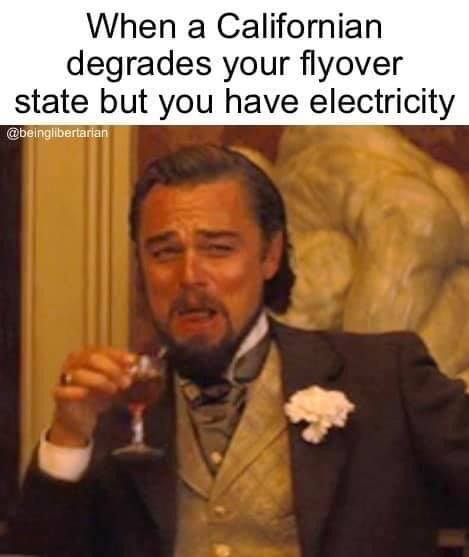 Even North Koreans have electricity.
CA ensures that 1/3 of electricity is from renewable sources. Here's how we can make it a model nationwide:

https://t.co/NuQSwI0QkR

— Kamala Harris (@KamalaHarris) February 9, 2016
West Virginians will pass on the offer.
We have coal.
ITEM 11
:
The Washington Free Beacon reported
, "Joe Biden's former White House stenographer said the vice president's public speaking ability has deteriorated significantly since leaving office to the point where he's "not the same Joe Biden."
"'It is a complete difference from what he was in 2017,' Mike McCormick, who worked as a White House stenographer for 15 years and with Biden from 2011 to 2017, told the Washington Free Beacon in an interview. 'He's lost a step and he doesn't seem to have the same mental acuity as he did four years ago'."
A real person goes on the record and the media ignores it.
Contrast and compare to The Atlantic story.
ITEM 12
: Dan Rather accidentally tells the truth.
— Joel Pollak (@joelpollak) September 8, 2020
The media lies because the lie sticks while the truth is ignored.
Remember how his Big Lie about a fake letter brought President Bush down?
Oh wait, he failed.
Rather, the letter brought Rather down.
ITEM 13
:
Page Six reported
, "'Keeping Up With the Kardashians' ending after 14 years on air."
All good things must end.
And a few of the bad things as well.
ITEM 14
: Nate Silver has it Biden 270, President Trump 268 in the Electoral College.
If you take the polls at face value right now—with Biden gaining/holding steady in AZ, WI, MI but losing ground in PA & FL, then Arizona is the tipping-point state right now, which could lead to the map shown here. This is a winning map for Biden, but it's precarious.

pic.twitter.com/bLTzvk2E3l

— Nate Silver (@NateSilver538) September 8, 2020
Which means President Trump is ahead by close to 70 electoral votes, given N8 Ag's track record.
ITEM 15
:
The New York Post reported
, "The novel corona virus has infected more than 26.35 million people, with just four countries accounting for over 15 million cases. They are the United States, Brazil, India and Russia — the same four that have been at the top for months. The US surprised the world when it rose to the top spot in multiple covid 19 statistics, both for the total number of confirmed cases and the number of deaths. Since then, no other country has surpassed America.
"But scientists who are studying the pandemic have also identified another surprise of the pandemic. Some expected the African continent to be affected most heavily by the virus, but that wasn't the case. South Africa stands out when it comes to the number of total cases, with nearly 631,000 infections. But fewer than 15,000 people have died of covid 19. These figures are puzzling scientists looking to understand how the virus behaves and how it can be beaten."
Dr. Simone Gold tweeted, "You mean the only continent where hydroxychloroquine is widely available and can be purchased over-the-counter?"
Having to fight malaria has an upside. It makes HCQ widely available and over-the-counter.
ITEM 16
: While Biden is hiding, Team Trump takes its case to the American people.
— Catturd ™ (@catturd2) September 9, 2020
— Benny (@bennyjohnson) September 8, 2020
— Eric Trump (@EricTrump) September 8, 2020
If we are the "Silent Majority" imagine how many there actually are of us 😁

Wow! 😳

This is the turn out in Jupiter, Florida for our wonderful president today! 🙌

pic.twitter.com/5zKpFfvcvy

— Rαƈყ 🇺🇸🇮🇹🇺🇸 (@RacySicilian) September 8, 2020
Before a politician can claim he will fight for me, he must fight for himself.
ITEM 17
:
Bobby Lopez wrote
, "Leftism is worse than racism."
Lopez made 10 specific points, including:
The left is enormous; blatant racists are by now few in number.
The left is openly aggressive and unapologetic; the racists I've known are almost ashamed of feeling racist and try to be as unobtrusive to others as possible.
Leftists are organized and well funded. Racists are not.
It is a good column, but leftists are also racist.
ITEM 18
:
The Fort Worth Star Telegram reported
, "A Wisconsin priest who condemned Catholic Democrats has the support of a Texas bishop.
"Father James Altman, pastor of St. James the Less Catholic Church, lashed out at Father James Martin, who participated in the Democratic National Convention. In a 10-minute video posted to YouTube, Altman called the priest a 'hyper, confusing spreading heretic' and had harsh words toward Democrats.
"'Here is a memo to clueless baptized Catholics out there: You cannot be Catholic and be a Democrat. Period,' Altman said in the video posted Aug. 30. 'The party platform absolutely is against everything the Catholic Church teaches, so just quit pretending that you're Catholic and vote Democrat. Repent of your support of that party and its platform or face the fires of hell.'
"Tyler, Texas, Bishop Joseph Strickland tweeted his endorsement of Altman's statement."
The story did not mention abortion, which is a deal-breaker for Catholics.
ITEM 19
:
Business Insider reported
, "Joe Biden is currently underperforming among Latino voters in Florida, according to two recently released polls, a warning sign for the former vice president as he seeks to win the crucial swing state and its 29 electoral votes.
"A poll conducted by Bendixen & Amandi International and the Miami Herald among 500 likely Miami-Dade County voters was released Tuesday morning, showing Biden ahead of Trump 55% to 38%, outside of the poll's 4.4 margin of error. Among Hispanic voters, Trump narrowly leads Biden, 47% to 46%, with Trump swamping Biden among Cuban-American voters 68% to 30% and Biden winning over non-Cuban Hispanic voters 58% to 32%."
Cubans aside, that 32% among the rest of Hispanic voters has to have Biden's handlers sweating.
President Trump won in 2016 with 29% of the Hispanic vote. 32% is a big sign of trouble for the Party Of Obama.
FINALLY
,
Citizen Free Press is an alternative to the Drudge Report
. It a one-man operation that in 3 short years has grown from nothing to being a top 1,000 news and media site in America.
That means it tops about half the nation's TV stations, newspapers, and magazines.
I got a link from CFP and had my best day ever.
Please, by all means,
add Citizen Free Press to your daily journeys
.