The ladies of @TheView didn't like what I had to say, so naturally they cut me off.

Why are they silencing Black Women?

Hey, @JoyVBehar — I think your White Privilege is showing through your blackface! pic.twitter.com/d39hPOAPOV

— Kimberly Klacik (@kimKBaltimore) September 18, 2020
Good morning. Donald John Trump is still our president. Kim Klacik may become a congresswomen. Nevertheless, she owns The View.
ITEM 1
: Justice Ruth Ginsburg died,
and I wrote about it last night
. It was Breaking Opinion, as I call it. Murkowski said she won't vote to confirm until after the election.
That won't stop the Senate from doing its job. ABC reported the president will announce a replacement in the next few days.
The Washington Times reported
, "Senate Majority Leader Mitch McConnell said Friday that he will force a vote on whomever President Trump nominates to fill the seat of the late Justice Ruth Bader Ginsburg, signaling a brutal fight later this year.
"Senator McConnell did not lay out timing, but said flatly that 'President Trump's nominee will receive a vote on the floor of the United States Senate.' Justice Ginsburg passed away Friday, with just weeks to go before the presidential election. She reportedly made a deathbed statement saying she wanted the seat to be filled by whoever wins in November."
Good grief. It is bad enough that these are lifetime appointments, but now Democrats want to make them eternal ones as well? She should have left when Obama was president and Democrats controlled the Senate.
This will be President Trump's third Supreme Court appointment, the most in a single term since Reagan appointed three in his second term. Nixon appointed four in his first term, none in his second. But all needed approval of a Democrat Senate.
ITEM 2
:
The Guardian reported
, "In an exclusive interview with the Guardian, Amy Dorris alleged that Trump accosted her outside the bathroom in his VIP box at the tournament in New York on 5 September 1997.
"Dorris, who was 24 at the time, accuses Trump of forcing his tongue down her throat, assaulting her all over her body and holding her in a grip she was unable to escape from."
Without evidence.
I do have evidence of Joe Biden groping.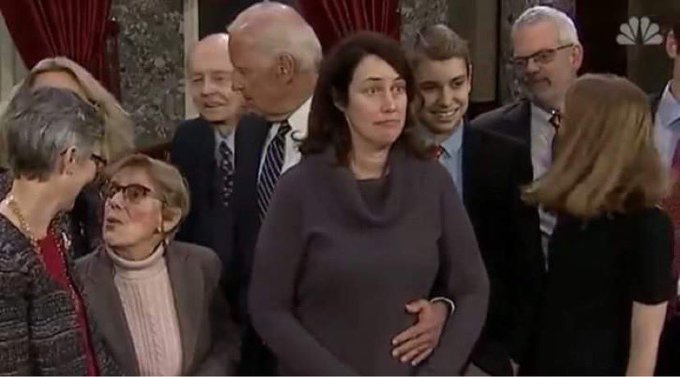 ITEM 3
:
Ed Morrissey reported
, "Perhaps this explains why Democrats have suddenly begun to proclaim in-person voting as a safe option. CNN explained last night that Democrats had reversed their insistence that mass-mailed ballots were required to deal with the covid 19 pandemic during the election, an idea that seemed popular with the American public."
He pointed to an Associated Press poll that showed 39% of registered voters say they will vote by mail.
Of course this year, Democrats plan to have all registered voters vote even if they don't want to vote.

ITEM 4
:
Just the News reported
, "A growing body of research suggests that a significant number of confirmed covid 19 infections in the U.S. — perhaps as many as 9 out of every 10 — may not be infectious at all, with much of the country's testing equipment possibly picking up mere fragments of the disease rather than full-blown infections.
"Confirmed cases of the disease have been the focal point of public health authorities and governments worldwide for many months, with countries across the globe working frantically to shore up their testing infrastructure and ensure that most citizens who want a covid 19 test can obtain one with relative ease.
"Many politicians, meanwhile — including most state governors in the U.S. — have tied reopening policies to the number of cases detected in the local community, with regions and localities often being permitted to reopen in staggered "phases" only when they have reached successively lower benchmarks of average new daily cases in the area.
"Numerous institutions, meanwhile, have adopted testing protocols in an attempt to preempt the spread of the virus. American colleges and universities, for instance, have turned to mass testing in order to closely monitor incidences of the disease among students, particularly residential students living on campus."
We shut down the country and just about every other country except Red China for no darned reason at all.
ITEM 5
: The campaign staffs released their schedules.
Trump campaign schedule:

Tonight - Minnesota

Saturday - North Carolina

Sunday - Mark Levin Interview

Monday - Ohio

Tuesday - Pennsylvania

— The TRUMP PAGE 🇺🇸 (@MichaelDeLauzon) September 18, 2020
Biden meanwhile will journey to the laundry room today, living room on Sunday, outdoors on Monday, and rest on Tuesday.
ITEM 6
:
Just the News reported
, "A professor of political science whose controversial election model has correctly called five of the last six U.S. presidential elections says President Trump will win reelection in 2020 in a landslide.
"Helmut Norpoth, who teaches at Stony Brook University, is giving Trump 'a 90-percent chance of being re-elected in a landslide,' the Long Island, N.Y., school said in a recent press release."
37 states
, but no landslide.
ITEM 7
:
CNBC reported
, "The Commerce Department announced Friday morning that it will ban U.S. business transactions with Chinese-owned social apps WeChat and TikTok on Sunday.
"The announcement comes ahead of an expected statement Friday by President Donald Trump on whether or not the government will approve a deal for Oracle to take a minority stake in TikTok and become a trusted technology partner for the company in the U.S.
"The White House announced a press conference for 2 p.m. Eastern, where Trump was expected to talk about the TikTok deal. The briefing started over an hour late, but Trump in his prepared remarks didn't address TikTok. Instead, he attacked his opponent in the presidential race, Joe Biden, claiming Biden destroyed Puerto Rico.
"When asked about the TikTok deal, Trump said it could happen quickly, and pointed to the U.S. companies involved, like Oracle. He also brought up Microsoft as a bidder, even though Microsoft said it backed out of the deal last Sunday."
The countdown begins. Tick tock. Tick tock.
ITEM 8
:
The Detroit News reported
, "The immediate cause of death for a 2-month-old the state's top medical doctor said died because of covid 19 was a birth defect called gastroschisis, a condition in which a baby is born with intestines located outside the body, according to the Milwaukee County Medical Examiner.
"Necrotizing enterocolitis and covid 19 also were listed as other conditions on his death certificate, according to a medical examiner report obtained by The Detroit News.The child was announced as the state's youngest victim of covid 19 Wednesday, but no details were given as to the infant's gender, hometown or any underlying conditions."
The story also said, "In a Facebook post that has since been removed, the boy's mother expressed her anger over the state attributing her child's death to covid 19."
Communists and other Democrats politicize ever darned thing they touch, including medicine.
ITEM 9
:
The Daily Mail reported
, "An FBI agent who found the messages that led to the Hillary Clinton email investigation being reopened days before the 2016 election said the way the bureau handled the case was 'not ethically or morally right'.
"John Robertson feared he would be made a 'scapegoat' when he found the new emails less than two months before voting day, in the wake of DailyMail.com's revelation that Anthony Weiner, whose wife Huma Abedin was Clinton's top aide, was sexting an underage girl.
"Robertson watched nervously as the bureau did nothing for a month until he went outside the chain of command and spoke with the US Attorney's office overseeing the case.
"The only advice from his bosses was to erase his office computer, which meant leaving no record of his investigations, a new book says."
He is a brave man for risking
Arkancide
like that.
ITEM 10
:
The Associated Press reported
, "Kosovo Awards Trump With Order of Freedom for Peace Efforts."
A Norwegian politician and member of the Nobel Peace Prize committee recommended our favorite president for that honor.
This story did not mention that.
Instead, it said, "In another nod to inroads made this year, a member of Sweden's parliament nominated the governments of the U.S., Kosovo and Serbia for the Nobel Peace Prize."
Ah, give Obama a Nobel for being president for 12 days, but deny Donald Trump his.
Oh well, another stupid awards show.
ITEM 11
:
Newt Gingrich wrote
, "Americans can't let Twitter noise overwhelm political reality. I have been watching a truly curious phenomenon over the past few days. It seems there is suddenly a movement in media to silence anyone who speaks out against George Soros — and, specifically, his funding of radical prosecutors seeking to change the criminal justice system by simply ignoring certain crimes.
"This happened to me personally this week while I was being interviewed on Fox's Outnumbered. When I brought up Soros's plan to get pro-criminal, anti-police prosecutors elected across the country, two of the show's participants interrupted me and forcefully asserted that Soros was not involved."
Newt should have just called President Trump Hitler like everyone else on cable TV does. As the saying goes, To learn who rules over you, simply find out who you are not allowed to criticize.
ITEM 12
:
Fox 32 in Chicago reported
, "A Dallas school district is investigating a high school English teacher who asked students to write about a modern-day hero and listed the 17-year-old accused of killing two people during Wisconsin protests as one possible option. "Kyle Rittenhouse has been accused of fatally shooting two people and wounding another in Kenosha following the police shooting of Jacob Blake.
"The writing assignment also listed Joseph Rosenbaum, one of the protesters Rittenhouse is accused of killing; along with Mahatma Gandhi, César Chávez, Malcolm X and George Floyd. The teacher misspelled Gandhi and Malcolm X."
Malcolm X engaged in drug dealing, gambling, racketeering, robbery, and pimping, and went to prison. But sure, a 17-year-old kid who has yet to stand trial or even be indicted is a bad role model.
Biden voted for the Iraq War. On the other hand, he opposed killing Osama bin Laden so maybe Biden deserves a peace prize, too.
ITEM 14
:
Zero Hedge reported
, "In August, Attorney General William Barr refused to commit to withholding any report by DOJ watchdog John Durham before the November election -- causing Congressional Democrats to froth at the mouth over an October surprise meant to hurt Joe Biden."
"Durham was appointed by Barr to investigate the Russia investigators - including members of the Obama-Biden administration, the FBI and the DOJ.
"Now, days after a top prosecutor on the Durham team resigned - reportedly over what she thought was 'pressure from Barr to produce results before the November election,' the Democratic chairs of four House committees have demanded an emergency investigation into Durham's probe, according to the Daily Caller."
No excitement without an indictment does not preclude eating popcorn while watching Democrats sweat. They lied, they spied, they deserve to be fried.
ITEM 15
:
Trending Politics reported
, "During a CNN town hall event on Thursday evening hosted by Anderson Cooper, former Vice President and 2020 Democratic presidential nominee Joe Biden got called out by a Pennsylvania Democrat for the lack of enthusiasm for his campaign."
The woman said, "Mr. Vice President. I look out over my Biden sign in my front yard.
"And all I see a sea of Trump flags and yard signs and my question is what is your plan to build the bridge from voters of the opposing party to lead us forward towards a common future?"
My answer is: Re-elect Donald Trump.
ITEM 16
:
Fox reported
, "Two undocumented immigrants suspected in the gang slaying of a 16-year-old girl in Baltimore were released because of sanctuary city policies, despite requests from federal immigration officials, officials said Tuesday.
"Immigration and Customs Enforcement said it lodged three immigration detainers on three men charged in the May 29 death of Gabriela Ardon. Five people are charged in the killing -- three of whom were living in the United States illegally."
I remain convinced that MS-13 pays Democrat officials and judges off to get them to ignore ICE. The media should be ashamed of not campaigning against the deportation of criminals.
ITEM 17
:
WOWK reported
, "Marshall University has suspended one of its faculty members after a video clip in which she says she wished Trump supporters would catch the covid 19 virus and die before the election went viral on social media.
"Professor Jennifer Mosher, of the school's Biology department, was teaching a virtual class session Wednesday when she commented on supporters of President Donald Trump at an indoor political rally not wearing masks.
"In the video, posted to Twitter by one of the students attending the session, Mosher stated 'I've become the type of person where I hope they all get it and die. I'm sorry, but that's so frustrating – just – I don't know what else to do. You can't argue with them, you can't talk sense with them, uhm, I said to somebody yesterday I hope they all die before the election.'"
She should have stuck to biology. In the old days, I would have defended her right to free speech but liberals killed that.
ITEM 18
:
Politico reported
, "Twitter's public policy director, Carlos Monje, has left the social media company's Washington office to join the transition team for Democratic presidential nominee Joe Biden, a person familiar with the move said Thursday.
"Monje's exact position on the transition team was not immediately clear and Biden's transition team declined to comment. Requests for comment sent to Monje were not immediately returned. But he serves as co-chair of Biden's infrastructure policy committee and helped host a fundraiser for the former vice president this week, according to an invitation obtained by Politico.
"The person who confirmed Monje's new job spoke anonymously because the individual was not authorized to disclose the information."
So he is going from Biden's de facto campaign staff to his transition staff.
ITEM 19
:
Rasmussen Reports announced
, "President Trump has now edged to a one-point lead over Democratic nominee Joe Biden in the latest Rasmussen Reports' weekly White House Watch survey. While statistically insignificant, it's the first time Trump has been ahead.
The new national telephone and online survey finds the president with a 47% to 46% lead over Biden among Likely U.S. Voters. 3% prefer some other candidate, while four percent 4% remain undecided."
But wait. There's more.
Pray and vote and pray some more.