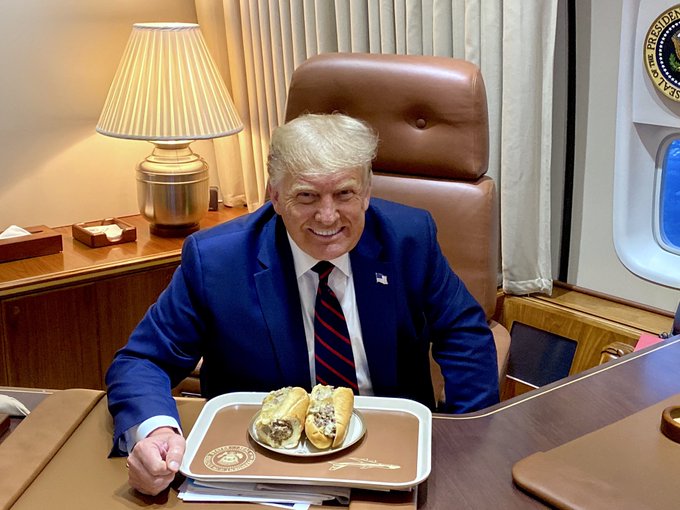 Good morning. Donald John Trump is still our president.
ITEM 1
:
One America News Network reported
, "One of the Trump administration's efforts have focused on rectifying human rights abuses. On Monday, the administration announced trade barriers for Chinese products known to be made with forced labor."
LeBron James hardest hit.
ITEM 2
: Your lights are on, but you're not home. Your mind is not your own. Your heart sweats, your brain's not in use.
Joe Biden: "Cause if you could take care, if you were a quartermaster, you can sure in hell take care runnin' a, you know, a department store uh, thing, you know, where, in the second floor of the ladies department or whatever, you know what I mean?"

pic.twitter.com/tAAK2XbhrE

— Ella Mizrahi (@EllaMizrahi12) September 15, 2020
You know you're gonna have to face it, this is elder abuse.
ITEM 3
: CDC is a rogue deep state resistance unit.
Make that was.
— Donald J. Trump (@realDonaldTrump) September 16, 2020
Critical race theory teaches that the Constitution is illegitimate.
The president is sworn to defend the Constitution. He is.
ITEM 4
:
The Hill reported
, "President Trump called Carl Bernstein a nut job during an interview early Tuesday after the CNN political analyst referred to him as homicidal."
The president dumped on both Bernstein (who broke the Russian Collusion Fake News story) and Bob Woodward.
President Trump said, "I know Carl Bernstein a little bit; he's a nut job. He's been a nut job for many years. I don't have a lot of respect for either of them, frankly."
Fact check: True.
ITEM 5
:
The Daily Caller reported
, "CNBC Host Jim Cramer called Speaker of the House Nancy Pelosi Crazy Nancy during a Tuesday interview with her.
"During the interview, Cramer asked Pelosi about what deal could be made with Republicans on a stimulus package, after Senate Democrats blocked the GOP's package Thursday. During the question, Cramer called the speaker Crazy Nancy, a name given to her by President Donald Trump.
"Cramer immediately corrects himself, saying he was sorry and that he was quoting Trump. He also went on to say he would never use such a term. To which Pelosi responded by telling Cramer that he just used the president's term, while smiling.
"'What deal can we have, Crazy Nancy? I'm sorry, that was the president, I have such reverence for the office I would never use that term,' Cramer said."
The reason so many people in Washington DC are insane is not that President Trump has driven them crazy, but that he has exposed them as wackos.
Compared to Peter Strzok or Adam Schiff, she seems normal but who tears up a speech like that?
ITEM 6
:
Press California reported
, "It's just another day in locked down San Francisco, with mentally challenged drug addicts being among the few using the streets and parks of the Paris of the Pacific.
"Jaded city residents have become so accustomed to strange human sights they hardly shrug, but they did a double take this week when they saw and videotaped a junkie smoking meth while riding a skateboard and holding up a mattress in the breeze on a crumbling street. The deteriorating city has become so bad that the mostly liberal inhabitants are starting to turn on their progressive leaders."
Nice photo.
Democrats may have their replacement for Crazy Nancy.
ITEM 7
:
Fox News reported
, "A Pennsylvania judge threw the book at several protesters – setting their bail at $1 million each – for allegedly rioting in the wake of the police shooting of a knife-wielding Lancaster man.
"Lancaster police nabbed a dozen people and one juvenile for staging the riots around 3 a.m. Monday in clashes that culminated in police deploying tear gas at the crowd.
"The overnight violence came on the heels of the death of Ricardo Munoz, the mentally ill 27-year-old who was seen on body cam footage charging at a cop with a knife in hand. The officer shot and killed Munoz Sunday afternoon outside his mother's house in downtown Lancaster."
Arrests.
Jail.
Million-dollar bail.
Problem solved.
ITEM 8
:
The Washington Times reported
, "Two illegal immigrants suspected of an MS-13 gang killing of a 16-year-old girl in Baltimore were in police custody before, but were set free by authorities in New York and Maryland in defiance of deportation requests, allowing them to be out on the streets, ICE said Tuesday.
"Gabriela Alejandra Gonzalez-Ardon was found dead in woods near Loch Raven Reservoir in late May. Five people have been charged in the killing, and U.S. Immigration and Customs Enforcement says three of them are illegal immigrants — and two of them were free because of sanctuary policies."
And
the New York Post reported
, "State prison officials put a reputed MS-13 gang member back on the streets — even though the feds wanted him held on a murder charge that carries the death penalty, The Post has learned.
"Ever Morales-Lopez, 26, was granted early parole for a 2018 conspiracy conviction on Long Island and released from the medium-security Washington Correctional Facility in Comstock on Sept. 3, records show."
How much do you want to bet Democrats get kickbacks from MS-13?
ITEM 9
:
The Daily Mail reported
, "Royal fans were outraged after the Duchess of Sussex was left out of photos shared on social media to mark Prince Harry's 36th birthday today. The Duke and Duchess of Cambridge, the Queen and Prince Charles and the Duchess of Cornwall posted a total of four photographs of the Duke of Sussex to mark the occasion but his wife Meghan Markle, 39, did not appear in any. The omission riled royal fans who took to the comments section to say it was 'shady' of family members to 'literally cut Meghan out of the picture'."
To the surprise of absolutely no one.
ITEM 10
:
USA Today reported
, "The FBI is investigating allegations that celebrity cheerleader Jerry Harris solicited sexually explicit photos and sex from minors, multiple sources told USA Today. Agents executed a search warrant Monday afternoon at a home in Naperville, Illinois, as part of that investigation.
"'The FBI is conducting court-authorized law enforcement activity in the area,' Siobhan Johnson, FBI special agent and public affairs officer, told USA TODAY. She declined further comment.
"Harris, who gained national prominence when he was featured in Netflix's recent Cheer docuseries, has not been criminally charged. Harris, 21, did not respond to a request for comment.
"The criminal investigation is based on allegations brought by 14-year-old twin brothers. In interviews with USA Today, the boys described a pattern of harassment, both online and at cheer competitions, that started when they were 13 and Harris was 19. They said it continued for more than a year."
From the network that gave the world Cuties!
Netflix also gave the Obamas $66 million to pretend they are producers.
ITEM 11
:
The Daily Wire reported
, "Actor Jeremy Tardy has left the Netflix show Dear White People due to alleged racial discrimination.
"In a lengthy Twitter announcement on Friday, Tardy said that he will not be returning for the show's fourth and final season due to alleged practices of racial discrimination at Lionsgate — a complaint stemming from what he says is unfair pay."
Yes, if you want more money, cry racist.
ITEM 12
:
Kane at Citizen Free Press reported
, "The ratings for ESPN's Monday Night Football are in, and they are not going to make the folks in Bristol very happy at all. Against the backdrop of large-scale social justice demonstrations that included Black Lives Matter t-shirts, a giant social justice banner, an entire team standing for the black national anthem, and at least 20 players kneeling in protest during the actual national anthem, the Steelers-Giants MNF contest saw a 27% drop from last year."
Trumpenfreude in the morning, Democrats take warning.
ITEM 13
:
Breitbart reported
, "The female Los Angeles County Sheriff's deputy who was ambushed and shot in the face on Saturday has emerged as a hero for helping her partner who was also seriously wounded during the attack, a source familiar with the incident told Breitbart News.
"The 31-year-old mother was one of two officers who were both shot in the face after an assailant approached their parked cruiser in Compton and opened fire on them. Both deputies remain in critical condition and are expected to survive the horrific attack.
"Breitbart News learned the identities of both officers but refrained from publishing their names. On Tuesday, Britain's Daily Mail published the name of Claudia Apolinar, reporting she is a former librarian who had graduated the L.A. Police Academy only one year ago."
I included this story as an item yesterday, but now we know her name. She is still hospitalized and in stable condition.
The sheriff should give her a medal. The mayor should give her a medal. The governor should give her a medal. And the president should give her a medal.
ITEM 14
:
Zero Hedge reported
, "Hours after her unceremonious Twitter ban for, we assume, presenting evidence that SARS-CoV-2 was created in a Wuhan lab, Chinese virologist Dr. Li-Meng Yan appeared on Tucker Carlson Tonight, where she told the Fox News host that the virus is a Frankenstein, which was designed to target humans and, which was intentionally released.
"'It could never come from nature, Yan said. She is an MD/PhD who worked with corona virus at the University of Hong Kong
"'There is evidence left in the genome' -- which Yan detailed in a 26-page scientific paper co-written with three other Chinese scientists. 'They don't want people to know this truth. Also, that's why I get suspended [from Twitter], I get suppression. I am the target that the Chinese Communist Party wants disappeared.'
"When Carlson asked her why she believes the virus made its way out of the Wuhan lab, Dr. Yan said 'I worked in the WHO reference lab, which is the top corona virus lab in the world at the University of Hong Kong. And the things I got deeply into such investigation in secret from the early beginning of this outbreak -- I had my intelligence through my network in China, involved in the hospitals, institutes and also government.
"'Together with my experience, I can tell you -- this is created in a lab.'"
This is biomedical warfare -- approved by WHO, which has run interference for Red China.
ITEM 15
:
United Press International reported
, "For the first time in Scientific American's 175-year history, the popular science magazine has made an endorsement for president, urging its readers Tuesday to vote for former Vice President Joe Biden."
They traded science for wokeness.
ITEM 16
:
Just the News reported
, "The Trump administration is producing documents and a senior Homeland Security Department witness to undercut allegations made by the latest federal whistleblower to be championed by House Intelligence Committee Chairman Adam Schiff.
"The developments Tuesday involve a whistleblowing complaint filed by Brian Murphy, Homeland's former head of intelligence, who alleged Trump officials sought to censor or manipulate intelligence for political purposes.
"According to three officials with direct knowledge, Homeland Security Deputy General Counsel Ian Brekke plans to tell the Intelligence Committee in a transcribed interview Tuesday that Murphy improperly ordered the surveillance of journalists he believed had obtained his leaked work emails.
"Brekke also plans to testify that no superiors at Homeland ever instructed Murphy to surveil journalists or to manipulate intelligence concerning Homeland threats, such as Russian and other foreign efforts to interfere in the U.S. election or terrorism concerns about white supremacists, the three officials said."
It is sedition. Prosecute and strip of any pension.
ITEM 17
:
Just the News reported
, "Tuesday's historic White House-hosted agreement between Israel, Bahrain and the United Arab Emirates was a major breakthrough after more than a half-century of (mostly unsuccessful) initiatives to bring peace to the Middle East."
As I said last night,
moving the embassy to Jerusalem brought peace
.