Whichever RNC staffer did this deserves a promotion 👇

pic.twitter.com/IkNUnJXpKm

— IT Guy (@ITGuy1959) September 21, 2020
Via Kane at Citizen Free Press
. Maybe the staffer is The Donald himself. Anyway, the compilation of Democrats caterwauling over Merick Garland's fate in 2016 is a brilliant way to make the point that Judge PTBNL should be confirmed pronto.
For non-baseball fans, PTBNL means player to be named later, when another player is traded before the sending team has decided who it wants from the list of players offered. The president made a list 4 years ago and posted it online, updating it with other Supreme Court-worthy judges.
I have no reason or inclination to speculate on whom the nominee will be. I just know that the nominee should not be subjected to a judiciary committee inquisition. Democrats forfeited their privilege of cross-examining a nominee for the Supreme Court with their circus at the Brett Kavanaugh hearing.
Rush Limbaugh and Ed Morrissey are pushing for just calling a meeting
, having a vote, and adjourning the committee without subjecting the nominee to Democrat
baboonery
. Who am I to disagree with conservative icons? No more Kavanaugh hearings.
How bad were those hearings? Justice Ruth Bader Ginsburg complained.
Via Stacey Lennox
, the late justice said, "The way it was, was right. The way it is, is wrong. The atmosphere in 93 was truly bipartisan. The vote on my confirmation was 96-3. Even though I had spent about ten years of my life litigating cases under the auspices of the ACLU and I was on the ACLU board and one of their general counsel.
"My White House handlers asked me questions about my ACLU affiliation. They were very nervous about it. And I said forget it, just forget it. There's nothing you could do that would lead me to badmouth the ACLU. And not a single question. No senator asked me any question. Not about that. It was the same for Justice Breyer who was nominated a year later. He had in the 90s, the numbers. Or think of Justice Scalia who was certainly a known character in what was it, 1986. He had been a law professor and written many things, he had been on the D.C. Circuit. The vote was unanimous, every Democrat and every Republican voted for him.
"But that's the way it should be. Instead of what it's become which is a highly partisan show. The Republicans move in lock step, so do the Democrats. I wish I could wave a magic wand, and have it go back to the way it was."

How bad were the hearings? Weeks later, voters ousted 4 Democrat incumbent senators -- an unheard of number for the opposition party in a midterm when a president's party loses seats in the Senate. President Trump saw a net gain of two Senate seats, thanks in large part to Democrat perfidy.

Not holding a hearing may be a gift to Democrats but given they likely will all vote against the new justice, they will blow it. It may be sexist (which means it is) but how do you vote against a woman judge? My goodness, Judge Amy Coney Barrett is the mother of seven kids, including two adopted from Haiti.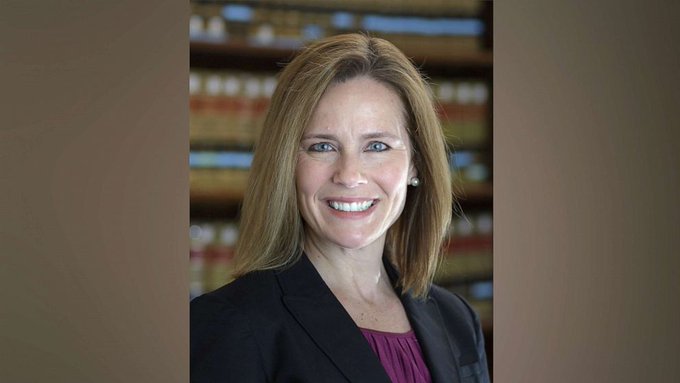 Democrats will lose millions of soccer moms because rejecting her or any of the other lady judges is a rejection of the soccer moms. They work, they take care of their kids, and they resent being passed over for promotion. A vote against her promotion is a vote against theirs. And husbands vote as their wives do.
Democrats seem hellbent on increasing the Republican majority in the Senate,
as Nancy is threatening another impeachment of the president
in an effort to postpone the inevitable confirmation of the next Madame Justice.
He warned Democrats in a letter
, "Lastly, after the treatment of Justice Kavanaugh I now have a different view of the judicial-confirmation process. Compare the treatment of Robert Bork, Clarence Thomas, Samuel Alito, and Brett Kavanaugh to that of Ruth Bader Ginsburg, Sonia Sotomayor, and Elena Kagan, and it's clear that there already is one set of rules for a Republican president and one set of rules for a Democrat president.
"I therefore think it is important that we proceed expeditiously to process any nomination made by President Trump to fill this vacancy. I am certain if the shoe were on the other foot, you would do the same."
This is not your father's Republican Party, especially if you are Jeb Bush. Thank goodness.
No, thanks to the tantrums Democrats threw over Kavanaugh.