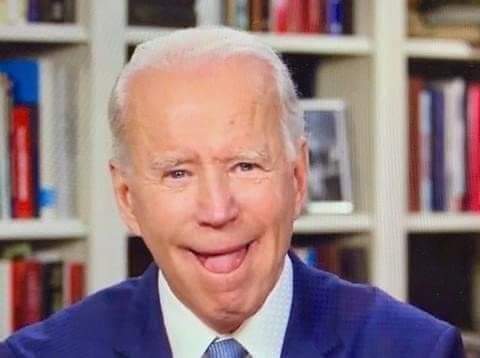 Biden isn't the only one hiding in the basement. His entire campaign is staying away from voters. If anyone points out that they should be doing more, they just point to the polls that show he is way ahead.
Just like Hillary was.
NPR reported
, "Republicans Are Knocking On Doors. Democrats Aren't. Biden's Campaign Says That's OK."
Instead of sending teams out to talk to people, Team Biden is calling people.
The story said, "The Democrats' strategy of mainly organizing from home via laptop or cellphone and forgoing traditional door-to-door canvassing is somewhat untested, but they're banking on the assumption that it's more effective in a pandemic."
Well, maybe that will work, but I have caller ID.
And maybe not holding huge rallies will work too, just like it did for Hillary.
The NPR story said, "But it's not just the Biden campaign. Organizing has changed for state Democratic parties in key swing states and for a number of left-leaning groups that would have been helping Biden on the ground.
"Both BlackPAC and Working America have between 10% and 20% of the paid organizing staff they had in 2016.
"At this point in 2016, Working America, a group affiliated with the AFL-CIO, was having about 100,000 conversations a week with people on their front steps. The group has had zero since it paused its door-knocking operation in March."
Zero.
— J.B. White (@RattlerGator) September 14, 2020
The Trump campaign is knocking on doors and registering people to vote. Republicans have spent the last four years registering voters and have out-registered Democrats in Florida by 100,000 and in Pennsylvania by 160,000. Without those states, Biden's campaign is DOA. No Democrat has won the presidency without carrying at least one of those states.
NPR said Hillary had a superior ground game in 2016. I don't know about that. It was bigger and centrally controlled, whereas President Trump's was -- as NPR politely put it -- makeshift. But the GOP in Wisconsin came through and Donald Trump rallied his way to the White House.
This time, the Trump campaign has grown.
NPR said, "In an unusual role-reversal, the Trump team is modeling itself off of Democrats. It requires staffers to read a book about Barack Obama's field operation, called Groundbreakers: How Obama's 2.2 Million Volunteers Transformed Campaigning in America.
"One of the co-authors, Hahrie Han, was surprised to hear that her book has become a staple in the Trump campaign, and she says she's not sure if the campaign understands her main message."
She cast shade on the Trump campaign, because that is what academicians and journalists do. They have been casting shade on him for 4 years. It still hasn't worked. I am amused that the same person who said "Obama's 2.2 Million Volunteers Transformed Campaigning in America" said it somehow does not apply to Donald Trump.
The grassroots are taking hold.
Just the News reported
, "An imperfect though telling metric in presidential campaigns is enthusiasm among small donors, those giving $200 or less. It's a rough proxy for enthusiasm among the base, and just as polling shows President Trump receives a more ardent embrace among his base than rival Joe Biden, the individualized money story reflects that as well.
"Americans who donate to campaigns are more likely to vote, according to the Pew Research Center. 'Among those who say they vote always or nearly always, 21% said that they made a donation, compared with 4% of those who seldom voted or voted only part of the time,' the Pew survey found."
Glenn Reynolds reported
, "Mike Bloomberg Wants To Buy Florida Election For Joe Biden for $100 Million. This says that Democrats are worried, I think. I also wonder if Bloomberg can buy more votes for Biden in the general than he was able to buy for himself in the primaries."
Kane at Citizen Free Press reported
, "Latinos For Trump Caravan In Miami — More Than 400 Vehicles!"
But Democrats believe they literally can phone the election in.
Their attitude reminds me of a story published by
the Telegraph two weeks before the 2016 election
, "Hillary Clinton so far ahead in polls that she 'doesn't even think about' Donald Trump anymore."
Hillary The Hare said, "I don't even think about responding to him anymore.
"He can say whatever he wants to. He can run his campaign however he wants to, he can go off on tangents, he can go to Gettysburg and say he's gonna sue women who've made accusations against him.
"I'm going to keep talking about what we want to do."
Yep.
The story said, "With only 16 days until the election, two separate polls have given Mrs. Clinton a 12-point lead over Mr. Trump, with the real estate mogul's support tanking among key voter groups."
Political scientists have a special name for people like Truman and Reagan who come from so far behind that they surprise the experts on Election Day.
President.