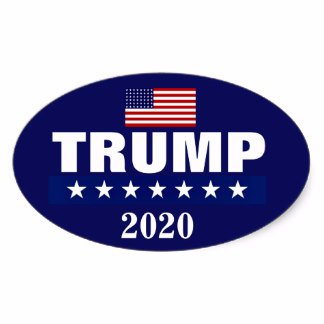 All the talk in the media is about polls and insults because apparently there is a law that requires news organizations to assign their biggest morons to cover presidential campaigns. President Donald John Trump actually has a plan for the next four years that the media tries to hide.
Just the News reported that the president unveiled a six-point plan last week on a campaign visit to Toledo's Whirlpool plant.
He's keeping it simple.
The Democrat Party platform is 1,000-plus pages.
According to Just the News
, his six points are:
Defeat the corona virus with vaccines and other treatment
Reviving the economy from the pandemic slowdown
Turning America into the premier medical and pharmaceutical hub in the world
Creating new manufacturing jobs in the United States
Using pressure to force jobs lost overseas to return to the United States
Protect American workers from unfair outsourcing
All focus on the economy.
All can be done without Congress. In other words, these are executive actions. Presidential. There is no caveat of "I Will Work With Congress" because Congress is not needed.
Defeating covid 19 is a worthy and bipartisan goal. His plan is to continue Operation Warp Speed to bring a vaccine on board.
As for the recovery, he is the man who wrote the book on the Art of the Comeback.
He told Whirlpool workers, "We are building factories now. We are building plants. You'll see what's going to be happening with the job numbers very soon. We had two of the best months ever in the history of our country, and we are going to have many, many very, very successful years, unless somebody comes along and destroys it by doubling, tripling and quadrupling your taxes, and quadrupling something else called regulations."
The next day, July's employment numbers came in. President Trump has presided over the best three months in employment history adding a whopping 9.3 million jobs in just three months. That is more than 100,000 people hired every day.
As for manufacturing jobs, he said, "Here's my fourth promise to American workers: Beyond our medical supply chains, over the next four years, we will onshore millions of new manufacturing jobs across many other critical sectors that are vital to our national security and prosperity — from electronics to machine tools to shipping, aerospace, autos, and of course to iron and to steel.
"During eight years of the last administration, America lost 10,000 factories and nearly 200,000 manufacturing jobs. Think of that. In contrast my administration added over half a million manufacturing jobs. It is up to actually 701,000 jobs before the plague came in."
Obama said those jobs aren't coming back, but they did come back.
If Obama does not know by now how President Trump did it, then Obama will never know.
FDR called America the arsenal of democracy, and it was -- which is why Red China's flunkies in America worked so hard to shutter our factories.
And this is why Democrats and so many Republican officials fear making America great again. The salaries they receive from taxpayers are paltry compared to the bribes they, their children, and other relatives can collect from Chairman Xi.