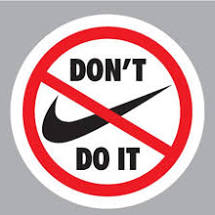 Two business stories today lightened my heart. First, Nike is losing money despite using slave labor.
Fox reported
, "Nike, after disclosing a rare money-losing quarter in June, announced layoffs that will eliminate at least 500 jobs at the company's world headquarters in Oregon, according to the state of Oregon's Worker Adjustment and Retraining Notification web site."
The story also said, "The company added that 192 of the laid-off employees will come from one of three Nike childcare centers."
That's pretty rich.
The people who market, transport, and design these shoes get child care and other benefits, while the people who actual make the shoes and the like that Nike sells are slaves in sweatshops.
And frankly, my dear, the Woke People who work for Nike in Oregon don't give a damn.
Certainly Colin Kaepernick doesn't. Nike's checks cleared his bank.
The boycott likely had little impact on Nike's sudden misfortune. The story said, "Like many other corporations, Nike has suffered during the corona virus pandemic. Total revenue was down 38% to $6.31 billion from $10.18 billion a year ago."
But considering the virus came from the country that provide Nike with slave labor -- Red China -- there is a little satisfaction in knowing these self-righteous beneficiaries of slavery are going broke.
Meanwhile, the Woke Jokes got a poke from the Facebook folk.
CNBC reported
, "Major corporations including Coca-Cola, J.M. Smucker Company, Diageo, Mars, HP, CVS Health and Verizon will continue pausing their ads on Facebook after the official end of a major advertiser boycott of the platform.
"Advertisers announced various degrees of pauses to their social media advertising budgets in June, after a campaign called #StopHateForProfit called on advertisers to boycott Facebook for the month of July. Some companies said they'd only pause ads on Facebook for July. Others said they'd do it through the end of the year. And others extended the pause to other social media companies like Twitter and Alphabet's YouTube. All in all, more than 1,000 groups and companies took part in the boycott, with the goal to pressure Facebook into taking more stringent steps to stop the spread of hate speech and misinformation on its platform.
"Though the movement may have hit Facebook reputation-wise, there doesn't appear to have been much of an impact on revenue. Wedbush analysts said in a research note last week that they expected 'minimal financial impact from brand boycotts,' writing that given the duration of announced boycotts, the firm expected roughly $100 million of 'near term brand revenue is at risk, representing less than 1% of [year-over-year] growth in Q3.'"
***
Ad-starved mainstream media promoted this bogus boycott. And companies that don't advertise much on Facebook quickly signed on, which signaled their virtue.
Heck, I'll sign the petition. Never mind the fact that I have never advertised on Facebook, I am publicly announcing that I won't advertise there. Stop Hate For Profit.
Hate should only be for non-profit groups such as the Southern Poverty Law Center, which provides cover for social media oligarchs to censor conservatives.
But Mark Zuckerberg's refusal to cave into the mob showed how weak they are. They failed to bring him down. Duly noted. Standing up for free speech pays in the long run.