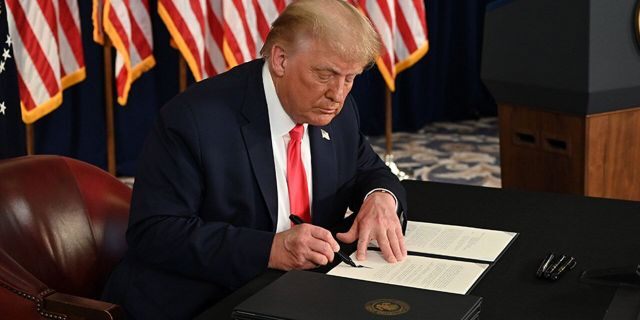 Democrats always want to tank the economy when a Republican is president in order to gain power. Both Presidents Bush succumbed to this. President Donald John Trump won't.
First, he dropped unemployment to a 50-year low. That has inoculated him from the covid 19 recession because his policies worked despite all the dire predictions Democrats made.
Remember Nobel Prize Economic Laureate Paul Krugman's brilliant assessment on election night 2016?
He wrote
, "It really does now look like President Donald J. Trump, and markets are plunging. When might we expect them to recover?
"Frankly, I find it hard to care much, even though this is my specialty. The disaster for America and the world has so many aspects that the economic ramifications are way down my list of things to fear.
"Still, I guess people want an answer: If the question is when markets will recover, a first-pass answer is never."
The stock market has risen 50% since he made that prediction. Twice. Covid 19 finally tanked stocks in February. President Trump brought them back. It's the economy,
stupid
Krugman. And that is the trump card of President Trump.
Nancy Pelosi and her deranged Democrat Party thought they could tank the economy again by denying President Trump another covid 19 relief bill.
He shrugged it off and signed 4 executive orders implementing it. To those who say he does not have the power, I say take it to the Supreme Court, baby, and just try to square it with
Homeland Security v. California
. If Obama can ignore immigration laws to create DACA, President Trump can ignore Congress and bring financial relief to real Americans.
As expected, the stuffy Wall Street Journal nagged.
In an editorial, it said
, "These columns opposed Mr. Obama's orders, and one constitutional abuse doesn't justify another. Mr. Trump's FEMA order is a bad legal precedent that a President Kamala Harris could cite if a GOP Congress blocked her agenda on, say, climate change."
Hmm, that is interesting. The Journal argues that Obama's use of this power does not justify President Trump's use but somehow Trump's use manages to justify President Harris's use.
Of course, Obama's abuse does justify this. As I said, the Supreme Court's decision on DACA is the law of the land.
Somehow, the Supreme Court and presidents now write the law but Congress does not. We really should fix that. Democrats can go first by declaring DACA invalid.
Until then, you fight the battle with the weapons you have. A pen and a phone are President Trump's sling and his shot. If a little shepherd boy can bring down Goliath with it, why not Donald Trump?
The president has other weapons and he is using it on Red China, which has endorsed his opponent.
His sanctions are sticking.
Mike Bloomberg's own news service said so.
Bloomberg reported
, "It's starting to look like the biggest obstacle to China's rise as a global technology superpower may well be its own government. As long as countries around the world mistrust China's Communist regime, they will worry about Beijing using mainland companies to gather data on users, shape media content and interfere with critical infrastructure. If those companies in turn aren't allowed to expand globally, China could find itself stuck in an increasingly uncompetitive bubble.
"That's what's so dangerous about the travails of Chinese apps TikTok and WeChat, as well as companies such as telecom giant Huawei Technologies Co. On Thursday, President Donald Trump issued executive orders giving anyone subject to U.S. jurisdiction 45 days to stop dealing with TikTok's Beijing-based parent, ByteDance Ltd, as well as internet giant Tencent Holdings Ltd. in transactions related to its WeChat app. (Microsoft is aiming to buy TikTok's U.S. operations before the deadline.) This follows an outright ban on TikTok and WeChat in India.
"Meanwhile, last month the U.K. became the latest country to bar Huawei from its 5G telecommunications networks. And the Trump administration seems intent on going further yet. Last week, U.S. Secretary of State Mike Pompeo announced an initiative that suggests the administration's end goal is to scrub Chinese tech from U.S. communications networks entirely."
Britain and the rest are dumping Huawei under pressure from President Trump.
And the hits keep coming. Last week, the Wall Street Journal reported, "President Trump signed an executive order on Thursday to help increase production of essential medicines, medical equipment and protective gear in the U.S."
Na-na-na-na.
Na-na-na-na.
Hey, hey, hey.
Goodbye.
President Trump's economic policies are working. May, June, and July saw the hugest increases in employment ever as the unemployment rate dropped like a bag of cement in the Chicago River. We went from 14.7% unemployment to 10.2% in just 3 months.
Democrats could not do that in 3 years.
And the rate should dip below 10% this month.
Reuters reported
, "Job openings, a measure of labor demand, rose 518,000 to 5.9 million on the last day of June, the Labor Department said on Monday in its monthly Job Openings and Labor Turnover Survey, or JOLTS. Vacancies were below their level of 7 million in February."
7 million was a record high.
Job openings were 5.6 million when he took office. Even with covid 19, we are better off now than we were 4 years ago.
Or getting there.