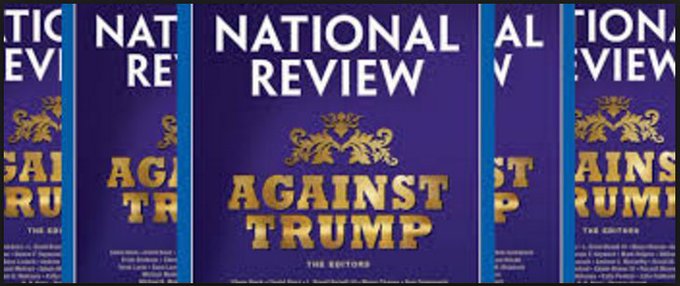 Breaking News: Some Never Trumpers are against re-electing President Donald John Trump, who won without them in 2016.
Reuters reported
, "More than two-dozen former Republican U.S. lawmakers, including former Senator Jeff Flake, endorsed Democrat Joe Biden for president on Monday, the first day of the Republican National Convention, in the latest rebuke of President Donald Trump by members of his own party."
The Hill reported
, "The Biden campaign announced the endorsements, first reported by Fox News, on Monday morning. The list includes other former members of Congress who had previously announced their support for Biden, including former Sens. John Warner (R-Va.) and Gordon Humphrey (R-N.H.), who is now an independent, and Rep. Charlie Dent (R-Pa.).
"Other former lawmakers on the list include former Reps. Steve Bartlett (R-Texas), Tom Coleman (R-Mo.), Bob Inglis (R-S.C.), Chris Shays (R-Conn.), Alan Steelman (R-Texas) and Jim Walsh (R-N.Y.)."
CNN reported
, "A number of prominent Republicans have come out in support of Biden in recent weeks, including former Ohio Gov. John Kasich and former Secretary of State Colin Powell, who both spoke at the Democratic National Convention last week."
The media's embrace of this non-story does not hurt the president. His base will stick with him, and his base was enough to elect him in 2016.
But what these stories reveal is how fake these Republicans were all along. Never Trumpers do not cite one policy issue for their opposition to President Trump.
They do not complain about his tax cuts. They do not complain about his appointing conservative judges. They do not complain about his cutting regulations. They do not complain about his moving the embassy to Jerusalem. They do not complain about his prison reform. They do not complain about his 3.5% unemployment rate before the pandemic panic.
They even do not complain about his building of the wall this time.
No, they only make personal attacks after they spent decades in Congress, and failed to get anything accomplished besides giving grandiose speeches and taking care of donors.
An official with the Biden campaign told Fox News, "These former members of Congress cited Trump's corruption, destruction of democracy, blatant disregard for moral decency, and urgent need to get the country back on course as a reason why they support Biden.
"These former Members of Congress are supporting Joe Biden because they know what's at stake in this election and that Trump's failures as President have superseded partisanship."
Corruption? Biden's son took a billion dollar bribe from Red China while on an official vice presidential trip to Beijing.
Destruction of democracy? Obama spied on political opponents including Donald Trump. Biden read the transcripts of the wiretaps.
These Never Trumpers were Never Republicans because if they were they would back the man who is accomplishing all those things Republicans said they wanted.
Instead these flakes back the candidate who would raise taxes, socialize medicine, defund police, and squash dissent.
I thank them for reminding us just how bad a President Romney would have been. Oh, and you know he will come out against President Trump sometime between now and November 3.
And Drudge will banner it with redlights flashing.
And it will all signify nothing.