Donald John Trump is still our president.
ITEM 1
: The Washington Post reported (no links for pay sites), "In an interview with Fox News's Sean Hannity, Justice Department spokeswoman Kerri Kupec said the attorney general had tasked John Bash, the U.S. attorney in the Western District of Texas, to examine the practice of unmasking, which many Republicans charge was abused by the previous administration to unfairly target people close to Trump.
"'The attorney general determined that certain aspects of unmasking needed to be reviewed,' Kupec said. 'We know that unmasking inherently isn't wrong, but ... can be problematic.'
"Bash's review is an offshoot of an investigation underway by U.S. Attorney of Connecticut John Durham, who was tapped by Barr to investigate the origins of the 2016 election interference probe that has overshadowed Trump's presidency. Like Trump, Barr has been sharply critical of the 2016 investigation, which centered on the question of whether Trump's campaign coordinated with Russia to influence the election's outcome, and he has said the Durham investigation could produce some results in late spring or early summer."
Unmasking is when political operatives like Susan Rice get to read what Donald Trump and others spied on said when the FBI spies under a FISA warrant.
In 2017, Rice bragged about unmasking. All the time. She'll make a good vice president.
Of the inmates club in Alderson, West Virginia
.
ITEM 2
:
WFLA reported
, "President Trump has signed an executive order forcing the divestment of TikTok by its owner, ByteDance.
"The order states 'action must be taken to address the threat posed by one mobile application in particular, TikTok.'
"Any company still doing business with TikTok in 45 days is subject to sanctions according to the order. Microsoft had been in advanced talks to buy the U.S. operations of TikTok."
Time is running out for TikTok. Tick tock.
ITEM 3
:
Just the News reported
, "The Trump administration announced a plan Thursday that will force Chinese companies with shares traded on U.S. stock exchanges to forfeit their listings if they fail to comply with U.S. accounting requirements.
"The proposal addresses a long-standing dispute over U.S. regulators' inability to inspect the auditing standards of Chinese companies that sell shares on the exchanges, according to The Wall Street Journal.
"The plan would require Chinese firms listed on either the New York Stock Exchange or Nasdaq Stock Market to comply by 2022 or give up their listings on those exchanges."
He has a phone and a pen.
And 40 years experience of dealing with other people's BS.
ITEM 4
: Biden's staff worked overtime on writing his renunciation of his own words.
"And by the way, what you all know, but most people don't, unlike the African American community, with notable exceptions, the Latino community is an incredibly diverse community with incredibly different attitudes about different things."

—

@JoeBiden

8/6/20

pic.twitter.com/MWmflumIit

— Larry Elder (@larryelder) August 7, 2020
Dementia only gets worse. It does not go away.
ITEM 5
:
Todd Cummins reported
, "President Trump addressed a crowd of supporters after he landed at a Cleveland airport Thursday afternoon.
"The president made remarks against his election opponent Joe Biden. President Trump says he is running against radical left ideology and he is in position to win Ohio again in November. Plus, he touted his record, versus the Obama administration, on protecting U.S. jobs, especially at the Clyde, Ohio Whirlpool Plant.
"'Foreign-made washing machines were dumped on market below cost in order to put Whirlpool out of business,' says President Trump. 'And yet the Obama administration, with Joe Biden watching over freely, allowed this grave injustice to continue. They let other countries pillage American jobs, lay waste to American communities, and eviscerate American middle class.'"
Democrats hate the middle class because Democrats hate independence and self-reliance.
The Democrat American dream is a nation run by Beijing.
ITEM 6
:
Military.com reported
, "Army Chief of Staff Gen. James McConville made it official Tuesday: A headquarters group will be going to Poland as the first move in the major realignment of forces in Europe brought on by President Donald Trump's decision to withdraw about 11,900 troops from Germany.
"In a ceremony in the Polish city of Krakow, McConville promoted John Kolasheski, the Army's V Corps commander, to the rank of lieutenant general and officially unfurled the headquarters' flag for the first time on Polish soil."
Fort Trump, Krakow.
ITEM 7
: Paul Sperry reported, "Ex-Colleagues See Durham Dropping Bombshells Before Labor Day."
Hmm. Maybe John Durham will be a Bull Durham after all.
The story said
, "Justice Department policy prohibits prosecutors from taking overt steps in politically charged cases typically within 60 days of an election. Accordingly, Durham would have to make a move by the Friday before Labor Day, or September 4."
The story also said, "If Durham announces criminal indictments or plea agreements involving former officials operating under the Obama-Biden administration, or releases a report documenting widespread corruption, independent voters could sour on Biden and sympathize with Trump. On the other hand, kicking the ball past the election could dispirit Trump's base."
I think the base is not expecting an indictment or plea bargain of any consequence. We will just soldier on. We have had too many years of DC BS to stop us from voting for Donald Trump.
Again.
ITEM 8
:
Reuters reported
, "New York state's attorney general sued to dissolve the National Rifle Association on Thursday, alleging senior leaders of the non-profit group diverted millions of dollars for personal use and to buy the silence and loyalty of former employees.
"The lawsuit announced by Attorney General Letitia James alleges NRA leaders paid for family trips to the Bahamas, private jets and expensive meals that contributed to a $64 million reduction in the NRA's balance sheet in three years, turning a surplus into a deficit.
"James alleged in a statement that NRA leaders 'used millions upon millions from NRA reserves for personal use,' failing to comply with the NRA's own internal policies in addition to state and federal law."
Hmm.
Considering 2 of the 3 elected attorneys general before her resigned in disgrace in sex scandals, maybe we should dissolve the attorney general's office in New York.
Better yet, Republican attorneys general should go after the SPLC.
ITEM 9
:
DNYUZ reported
, "For most of the year, Sturgis, S.D., is a relatively quiet city of 7,000 residents tucked beside a 1.2 million-acre forest, with a motorcycle museum as its signature attraction. But each summer, Sturgis transforms as bikers descend for a massive motorcycle rally.
"This year's festival may attract about 250,000 people despite an uptick in coronavirus cases across the state, city officials say, leading to fears it could become a super-spreader event.
"When the virus upended life across America in the spring, it forced the cancellation of graduation ceremonies, music festivals, marathons and other large gatherings. Sturgis, which has hosted the rally since 1938, pushed ahead with its plans anyway.
"The 10-day rally, which begins Friday, may be the country's largest public gathering since the pandemic began, and it comes amid widespread opposition. More than 60 percent of residents favored postponing the event, according to a city-sponsored survey."
Republican Governor Noem should welcome them all.
Meanwhile, Republican Governor Mike DeWine has been a Little Napoleon over covid 19.
Now he has it
. Covid 19 is inevitable. Let's learn to live with it instead of living in fear.
But then he re-tested.
I tested negative in second test that I took today for COVID-19. First Lady Fran DeWine and staff members have also all tested negative for COVID-19. Thanks to all for the well wishes.

— Mike DeWine (@MikeDeWine) August 7, 2020
If we re-tested everyone who got a positive, how many cases would be removed?
Someone is lying. A lot.
ITEM 10
: The last president to win without Ohio was JFK.
— Donald J. Trump (@realDonaldTrump) August 6, 2020
Democrats nominated Biden knowing he would tank.
ITEM 11
:
WCHS reported
, "Two West Virginia education unions sharply criticized Gov. Jim Justice, saying his announcement that children in the state will go back to school lacked specific details on how the plan will be carried off and how students and school employees will be protected."
Well, who doesn't want to stay home and collect a paycheck?
I am sure all the people working retail would love to sit at home, too.
ITEM 12
: My frustration with the Spygate investigation aside, I dig Bill Barr, bagpipes and all.
That time you're driving in Virginia and the Attorney General spots a group of people in front of a police precinct showing their support for the police.

AG to FBI Detail: "Can we make a quick U-Turn? I want to jump out and thank those people."

Watch!

#SoundOn

🇺🇸🇺🇸🇺🇸

pic.twitter.com/3atSicAgdC

— Kerri Kupec DOJ (@KerriKupecDOJ) August 7, 2020
Back the Blue means believing in the United States of America, a republic where the rule of law is second only to God.
ITEM 13
:
The New York Post reported
, "Teachers brought along visual aids, including handmade coffins and a guillotine, while protesting Mayor Bill de Blasio's schools reopening plan in Lower Manhattan on Monday afternoon.
"About 200 protesters — many of them educators, parents and students — marched from the United Federation of Teachers headquarters to the NYC Department of Education offices near Foley Square.
"'We demand safe schools,' they chanted."
If it is safe enough to chant in the street, it is safe enough to teach in a school.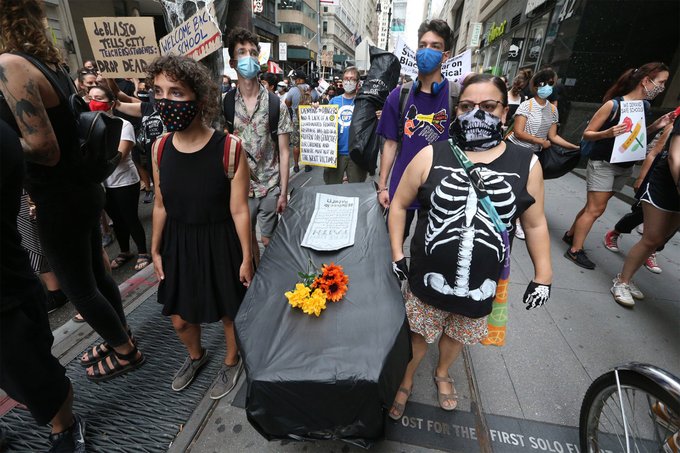 Judging by the teachers shown, maybe children are better off without public schools.
ITEM 14
:
United Press International reported
, "A federal judge on Thursday tossed out a Republican challenge to the proxy voting system approved by House Democrats amid the COVID-19 pandemic.
"U.S. District Judge Rudolph Contreras denied the GOP motion for an injunction against the historic proxy voting system stating that the Speech or Debate Clause of the Constitution prohibits lawsuits regarding the legislative efforts of Congress."
Obama judge.
ITEM 15
: I stopped rooting for Fox News when they sacked Roger Ailes.
This is true.

Yesterday's viewership:

Hannity — 4M

Tucker Carlson Tonight — 3.9M

Thunder-Lakers — 1.2M

Nets-Celtics — 1M

76ers-Wizards — 194k

https://t.co/0lhwsorzgV

— Bobby Burack (@burackbobby_) August 7, 2020
But I want everyone -- even CNN -- to beat the NBA stars who make millions peddling shoes made by slaves in Red China.
Maybe they should pay reparations to the Uighurs.
ITEM 16
: Step aside, I am Spartacus. Make way for...
It happened.

I received the reviews for a manuscript I submitted. I was told to read & cite the work of Ruth Gotian.

I am Ruth Gotian.

— Ruth Gotian, EdD, MS (@RuthGotian) August 6, 2020
I am Ruth Gotian.
UPDATE: Apparently she has since taken this tweet down after so many people commented on it.
ITEM 17
:
FIRE announced
, "Last week, Auburn University said it was looking at "options" following comments by Jesse Goldberg, a lecturer whose condemnations of — and advocacy of the abolition of — police had sparked calls for his termination. Those calls have since grown to include an Alabama state legislator and a member of Congress.
"In response to FIRE's Aug. 3 letter explaining that the First Amendment protects Goldberg's speech, Auburn now says it will 'not take adverse action against Dr. Goldberg or any member of the Auburn community based on' protected speech."
Boy are their faces red at Auburn.