Donald John Trump is still our president, and the Second Amendment is still the law of the land.
ITEM 1
:
The Washington Free Beacon reported
, "Detroit Women Flock to Gun Training. Detroit volunteers train nearly 2,000 women in one weekend."
The story said, "Tanisha Moner has had a gun pointed at her twice in her life. Once by two strangers who kidnapped, robbed, and sexually assaulted her when she was 17. And, again, by another robber as she worked a management shift at a restaurant.
"The traumatic experiences left her scarred, afraid of guns, shuddering at the sound of a firework and popped balloon. That changed the day she decided to face her fears and showed up for a gun-carry class at a local range."
Now she is a qualified NRA instructor. That's her on the far right without a target in the photo.
Self-reliance is the government's biggest fear.
ITEM 2
:
USA Today reported
, "A day before Republicans convene to nominate him for a second term, President Donald Trump spent Sunday promoting a potential treatment of covid 19 using blood plasma.
"Trump called a news conference to announce his administration has granted emergency use authorization for treatment using blood plasma, though more than 70,000 patients have already received it on an experimental basis.
"'This is a powerful therapy,' Trump said, describing the authorization as 'a very historic breakthrough.'
"Trump and aides cast the news as a major therapeutic breakthrough, though some medical analysts said it's already happening and that Trump's demands to rush up some kind of cure for covid 19 could lead to dangerous treatments of some patients.
"President Trump, again, puts his political gains ahead of public health," said Benjamin Corb, public affairs director with the American Society for Biochemistry and Molecular Biology.
We used to joke that if President Trump found a cure for cancer, the media would complain about putting oncologists out of work.
Corb is a ghoul.
The media is garbage. As the media showed with its knee-jerk, unscientific opposition to the HCQ+zinc treatment, reporters and their corporate bosses would rather have Americans die than President Trump re-elected.
ITEM 3
:
The Portland Police Bureau reported
, "A crowd of 150-200 people gathered at Irving Park at 707 Northeast Fremont Street and began marching around 9:30 p.m., blocking traffic. In the march, many individuals wore protective gear including helmets, eye protection, gas masks, and body armor. Some carried homemade wooden shields"
The report said, "Almost immediately the officers were targeted by thrown bottles, eggs, and green lasers toward their eyes. The lasers are powerful enough that they're capable of causing serious, permanent eye damage. The police sound truck issued further warnings, notifying the crowd that officers have observed people in the area of North Precinct throwing projectiles and pointing lasers at officers. Anyone who is involved in criminal behavior including throwing projectiles and/or laser pointing, is subject to arrest, citation and/or use of force, including, but not limited to, crowd control agents and impact weapons.
"Despite warnings, individuals in the crowd continued throwing things. Officers tried to retreat out of sight to attempt to deescalate. Over the next three hours, individuals in the crowd pelted the police vehicles with softball-sized rocks, glass bottles, golf balls, ball bearings, metal railroad spikes, and plastic eggs filled with paint. There were also balloons filled with feces thrown on the cars and even a torn up street sign was used to vandalize the marked police cars. Windows were broken and tires were deflated.
"However, because the risk did not involve life safety, and in an attempt to deescalate and avoid the need to use of force, officers remained far back."
What in tarnation? Democrats want to blind officers and the police are not allowed to stop them. Goodness. The police union should find a Trump Judge and get that order rescinded. Cite OSHA regulations if necessary.
This isn't anarchy. This is terrorism. The message from the Democrat mayor, the Democrat city council, and the Democrat governor is clear: leave Portland.
ITEM 4
:
Reuters reported
, "President Donald Trump on Saturday accused members of the deep state at the Food and Drug Administration, without providing evidence, of working to slow testing of covid 19 vaccines until after the November presidential election."
When journalists say "without evidence," they mean hardy-har-har, there is nothing he can do about it.
Remember when they reported President Trump said Obama spied on him "without evidence."
We have those FISAs now. A media that has bragged for a half-century about bringing Nixon down over an attempt to wiretap actually supports Obama using the FBI to spy on a political opponent.
No previous president was subjected to this "without evidence" disclaimer. No other public official is.
ITEM 5
:
Christian Toto reported
, "'Patriot Act' Producer, Writer Describe Toxic Work Environment. Is this 'Ellen 2.0?' And why aren't reporters covering the story (yet)?"
This was a show starring unfunny comedian Hasan Minhaj on Netflix, which is a Democrat money machine that gave the Obamas $65 million.
There is a little Trumpenfreude in play. Minhaj was the star of the first White House Corespondents Association dinner that President Trump skipped.
Obviously the same media that promoted Minhaj is not going to go after him -- as long as he doesn't turn transphobic,
which did Ellen in
.
ITEM 6
: Meanwhile, in Portland, Oregon, Democrats show their patriotism.
#PortlandRiots

: Antifa showing the public a visual representation of their political agenda. They put US flags on the guillotine prop and set all of it on fire outside the SE police building.

pic.twitter.com/9iLTVIPVJD

— Andy Ngô (@MrAndyNgo) August 23, 2020
They want a French Revolution, which shows how dangerous ignorance of history is.
ITEM 7
:
The New York Post reported
, "The head of the union representing 4,000 New York State Police Troopers – a workforce overseen by Democratic Gov. Andrew Cuomo — is backing Republican President Trump's re-election bid.
"'Donald Trump has our back. President Trump has supported us when so many people have turned against us,' NYS Troopers PBA president Thomas Mungeer told the Post on the eve of the Republican National Convention.
"'Joe Biden supported cops in the past but he's turned his back on us,' said Mungeer, referring to the former vice president and Democratic presidential nominee who is taking on Trump in the Nov. 3 general election."
Defang the Democrats.
ITEM 8
: Oh, this dooms the
Orange
Man.

Just like it doomed him 4 years ago.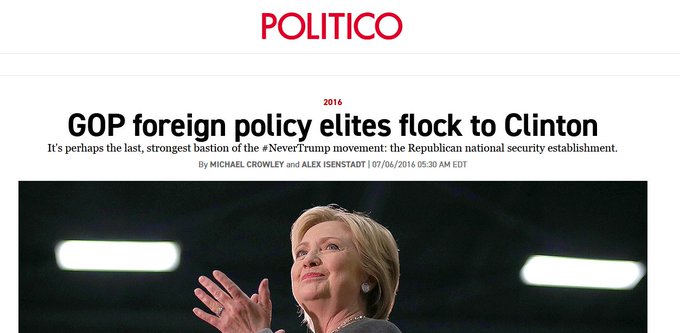 Let's see, these Republicans backed Hillary who took $100 million from foreigners laundered through her fake charity, and now they back Biden who took a billion from Red China laundered through his coke-addled son.
Who paid these experts off? Who funds their think tanks?
ITEM 9
:
The Washington Examiner reported
, "Los Angeles, home to the largest jail system in the United States, has ignored more than 25,000 requests from federal authorities to turn over illegal immigrants after they have been arrested for crimes by local law enforcement, according to federal data obtained by the Washington Examiner.
"This week, Sheriff Alex Villanueva announced his department would stop transferring even the most dangerous offenders in the Los Angeles County Jail to Immigration and Customs Enforcement. In his explanation, Villanueva said he was looking out for the 1 million LA residents who are also illegally residing in the county and too scared to report crimes to police because it could mean being sent back to their home country."
That is bogus.
Who reported these crimes to begin with?
Democrats are becoming a criminal enterprise dealing in human trafficking, drugs, and other vices.
This is why they want to abolish ICE and defund the police.
ITEM 10
:
Kurt Eichenwald of Newsweek in 2016
, "Trump will poison the Republican brand for decades because he embodies the racist, xenophobic, angry faction your party has exploited for the past eight years."
Kurt Eichenwald on Saturday on Melania Trump renovating the Rose Garden
, "It is a destruction of our history, something no other First Lady would have had the gall to do. This is the first time I have been furious that Mrs. Trump is a foreigner. She has no right to wreck our history."
She became a citizen in 2006.
He flipped his lid long before that.
ITEM 11
:
Fox reported
, "Trump campaign unveils convention speakers, POTUS to speak every night."
Fact-check: Wrong.
He will be in attendance each night, and a Trump will speak each night, but he is scheduled to speak only one night, to close the convention on Thursday.
Senator Tim Scott headlines on Monday, Melania on Tuesday, Pence on Wednesday, and The Donald on Thursday. All the Trump children will speak except Barron.
ITEM 12
:
The Daily Caller reported
, "After a 15-year career in the military, Peter Rafael Dzibinski Debbins began working as a consultant for several defense contractors, the U.S. government and NATO, positions that would have been prime avenues for the former Green Beret to continue the espionage activity he is accused of doing in a federal indictment released Friday. Debbins, 45, allegedly provided officers with Russia's military intelligence agency, the GRU, with classified and sensitive information from 1997 to 2011, when he served in Army Special Forces and on inactive duty with the U.S. Army Reserves."
His father-in-law was a Russian military officer, and no one was the least bit suspicious?
One of the biggest perks we give military and intelligence personnel is access to the nation's secrets years after they have left service. The time has come to curb this.
Of course, if protecting America's secrets were a concern of the FBI, Hillary would be in prison.
ITEM 13
:
Outkick reported
, "Montrezl Harrell Should Be Suspended For Calling Luka Doncic A 'Bitch Ass White Boy.'"
The argument is "The solution here is simple, even if many won't like it: the NBA has to suspend Montrezl Harrell and send a message that race-based derogatory comments like his on the basketball court won't be tolerated. The NBA has already set this precedent with gay slurs on the court, why not with racial-based insults as well?"
We know why Harrell is safe.
Suspending him would force Disney, which through its TV contracts is the de facto owner of the league, to admit that black people do say racist things. That would go against the Black Lives Matter propaganda that Disney promotes.
Harrell apologized to Doncic afterward. As a proponent of free speech, I don't like suspensions for saying something stupid.
UPDATE:
SB Nation reported
, "Luka Doncic suffered a scary leg injury late in Game 3 just two days ago that put his availability for the rest of the series in question. With his Dallas Mavericks trailing the Los Angeles Clippers 2-1, Doncic decided to gut it out and play in Game 4.
"All he did was deliver what is perhaps the signature game of his incredible career up to this point.
"Doncic carried the Mavs to a 135-133 overtime win, and sealed the victory with a step-back jumper at the buzzer."
He scored 43 points. He's 21. Apparently the remark was false as well as racist.
ITEM 14
:
Just the News reported
, "The president of Carnegie Mellon University this week defended that school's hiring of former acting Director of National Intelligence Richard Grenell, stating that university officials followed school policy when making the decision.
"Grenell's hiring earlier in the summer as a senior fellow with the university's Institute for Politics and Strategy generated opposition from university faculty and staff, with objectors about Grenell's history of disrespectful tweets and some of his policy decisions as the former U.S. Ambassador to Germany."
He got Germany to finally accept after 18 years a Nazi we wanted to deport.
And liberals object to that?
Liberals are all filberts and cashews these days.
ITEM 15
:
The National Catholic Registry reported
, "Planned Parenthood made headlines last month when one of its affiliates announced a plan to remove the name of the organization's founder Margaret Sanger from its Manhattan facility, citing her support of eugenics. However, that is not the only way Planned Parenthood has begun to distance itself from its founder.
"In a statement, Karen Seltzer, chairwoman of the board at Planned Parenthood of Greater New York, called the plan to remove Sanger's name from the facility "a necessary and overdue step to reckon with our legacy and acknowledge Planned Parenthood's contributions to historical reproductive harm within communities of color."
"'Margaret Sanger's concerns and advocacy for reproductive health have been clearly documented, but so too has her racist legacy,' Seltzer continued.
"The announcement — which came in the midst of national protests about racial inequality in the wake of the death of George Floyd in police custody — marked a significant change in tone from the nation's largest abortion provider, who often characterized its founder as a trailblazer for women's equality and empowerment."
Big deal.
She's dead and has been for some time.
People are like tissues to lefties, to be used once and thrown away.
ITEM 16
:
Reuters reported
, "President Donald Trump, in a Fox News interview airing Sunday, raised the possibility of decoupling the U.S. economy from China, a major purchaser of U.S. goods.
"In a video excerpt, Trump initially told interviewer Steve Hilton we don't have to do business with China, and then later said about decoupling: 'Well it's something that if they don't treat us right I would certainly, I would certainly do that.'
"Trump entered into a high-stakes trade war with China before reaching a partial Phase 1 trade deal in January. Trump has since shut the door on Phase 2 negotiations, saying he was unhappy with Beijing's handling of the pandemic.
"In June U.S. Treasury Secretary Steven Mnuchin said a decoupling of the U.S. and Chinese economies will result if U.S. companies are not allowed to compete on a fair and level basis in China's economy."
George Walker Bush's biggest mistake was when he let Red China join the World Trade Organization. We rewarded Tienanmen Square by pretending the communists changed spots.
ITEM 17
:
Bloomberg reported
, "The rehiring of temporarily laid-off workers will continue to bolster the U.S. labor market's recovery in the months ahead, but Goldman Sachs Group Inc. expects almost a quarter of those layoffs to become permanent.
"In the early months of the pandemic, employers shed more than 22 million people from their payrolls. The staggering figure had a small silver lining: the majority of those layoffs were billed as temporary. More than 18 million people were classified as temporarily unemployed in April, the most on record.
"When state economies began to reopen, the rehiring of many of those workers helped drive the labor market's rebound in May, June and July. And with more than 9.2 million unemployed still on temporary layoff, 'the labor market seems poised for additional large job gains later this year,' Joseph Briggs, an economist at Goldman Sachs, wrote in a research note on Friday.
"In some ways, the staggering number of temporarily laid off workers could be a tailwind for the recovery. These workers tend to face better hiring prospects, and transitions to permanent unemployment remain relatively low. In fact, Goldman expects rehires to account for most of the 5.6 million net job gains they anticipate later this year."
Yes, I know people call it Gloomberg News.
But I also know what I see. Wall Street is back but Main Street is dead.
Still, 10.2% unemployment is a lot lower than I expected 3 months after hitting 14.6%. It was supposed to top 20% by now. Instead it dropped to half that.
ITEM 18
:
TMZ reported
, "John Oliver took a bit of shot at a small town in Connecticut, and they just took one of their own in cheeky fashion naming a sewer plant after the talk show host.
"Mayor Mark Boughton of Danbury posted a video on his Facebook page this weekend responding to John's scathing rebuke of his city, which the 'Last Week Tonight' host took aim at ... seemingly to poke fun at how kitschy and quaint it is."
Wait a second.
Sewer plants are vital to a community. They perform a great public health service by treating human waste, which is toxic.
What do sarcastic liberals on TV do besides mock everything good about our country?
ITEM 19
:
The New York Post reported
, "The line stretched a quarter-mile before the sun was barely up Saturday, snaking around corners like bread lines in the 1930s. But the hungry in Queens are today's New Yorkers, left jobless by the corona virus.
"Until the pandemic struck the city, La Jornada food pantry used to hand out groceries to roughly 1,000 families a week. Now, the number tops 10,000. And volunteers serve lunch every day to 1,000 — many of them kids with growling stomachs. Across the five boroughs, the hungry is in the hundreds of thousands, the Food Bank of New York estimates."
Under Republican Mayor Giuliani, the City That Never Sleeps.
Under Democrat Mayor De Fascisto, the City That Never Eats.
FINALLY
, after a 3-day run, I returned the Scorekeeper to the attic. As a reader wrote, "I like your stuff, but I have my own opinions, thank you. I don't need a scorekeeper to tell me what I just read."
E.W. Scripps said it best: "Give light and the people will find their own way."
Those who miss it can do the GOOD/EVIL thing in comments.