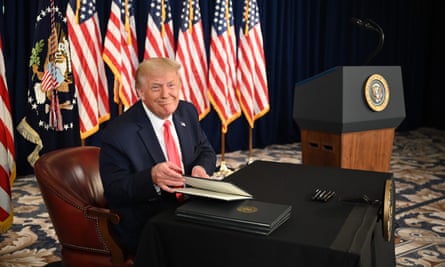 Donald John Trump is still our president.
ITEM 1
: Remember when reporters complained that the president wasn't holding press conferences?
Eric Boehlert is calling for a boycott of them because President Trump does too well in them.
Boehlert wrote
, "Serious journalists should walk away and refuse to be extras in the Trump charades — refuse to legitimize his scheduled rants. Instead of walking away, reporters seem eager to cooperate. Insistent on casting themselves as willing props in Trump's increasingly erratic re-election campaign, journalists and news outlets refuse to make the common sense decision to not show up at the absurd proceedings, especially since they're so often void of serious news. (The same can be said for the pointless White House press briefings, which contain no useful, factual information.)
"Covering Friday's event at the Trump National Golf Club, the Associated Press referred to Trump's cheering country club fans as 'props in the surreal gathering.' The same could be said for the assembled reporters."
Serious journalists? That breed died out a long time ago. Activists and agitators replaced them.
ITEM 2
:
CBS reported
, "President Trump was abruptly removed from a White House press briefing Monday after Secret Service shot a suspect outside the White House. The Secret Service confirmed a male suspect had been shot and taken to a local hospital, and said a Secret Service officer had also been hospitalized.
"The Secret Service said in a statement that an adult man, carrying a firearm, approached the perimeter. When the suspect did not respond to verbal commands, he was shot once by a Secret Service agent and taken into custody. The Secret Service recovered a firearm at the scene."
Democrats will stop at nothing to deny President Trump a second term
4 years of calling him Hitler and promoting themselves as the French resistance play into the minds of psychopaths.
ITEM 3
:
DYNUZ reported
, "Chicago officials raised bridges and suspended some train and bus service Monday morning after unrest and looting caused widespread damage in the city's downtown overnight.
"Videos that were circulating on social media captured the early morning scenes of hundreds of people in the streets, dozens of police officers, looting and confrontations with the police. There was also an exchange of gunfire with the police in the downtown, according to a police spokesman, Tom Ahren. He said on Twitter early Monday that there were 'shots fired at police who returned fire,' and that no officers were injured. He said it was 'unknown at this time if offenders were shot.'
"In some of the videos, people can be seen entering various businesses, and local TV stations showed storefronts vandalized, windows smashed and sidewalks littered with boxes. In one widely viewed recording of the protests, police officers can be seen confronting a group of people in the street when someone hurled an object at one of the officers, striking him in the face. He and other officers then charged the people, who fled."
Meanwhile, Mayor Beetlejuice spoke out.
It's called a pandemic, people. This reckless behavior on Montrose Beach is what will cause us to shut down the parks and lakefront. Don't make us take steps backwards.

pic.twitter.com/FHxeYfH7Wf

— Mayor Lori Lightfoot (@chicagosmayor) August 8, 2020
A few more shootings and lootings by Democrats and no one will leave their house in Chiraq. Who needs police enforcing covid 19 restrictions when you have roving gangs of peaceful protesters shooting anyone who dares walk outside?
ITEM 4
:
The Daily Wire reported
, "Public health authorities in Chicago will be checking social media feeds to see if visitors to the city are following quarantine edicts.
"On July 2, the city issued an emergency travel order requiring visitors and residents who have traveled to destinations with a high number of covid 19 cases to quarantine for 14 days on arrival in Chicago. Authorities will now check the online posts of suspected violators."
Democrat priorities strike again.
ITEM 5
:
The New York Post editorialized
, "New York City's relentless crime spike and chaos on the streets make it painfully clear: Gotham — significant parts of it, anyway — is headed for a steep decline. The big question now is whether it can be stopped.
As The Post reported Monday, shootings in the city are running at nearly twice the rate as last year. As of Saturday, there have been 821 outbursts of gunfire, with 1,000 victims this year; 2019 saw just 446 shootings, with 551 victims at this same point.
"Police recorded a dozen gunplay incidents Saturday into Sunday morning alone. At least four people were killed over the weekend.
"Vagrants and addicts, meanwhile, began commandeering public streets long before the pandemic, with Mayor de Blasio doing little to address the problem."
Democrats want high crime.
They see it as a prelude to a civil war.
ITEM 6
: Jeremy Diamond of CNN thinks the South won the Battle of Gettysburg.
CNN's Jeremy Diamond claims without evidence that Trump might have his speech in Gettysburg because he loves the Confederacy: "This is a President who has consistently positions himself as a defender of Confederate symbols and monuments to Confederate generals."

pic.twitter.com/cqKxbINsBx

— Curtis Houck (@CurtisHouck) August 10, 2020
Well, that happens when you work for a network based in the Deep, Deep South.
Of course, at Say Anything CNN, facts don't matter. They have the dumbest journalists in the country. Jeff Zucker is like a magnet for ignorance.
ITEM 7
:
Fox reported
, "Minn. group that saw $$ surge, some from Biden staffers, bailed out alleged violent criminals: report. Convicted rapist, accused murderer among those helped with donations."
The story said, "A Minnesota nonprofit that saw a huge windfall in donations during the protests and riots that followed the death of George Floyd in the custody of the Minneapolis Police Department reportedly has been putting up money to bail out people charged with serious violent crimes, including sexual assault, attempted murder and murder.
"A new FOX 9 report shows that among the people helped by the Minnesota Freedom Fund (MFF) – which received donations from a number of Joe Biden campaign staffers as it saw a $35 million fundraising windfall in the weeks after Floyd's death – are Darnika Floyd, who was charged with second-degree murder after allegedly stabbing a friend to death, and Christopher Boswell, who is facing charges of sexual assault and kidnapping. The group put up $100,000 on behalf of Floyd and $350,000 on behalf of Boswell.
"In response to the revelation, the campaign for President Trump reprised criticism that Biden has been taken over by the far left of his party."
A vote for any Democrat is a vote for crime.
ITEM 8
:
Just the News reported
, "Jimmy Lai, a prominent publisher and pro-democracy leader in Hong Kong, was arrested Monday on charges of foreign collusion under a new national security law sharply criticized by the United States.
"The 71-year-old founder of the Apple Daily outlet and a longtime antagonist of communist China was taken in custody as police raided his newsroom seeking documents. Lai was already facing other charges related to his organization of protests last year, but the new counts sent shockwaves through Hong Kong.
"Lai's arrest was part of a larger police operation. Hong Kong law enforcement officials said at least seven people aged 39 to 72 had been arrested on suspicion of collusion with foreign forces against national security, and conspiracy to commit fraud."
President Trump is the only world leader willing to take Red China on.
Chairman Xi bought Biden off with a billion-dollar "investment" to Hunter Biden who collected the loot in an official vice president visit to Beijing.
ITEM 9
:
Newsmax reported that White House press secretary Kayleigh McEnany
"commented on the weekend of violence in Chicago and the continued violence in Portland, noting that the president put in place Operation Legend, which has so far succeeded in arresting 250 individuals and charging 250 individuals across the country."
In her own words, she said, "Finally you have the liberal Portland Mayor Ted Wheeler saying that if you lock police officers in a building, intend to trap them in there, use an accelerant to commit arson, you are committing attempted murder.
"It took a full 70 days for the liberal mayor to acknowledge that's an unacceptable status quo and these aren't just peaceful demonstrations as he tried to show when he walked among these rioters."
The protests by day are a shield from criticism for the riots at night.
ITEM 10
:
Just the News reported
, "A retired judge who allowed an accused rapist to go free earlier in the year over the objections of a prosecutor — with the alleged criminal now accused of killing the woman he had allegedly raped — once advocated deciding cases "based on who the person is" rather than the explicit demands of the law.
"Alexandria Circuit Court Judge Nolan Dawkins released Ibrahim Bouaichi from prison in April due to concerns voiced by Bouaichi's lawyers that he was at risk of contracting covid 19 while in confinement. The release went through over the objections of a local prosecutor.
"Bouaichi had been arrested on a charge of rape; police say that after his release he subsequently went on to murder the woman who had accused him of rape and testified against him in court."
Based on who the person is?
That is the opposite of the rule of law.
Disbar this demented old judge.
ITEM 11
:
Adbusters reported
, "‍It's been nine years since we set off the political earthquake of #OccupyWallStreet, laying siege to NYC's Zuccotti Park and inspiring thousands of similar protests around the world.
"The Occupy anniversary arrives September 17th, 2020. And it may be the perfect day to trigger another global big-bang moment — a massive collective action of the sweetest kind of disobedience.
"The why hardly needs recitation. Because, for these nine years, the shadows have only grown longer. Inequality has soared. Not a single Wall Street CEO spent a night in jail for his role in the 2008 financial meltdown. Politicians and corporate criminals continue to savage the public trust with impunity. And all the while, this howling void of a president, his sins too many to name, sits smugly atop a corona death-toll that may surpass two-hundred thousand Americans by Christmas.
"It's time again for dramatic, decisive action. Which is why, on September 17th, in the original and enduring spirit of Occupy, we and tens of thousands of our fellow citizens will stream into Lafayette Square, in Washington. D.C."
Blah, blah, blah.
Let's look at the record. Occupy Wall Street failed. Bigly. Nothing changed.
So let's do it again 9 years later.
ITEM 12
:
Politico reported
, "Anticipation has been growing for weeks that Joe Biden will make history by choosing the first Black woman as a running mate on a major party's presidential ticket.
"But after news broke over the weekend that Michigan Gov. Gretchen Whitmer, a white woman, had flown to meet with Biden to discuss the vice presidency, frustration and disappointment boiled over among Black female Democrats — including some in her own state."
Nice corner Democrats painted themselves in.
I still say, Kamala Harris turned him down.
ITEM 13
:
CNS News reported
, "A recent poll from Rasmussen shows that 36% of black voters approve of Donald Trump's job as president.
"According to the Rasmussen poll for July 2020, 36% of black American likely voters approve of the job President Trump is doing while 48% of white voters and 51% of other non-white voters approve."
36%?
Donald Trump won in 2016 with 8% of the black vote.
ITEM 14
:
News Busters reported
, "Any humorous social media post from one of the Trump children will always be followed by the wailing and gnashing of leftist teeth. It's essentially Newton's lesser known 4th law of the universe. After President Trump's son Eric Trump posted a decade-old clip of late comedian Robin Williams blasting Democratic candidate Joe Biden, the late comic's daughter Zelda torched him."
Blah, blah, blah.
So what did Williams say?
He said, "We still have great comedy out there. There's always ramblin' Joe Biden."
And he said, "Joe says shit that even people with Tourettes go 'No! No! What is going on?"
And he said, "Joe is like your uncle who's on a new drug and hasn't got the dosage right."
I miss Williams. Even his last TV show, which was not very funny.
ITEM 15
:
The Daily Mail reported
, "More than half of Democrats do not believe Joe Biden would serve all four years as president should the 77-year-old be elected this November. In a poll by Rasmussen Reports, some 59% of possible voters believe that whomever is chosen as Biden's vice president would take over before the end of his first term in 2025. And 49% of Democrats who responded to the survey suggested that many are not fussed who takes over the presidency, so long as it's not President Trump."
It is a moot question. Americans won't elect him.
ITEM 16
:
The Associated Press reported
, "There were no fires this time in Watts. There was no looting, no shooting and no National Guard troops patrolling.
"Protesters filled the streets around the country in late May and June following the Minneapolis police killing of George Floyd, demanding an end to police brutality. There was violence and looting in some places, including Los Angeles, but not in LA's Watts neighborhood, forever linked to an uprising that broke out in the segregated community 55 years ago and became known as the Watts riots.
"Demonstrators made a point not to go into Watts or other poor neighborhoods this time.
"Watts has never fully recovered from fires that leveled hundreds of buildings or the violence that killed 34 people — two-thirds of whom were shot by police or National Guard troops. Those who lived through those frightening days and those who grew up in its aftermath are keenly aware of that past and the lessons it taught."
55 years.
Some scars never heal.
FINALLY
, as readers know, I have terrific readers who accomplish great things in their lives. I marvel at how they find the time to read this blog, much less email me.
I share this via a reader. It is a link to
A Pandemic Observed by Katherine Baker
. It is well worth your time. ("The world is already a graveyard; it does not have to be hell.") Might want to have a box of Kleenex handy.