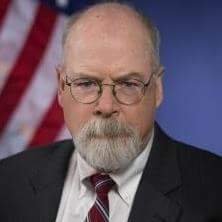 The Washington Examiner reported
, "U.S. Attorney John Durham will soon interview former CIA Director John Brennan, another sign that the investigation of the Trump-Russia investigators is ready to wrap up by the end of the summer."
Notice the story did not say which summer.
I get that this may mean that Brennan is the target of the investigation as the last person interviewed is the person they want to indict.
I also get that putting together a solid case takes time.
But what I really get is that there is an election on November 3rd and Durham and company have every reason to delay the case until the outcome of the election.
And I get that an indictment will need the approval of the majority of a grand jury in DC, the epicenter of TDS.
This looks more like investigation theater than holding anyone accountable for the FBI spying on Obama's political opponents.
This case is being slow walked.
The Examiner story said, "Last year, the New York Times reported that Durham asked for Brennan's electronic communications, phone records, and other documents from the CIA, something NBC News confirmed on Wednesday.
"Durham is looking into whether Brennan took politicized actions to pressure the rest of the intelligence community to match his conclusions about Russian President Vladimir Putin's motivations, according to sources cited by the Wall Street Journal. These sources said Durham has been interviewing CIA officials this year, focusing on the National Intelligence Council, a center within the Office of the Director of National Intelligence, which oversaw the collaboration between the CIA, FBI, and National Security Agency in putting together the 2017 Intelligence Community Assessment on Russian meddling. Barr confirmed Durham is scrutinizing the assessment."
4 years ago, the press told us Jim Comey was a super cop who would get to the bottom of Hillary's sending of classified information to her foreign clients, er, foreign donors to her completely legitimate foundation, as secretary of state.
Comey instead helped her destroy evidence of malfeasance and crimes that would send an ordinary citizen to prison for years.
No excitement without an indictment, and the longer Durham drags this case out, the less likely there will be an indictment.
It was a little over 2 years between the attempted spying at Watergate and President Nixon's resignation.
Obama started spying on Donald Trump 4 years ago. Instead of jail, everyone got a book deal.