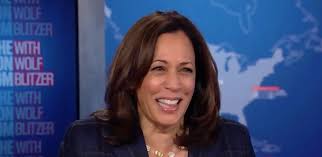 To conservatives thrilled by Obama's selection of Kamala Harris as Biden's running mate, I suggest they Google "
laughing Kamala
" and get a sobering dose of reality. She has a joy of life that conveys the optimism and enthusiasm that get a person elected. Plus, she also does not take politics all that serious.
Obama selected her, not Biden.
Let me dispense with the conventional wisdom from DC conservatives. Ben Shapiro went through the list of vagabonds and communists on Obama's list,
and then wrote
, "But there was one pick who would prove far worse than all the others: Sen. Kamala Harris, D-Calif. Harris is deeply radical. She endorsed Medicare for All while announcing that she would move Americans away from their private health care plans; she announced in open debate that she would use executive orders to ban 'assault weapons;' she said she would ban fracking; she attacked Justice Brett Kavanaugh as a purported rapist and Judge Brian Buescher for his Catholicism."
Prove.
How?
Harris does not have to win over America. She has to inject some animation among Democrats who look at Biden and see a dead man walking.
I can see her doing that. The unspoken truth is if Biden is elected, she likely will be president. She has to prove to Democrats that she can handle the job.
True, she already failed once. She spent $23 million of other people's money on a presidential campaign that cratered before Iowa. Even Slow Joe made it to Iowa. But as every brokerage firm must tell you, past performance is no guarantee.
The issues Shapiro raises are conservative issues, not communist ones. In fact, Democrats love Medicare for All, hate fracking, and believe Kavanaugh was a drunken rapist in high school. Oh, and Democrats are not very fond of Catholics either.
They got us wrong. Let us learn and not project our logic on their emotions.
As for Shapiro's complaint that she is not black enough as she is the product of an Indian and a Jamaican with slave owners in her ancestry, neither one of us has much insight into that. The same complaint was made about Obama. Hillary could not make that stick.
Shapiro did raise a major point but he glossed over. He called it "her bizarre habit of breaking into a Joker-esque whoop when asked difficult questions."
I see it as neither bizarre nor detrimental. Laughing at a difficult question (as opposed to a serious question) is a tool in every politician's box. She is very, very good at it.
Shapiro sees himself as an expert. Given the track record of political experts, that is a title I do not seek. They got Obama's nomination wrong, his re-election wrong, President Donald John Trump's nomination wrong, and the 2016 election wrong.
3 elections, 4 wrongs.
Shapiro thinks he is smarter than Donald Trump and Obama (who selected Harris). They both beat all odds (as posted by the experts) to get elected president.
To be sure, I see
President Trump winning 37 states
. Harris does not change that any more than Sarah Palin elected John McCain.
But as Don Corleone said, "I spent my whole life trying not to be careless. Women and children can be careless. But not men."