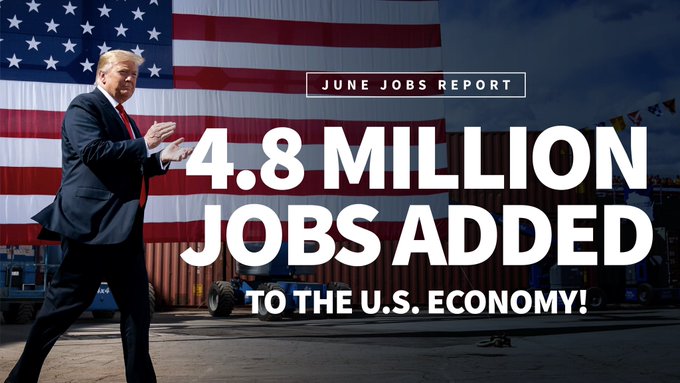 Never Bet Against Donald John Trump. I will give you 4.8 million reasons. That is the number of jobs President Trump added in June despite riots, looting, and fears of going outside.
The unemployment rate dropped to 11.1% in June, well below the prediction 32.1% by the experts just three months ago.
Democrat dreams of ending capitalism and turning America into Red China West vanish one job at a time.
The National Bureau of Economic Research declared a recession on June 8.
Every economic indicator since then has shown that claim to be premature and in error. Housing starts jumped. Housing sales jumped. Consumer confidence jumped. Business confidence jumped. The stock market jumped.
Two bad months do not a recession make.
NBER lied.
The experts were just plain wrong.
CNBC reported today
, "Nonfarm payrolls jumped by 4.8 million in June and the unemployment rate fell to 11.1% as the U.S. continued its reopening from the corona virus pandemic, the Labor Department said Thursday.
"Economists surveyed by Dow Jones had been expecting a 2.9 million increase and a jobless rate of 12.4%. The report was released a day earlier than usual due to the July Fourth U.S. holiday.
"The jobs growth marked a big leap from the 2.7 million in May, which was revised up by 190,000. The June total is easily the largest single-month gain in U.S. history."
We have added 7.5 million jobs in just two months.
Experts predicted the opposite. Instead of a quick and jolting recovery, they predicted a long slide down to poverty.
Forbes magazine reported on March 31
, "With the coronavirus pandemic taking an increasing toll on the economy, some of the most concerning indicators show that widespread business shutdowns with weekly jobless claims reaching a record 3.28 million last week; meanwhile, leading economists say the unemployment rate could reach 30% as a result of the ongoing health crisis."
Unemployment peaked at 14.7% in April -- less than half that 30% forecast.
Forbes also said, "The corona virus outbreak could cost 47 million jobs next quarter, according to estimates by the Federal Reserve Bank of St. Louis. That would translate to an unemployment rate of 32.1%, well above the 24.9% rate it was at during the Great Depression."
Worse Than The Depression.
That is the Democrat wet dream -- even bigger than Worse Than Watergate -- because only by breaking capitalism will they get the all-powerful state that they desire.
Forbes said, "'It's not a question of if the data will be worse — just how much worse,' says Mark Freeman, chief investment officer at Socorro Asset Management. The fundamental question, he points out, is how long these waves of large weekly jobless claims will last. The sharp hit to the labor market will have a 'pronounced effect on the consumer side' as well, he predicts: 'If you lose your job, your consumer confidence goes to zero.' The next thing to watch for, Freeman says, is 'how much wage growth slows from there.'"
It turned out, we had hit bottom even as the experts spoke.
President Trump's $3 trillion bailout of America saved small businesses and kept food on the table for the unemployed long enough to wait this mass agoraphobia out.
The Forbes story said, "Before the corona virus started to wreak havoc on the economy, the U.S. job market was on solid footing, with the national unemployment rate sitting at a roughly 50-year low of 3.5% in February."
Low unemployment gave the economy the foundation it needed to shake off this downturn quickly.
The Forbes story ended, "Surprising fact: A host of companies have said they won't make any layoffs during the corona virus outbreak — most recently on Tuesday, both Bank of America and PayPal pledged not to do so."
Ah, once again don't go by what the experts say, go by what the people do. Neither Bank of America nor PayPal thought the downturn would last long. Both were proven right.
The experts said Donald Trump would not be nominated.
They said he would not win.
They said he would not fix the economy.
They said he would not get started on that wall.
They said he would not stop the Covid 19 Collapse of Civilization.
So what are they saying now?
Oh yes, that he won't get re-elected.
Expert/ˈekˌspərt/ Noun: A fool who convinces people he knows what he is talking about. Always wrong when it comes to Donald John Trump.